Economic Collapse Could Sink Trump's Re-Election Chances in Key Swing States Like Michigan
The economic fallout of the coronavirus pandemic could sink President Donald Trump's re-election chances in Michigan and other key swing states this November.
The financial damage of the outbreak is already on full display in the Midwestern state. More than one-third of Michigan's workforce has entered the unemployment system since March 15, officials reported last week.
Michigan's small businesses have taken the biggest hit of any state, according to new data from the U.S. Census Bureau. More than two-thirds of small businesses—65 percent—said the virus had a "large negative effect" on their operation. Eighty percent of businesses reported decreased revenues and nearly 60 percent had to temporarily close.
"Until a few months ago, the economy was going to be what the president was running for re-election on in Michigan and across the country," said Adrian Hemond, a Democratic strategist in Lansing. "Now, the central argument of the Trump re-election as his campaign team envisioned it doesn't exist anymore."
Michigan is likely the president's weakest link heading into the November election. His success there in 2016 was his slimmest margin of victory in any state: He won by a mere 10,000 votes. One bad sign for his campaign is that some of the counties critical to his triumph in the state in 2016 are experiencing high unemployment rates amid the pandemic.
"If someone promised you the economy was going to grow and all of a sudden you're struggling to put food on the table, to find a job or to get work hours back, it's going to be a tough challenge," said Dennis Darnoi, a Republican strategist and founder of Densar Consulting in Michigan.
Darnoi added that with the expectation that former Vice President Joe Biden will perform much better in Michigan than Hillary Clinton did in 2016, any erosion of Trump's support due to a tanking economy means "deep trouble" for his campaign.
Polls already show Biden has a durable lead over the president in the Midwest state. A survey conducted by Public Policy Polling in late April showed the former vice president ahead by 8 points. Biden garnered 50 percent support from registered voters compared with Trump's 42 percent support.
"At least in terms of Michigan going into the November election, the president is clearly starting from behind," Hemond said.
The president could also face an uphill battle in other key swing states where the coronavirus pandemic is having a huge impact on the economy, such as Ohio, Florida and Pennsylvania.
Small businesses in those three states are amongst the hardest hit by COVID-19, according to the survey conducted by the U.S. Census Bureau. They've also all seen a marked spike in unemployment claims.
In Pennsylvania, nearly 60 percent of small businesses told the U.S. Census Bureau that COVID-19 was having a large negative impact. In Florida, 52 percent of small businesses reported the same. Both were above the national average. In Ohio, roughly half the small businesses surveyed reported experiencing a large negative effect.
Polls released in late April found Trump trailing Biden in both states. A Quinnipiac University poll found 46 percent of registered Florida voters said they would vote for Biden while 42 percent would vote for Trump. A Fox News poll found that 50 percent of registered voters in Pennsylvania backed Biden and 42 percent favored Trump.
In Ohio, Trump is still on top but not by much. A survey from Emerson College conducted last week found the president ahead by 2 points. Fifty-one percent of voters said they'd back Trump for a second term while 49 percent said they'd support Biden.
"I think there is a confidence that he will do it again. He will bring us back," said Michael Hartley, a Republican strategist from Columbus. "The people that make up the Trump coalition are confident and supportive of the president, some even more so than they were before this pandemic."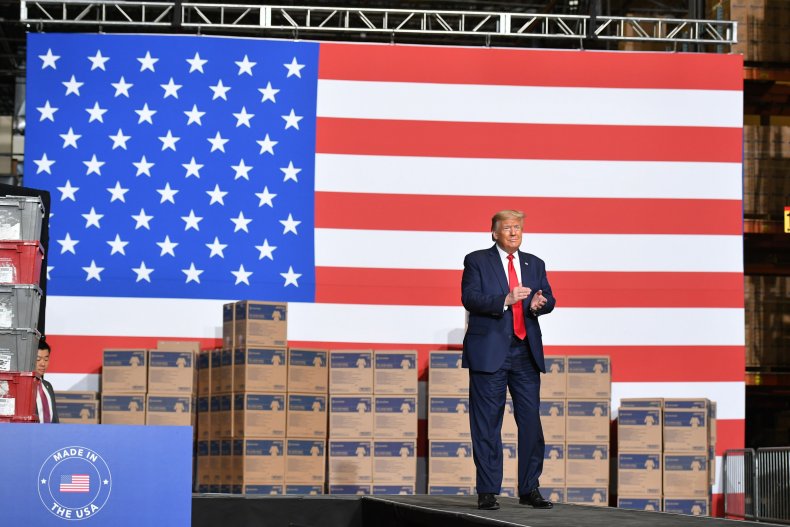 President Trump has been leading the charge to reopen businesses and get Americans back to work even as health experts warn of the dangers of returning to normal.
"What I can do: I'll bring it back. It's fully expected," Trump told Fox News earlier this month after more than 20 million jobs were lost in April. The current unemployment rate of 14.7 percent is the highest since the Great Depression.
During a trip to Pennsylvania last week, Trump called his plan the "'transition to greatness.' The transition is the third quarter. The fourth quarter is going to do very well. And next year is going to be through the roof."
But strategists say the argument that he's the best suited to bring the U.S. to economic recovery may be undermined by his overall approach to the pandemic. A new CNN poll found that President Trump's numbers for handling the outbreak have worsened over the past few weeks. In early March, 48 percent of Americans disapproved of his response. Now, 55 percent disapprove.
"I don't know how much resonance that message is going to have," said Darnoi, the Republican strategist from Michigan. "I think a lot of people are going to look at how he handled the virus and that's going to color their ability to trust that he can rebuild this economy."