Economic Collapse, Energy Crisis, Now Fear of Civil War In Lebanon
In a nation already marred by an economic collapse and energy crisis, new sectarian violence in Lebanon has spurred fears of a return to civil war among rival parties vying for influence over a people rapidly reaching their breaking point.
Gunfire and explosions erupted Thursday at the cross-section of the Beirut suburbs of Chiyah, Ein Rummaneh and Tayouneh near the Justice Palace as members of the Shiite Muslim Hezbollah and Amal movements marched in protest of a firebrand judge named Tarek Bitar. Bitar is accused by Hezbollah and Amal of being politically biased in his approach to an investigation into a devastating port blast that tore through the capital last August and they seek his removal.
Tempers had flared at the rally, but the deadly escalation would set off a series of events likely to dominate the polarized discourse in Lebanon for some time.
First, one man fell, and, after the dust settled and security forces entered, several more were killed, all of them members of the demonstration against Bitar and the parties supporting it with the exception of an uninvolved woman who was shot dead while in her apartment, according to local reports and rescue personnel.
Hezbollah and Amal have blamed a rival Christian party known as the Lebanese Forces for the incident, and members of both Shiite Muslim organizations retaliated by firing assault rifles and rocket-propelled grenade launchers in some of the worst clashes to erupt in the capital in years.
And the specific intersection of neighborhoods where the turmoil broke out has a special memory in the minds of many Lebanese: it served as the starting point for a 15-year civil war that ravaged the country from 1975 through 1990.
Now those living through a new era of uncertainty worry the worst is yet to come.
"We're in the midst of a ticking time bomb," one Lebanese citizen who lives in Ein Rummaneh and witnessed the confrontation told Newsweek.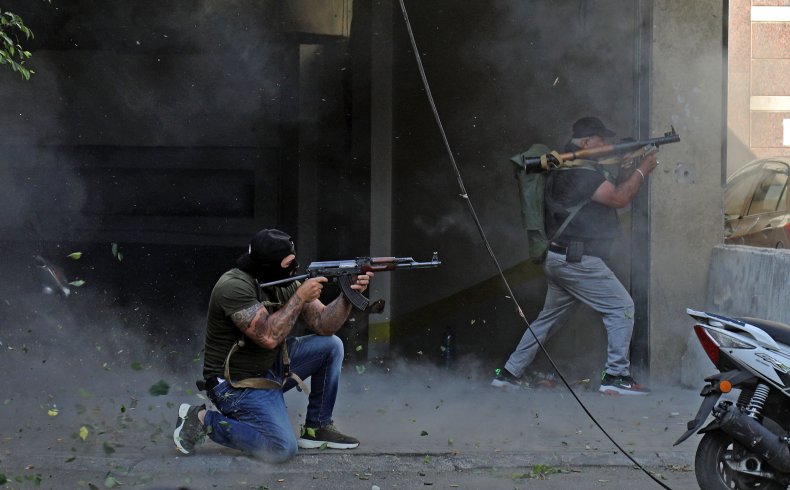 The citizen, who wished to remain anonymous due to the sensitive security situation that has taken hold in Beirut, described Lebanese Forces drawing first blood and Hezbollah retaliating.
But conflicting narratives have emerged among the two rival sides of Thursday's incident.
"There was a peaceful demonstration protesting the politicization of the judiciary, with the participation of elite lawyers, and as they passed a certain point, snipers stationed on buildings and roofs began shooting," a Hezbollah spokesperson told Newsweek.
The influential political party and paramilitary organization laid the blame on snipers affiliated with the Lebanese Forces, a largely Christian faction. Its leader, Samir Geagea, has condemned efforts to oust Bitar from the port explosion investigation.
"Security information confirms that they are from the Lebanese Forces group affiliated with Samir Geagea," the Hezbollah spokesperson said. "The assault is described and reported as having hit the victim in the head. It is premeditated murder."
Speaking to reporters, Interior Minister Bassam Mawlawi also spoke of snipers aiming at the heads of those on the ground before the larger conflagration.
The Lebanese Forces, for its part, has rejected the claim it orchestrated an ambush, calling this "a false accusation and its purpose is to divert attention from Hezbollah's invasion of this region and other regions in previous times," in a statement sent to Newsweek.
The group called for the Lebanese Army to conduct an independent assessment of Thursday's events but ultimately laid the blame on Hezbollah's own leader, Secretary-General Hassan Nasrallah, for challenging Bitar's position in the first place and for pressuring the government to unseat him.
"The unfortunate events that happened today on the ground, which are strongly condemned by us, are nothing but a practical result of the charge that Sayyed Hassan Nasrallah began four months ago by inciting in all his speeches against the judicial investigator, and an explicit and public call to stop his hand," the Lebanese Forces said in a statement sent to Newsweek.
Further angering those opposed to Bitar was Thursday's visit to Beirut of U.S. Under Secretary of State for Political Affairs Victoria Nuland, who said she "stressed that a clean, impartial, independent judiciary is the guarantor of all the rights and the values that we, as democracies, hold dear and share." The United States considers Hezbollah to be a terrorist organization and members of the rally against Bitar tore up pictures of U.S. ambassador to Lebanon Dorothy Shea alongside those of the controversial judge.
But the Lebanese Forces also said that the chaos would likely only further muddle the hopes of achieving justice in the intractable effort of getting to the bottom of who to hold accountable for last year's explosion that killed more than 200 people and left hundreds of thousands homeless.
"What happened today is known by far and wide, which is the confrontation of justice with the same revolutionary logic, and the use of weapons, intimidation, violence, and force to overthrow the course of justice in the explosion of the port of Beirut," the Lebanese Forces said.
Asked about Hezbollah's accusations, Imad Wakim, a Lebanese Forcres member and deputy for Beirut's first district in parliament, mirrored this view.
"Of course it is fabricated information to cover up what they did," Wakim told Newsweek.
A joint statement released by Hezbollah and Amal and shared with Newsweek echoed calls for Lebanese authorities to investigate the events in a balanced manner, as well as "to assume their responsibilities in restoring things to normal and arresting the perpetrators of the killings, known by name, and the instigators who managed this intended operation from the black rooms, and prosecuting them and inflicting the most severe penalties on them."
The Lebanese Army later issued a statement saying that it had "raided several locations in search for shooters and arrested nine individuals from both sides, including a Syrian." An investigation has been launched and troops remain deployed to the area to maintain calm, it said.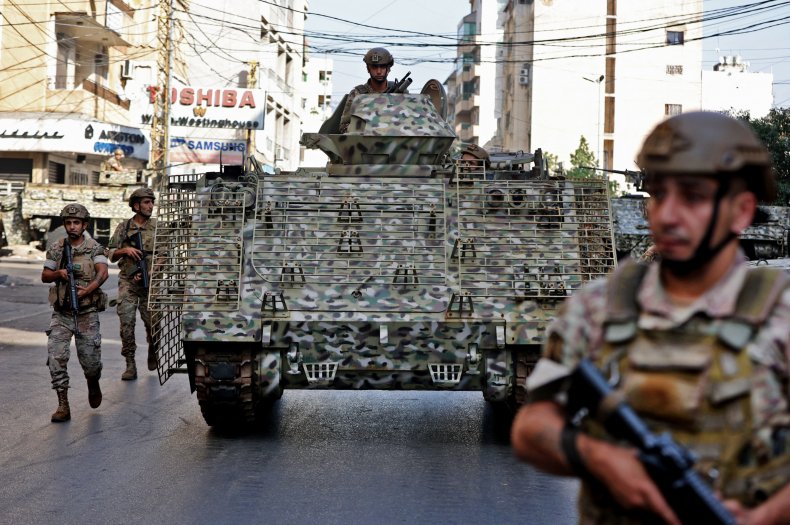 Now overshadowed by recent events is the fact that no one has yet been held accountable for the earth-shattering explosion that struck Beirut last year. The most widely established account points to around 2,750 tons of highly explosive ammonium nitrate removed from a damaged ship in 2013 and left to rot in a warehouse alongside fireworks that were ignited as a welder worked nearby.
Lebanon had already begun to already slip into a financial crisis, prompting runaway inflation and mass protests only abated the COVID-19 pandemic that exacerbated the country's woes. Still worse, a fuel shortage compounded with the longstanding failure of the electrical grid has left many of those even with generators in the dark.
Lebanese protesters have regularly taken to the street demanding transparency, but when it comes to both the Beirut blast investigation and other demands, the issues remain mired in the highest levels of a political elite paralyzed by corruption and careful compromises calibrated to avoid bringing the country back to the days of civil war.
While, given the popular dissatisfaction with all strains of Lebanon's ruling class, an uprising may seem more appropriate than civil war, Sam Heller, a Lebanon-based researcher formerly of the International Crisis Group think tank, said the unrest may only serve those in charge to rein in their opposition.
"Flareups of intercommunal violence may actually help Lebanon's establishment factions in turning the country's crisis from one pitting the broader public against the Lebanese elite into a more familiar sort of inter-factional, partisan muddle," Heller told Newsweek. "That's the type of political contestation to which these factions seem best adapted. It allows them to play on their respective sectarian constituencies' feelings of insecurity and besiegement and rally them defensively behind their traditional sectarian political leadership."
It's this sort of maneuvering that has allowed those who took part in the civil war to retain power generations later. And though the balance of power is an important part of this equation, the scales are not even.
Following the civil war, which was followed by another 15-year period of pro-Syrian rule in Lebanon, the many militias that fought in the conflict disarmed, at least officially, with the exception of Hezbollah. The powerful group receives support from Iran and is believed to carry a vast arsenal including not only small and medium-sized weapons but rockets and missiles that outweigh even the equipment of the Lebanese Army.
Hezbollah considers its offensive capabilities critical for defending the country against the foe it initially mobilized against in the 1980s, Israel, which remains in a state of war with Lebanon. Calls for Hezbollah's disarmament by rivals such as the Lebanese Forces and the Sunni Muslim Future Movement have led to upticks of violence in the past.
As such, Heller said mounting any sort of major conflict against the group would be a formidable task, one seemingly riddled with more risk than reward.
"Hezbollah's military advantage relative to other factions is so clear and unassailable," Heller said. "Hezbollah's local rivals seem unlikely to deliberately pick a losing fight."
At the same time, he warned that already dire living conditions for the Lebanese people were only further deteriorating with time and that this may only serve to instigate those looking to take advantage of the situation.
"Ordinary Lebanese seem to be losing their minds, generally, as they struggle under impossible economic pressures, and amid the collapse of basic services," Heller said. "I think people are on edge."
"That probably means more and worse spontaneous flareups of violence, as overstressed people resort to weapons that are widely available," he added. "That violence might happen along sectarian lines, but it might also take place along other cleavages – for example, between Beqaa clans. It could also draw in major factions, if local and specific violence takes on a broader communal character."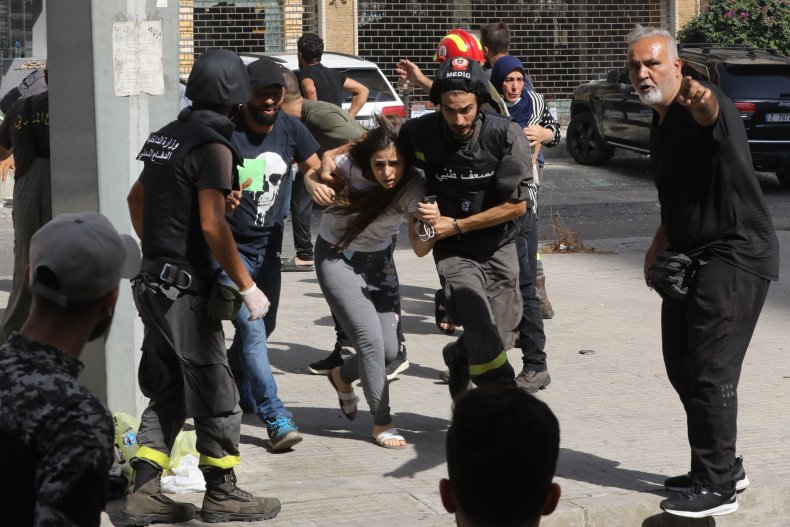 To some who lived through the conflict that tore Lebanon apart decades ago, however, the nightmares have already begun.
Among those for whom the recent clashes brought back painful memories of the past was Jumanah Zabaneh, who works in Lebanon as a program management specialist for the United Nations Entity for Gender Equality and the Empowerment of Women.
"Now specifically, what is similar is what we call 'harb ash-shawaara,' 'the war of the streets,' which means the factions, the parties shoot at each other in populated areas in the streets using small and medium-sized weapons and put at risk the life of civilians that are innocent, that have nothing to do with the war," Zabaneh told Newsweek. "So this is one feature of the Lebanon Civil War that we saw again today."
Even more unsettling, she noted, was the use of snipers, whose secret nests once crowned some of Beirut's most iconic buildings and whose bullets still scar the city. "That we haven't heard about since the Lebanon Civil War ended in 1990, so that is super scary," she said.
Zabaneh was born a year after the civil war erupted and said its events consumed much of her childhood. When the fighting broke out on Thursday, she rushed to pick up her children from school, fearing they too may have to grow up with such scenes of violence.
"Instead of taking us 10 minutes to reach home because we live very close to the school, it took us half an hour because every two meters we had to hide somewhere for fear of being hit by a random bullet because of all the shooting that was happening," Zabaneh said. "So that also brings back the diaries of my daily life during the Lebanon Civil War with my parents. The difference is that now I'm the parent and I have two little daughters I have to take care of."
And just like when she was younger, Zabaneh said she was forced to take shelter at home, gathering key belongings as she feared a chain of worsening events that could once again split Lebanon and wreak further havoc on its embattled people.
"So today when I packed, I packed passports, I packed legal documents, I packed photography, I packed also a couple of items that are very dear to my heart," Zabaneh said, "because I'm traumatized from this idea that I might not return to my place maybe if things escalate into another Lebanon Civil War and the country will be divided."