An Economic Rebound Could Boost Trump Just in Time for Election Day—But Will it Be Enough?
The coronavirus-related recession threatened to be a dagger in the heart of President Donald Trump's 2020 campaign, but experts are predicting an economic rebound that could give him a boost just ahead of Election Day—but the question is whether it will be enough.
"Our economists are projecting a 'V-shaped' recovery and since it will start in the third quarter, or when the campaign is going to be heating up, that could end up working in Trump's favor," said Sam Stovall, the chief investment strategist at the Center for Financial Research and Analysis.
Stovall said his firm, which is one of the world's largest independent investment research companies, estimates GDP will rise 24 percent in the third quarter and the unemployment rate will shrink to 9 percent by the end of October. The Federal Reserve has also predicted a slow recovery with a 9 percent unemployment rate by the end of this year.
While still high, it would be an improvement over current levels. After April showed a near 15 percent unemployment rate, experts had predicted it could go as high as 20 percent. But the May jobs report showed a potential light at the end of the tunnel, as it dipped to 13.3 percent and 2.5 million jobs were added as businesses began to reopen after months-long shutdowns to maintain public health.
The administration's rush to reopen the economy was a big risk as polls showed voters preferred taking more caution and health experts warned of a potential "second wave" of COVID-19 cases. But Trump quickly seized on the positive report as evidence the U.S. was back on track, saying that "we'll go back to having the greatest economy anywhere in the world."
"There is a lot of perception that even if it's close, Trump can get reelected," said longtime Republican pollster Glen Bolger. "If there is a recovery going on and he continues to be seen as better on the economy than Joe Biden, that will be to his benefit politically."
It's a scenario that Democrats have been warned about. As Politico previously reported, Harvard economist and former Obama administration official Jason Furman has been advising party operatives of how an economic rebound—even if unemployment levels are still high come November—can help swing the election in Trump's favor. Furman told them that "we are about to see the best economic data we've seen in the history of this country."
It also doesn't bode well for Democrats that Trump has maintained higher marks on the economy than Biden, the party's nominee, even as millions of people stay unemployed. The president's approval rating for handling the economy has consistently hovered near 50 percent.
"I don't think there is any question that the economy is the thing that is moving in the right direction for him, the real question is whether it will be enough," said Douglas Holtz-Eakin, president of the center-right American Action Forum and a former director of the Congressional Budget Office.
The recession isn't the only problem for the Trump campaign, Holtz-Eakin noted. The nationwide unrest following the police killing of George Floyd on May 25 and a potential second wave of coronavirus are posing major threats to the president's chances of a second term.
"This is roughly the period, three to six months out, where voters make up their minds on key issues," Holtz-Eakin said. And right now, the president is seeing a collapse in the polls.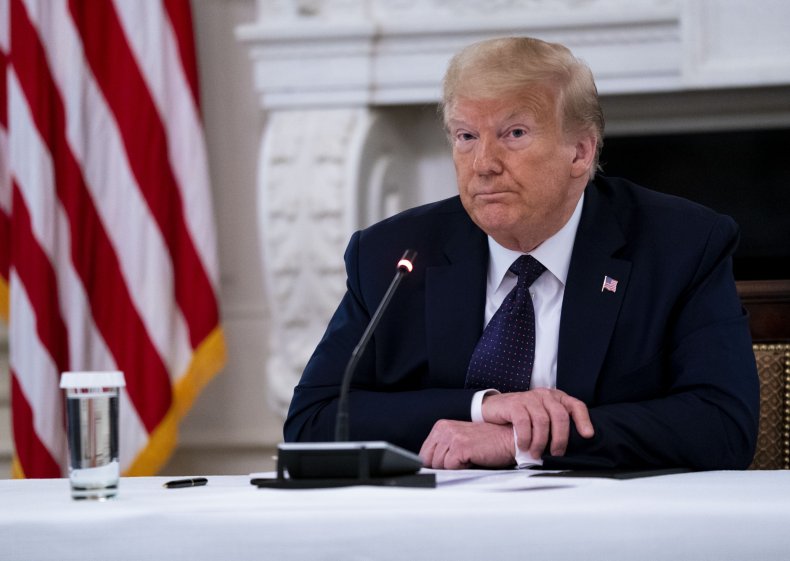 Trump's job approval rating plummeted 10 points in just one month, according to a new Gallup poll. The survey found that 39 percent of Americans now approve of the job Trump is doing, a steep drop from the president's personal high of 49 percent achieved in May—although that survey was conducted before the positive May jobs report was released on June 5.
Nationally, polls show Trump trailing Biden by 14 points. The survey, conducted by CNN, found Trump's deficit had increased nearly three-fold since May.
The Trump campaign's response has been to remain focused on the economy. Amid the protest over Floyd's death, Trump called the positive job numbers a "tremendous tribute to equality" and said it was a "great day" for Floyd.
The White House also appears to be trying to distance itself from a future rise in coronavirus cases by tying a second wave to the nationwide demonstrations. Trump's coronavirus task force has been warning governors that more cases of the virus could be tied to the protests, according to a report from The Daily Beast. Health experts have also warned that protests could lead to more cases. While it's unclear how a second wave would affect the economy, Trump has already vowed not to shut down the economy even if there's a serious uptick in cases.
It's also unclear whether voters would buy Trump's strategy of linking the protests and coronavirus. Polling already shows the country is split on Trump's initial response to the health crisis. It also shows that a large majority of people (74 percent) support the protests and a majority disapprove of the president's handling of the unrest. But political consultants say at the end of the day the economy will likely take center stage on Election Day.
"He could have handled these things better, but the economy is still going to be the number one issue," said Charlie Black, a Republican strategist and senior adviser to late Senator John McCain. "He has to not only have an improving economy, but he's got to be talking about it 90 percent of the time. He can win if he does that."