Economic Recovery Possible Without Another Round of Stimulus, White House Adviser Larry Kudlow Says
The strong rebound to America's economy that White House National Economic Council Adviser Larry Kudlow foresees doesn't require another round of fiscal stimulus from Congress.
Weeks of discussions between the White House and Democratic Party leadership stalled as the two sides were unable to come to an agreement, dashing hopes of a package before September. Speaker of the House Nancy Pelosi and White House Chief of Staff Mark Meadows are set to resume their conversations on Thursday afternoon. But if the White House and by proxy, Republicans, aren't willing to meet in the middle it could be a "very short conversation," Pelosi said, because "we're not budging."
Experts previously told Newsweek another round of stimulus would help the country's economy as it recovers from the downturn caused by the new coronavirus. But, Kudlow told Politico chief economic correspondent Ben White that the economy can bounce back even if Congress can't reach a deal.
"I think we are [able to continue recovering without financial stimulus]," Kudlow said. "If the virus continues to flatten after this tough summer of spiking, I think you'll see more businesses reopen, even those that might have paused will come back online [and] more people are going to come back to work."
Kudlow made a similar assertion during an August 12 interview with Fox Business' Varney & Co. He said he didn't think a lack of more stimulus money would slow down the economy and that President Donald Trump's executive orders were enough to provide assistance during a "self sustaining economic recovery."
Newsweek reached out to Kudlow for comment but did not receive a response in time for publication.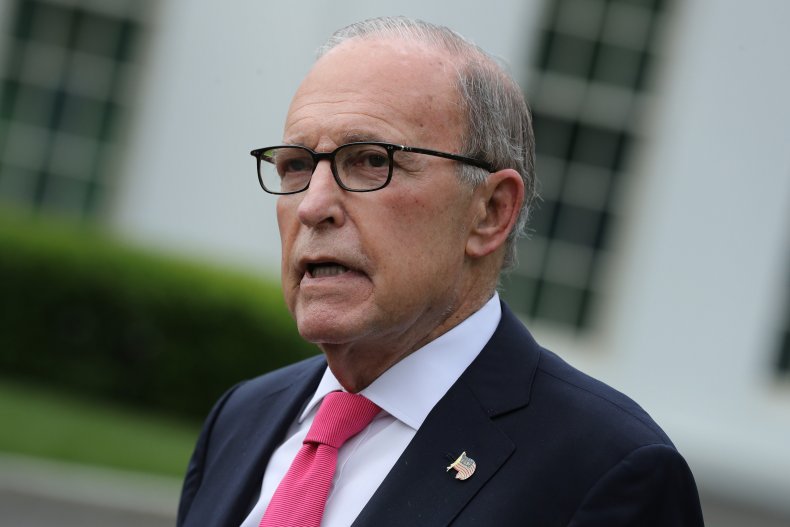 Republicans may be planning to put forth a $500 billion plan that includes expanded unemployment insurance, small business loans and aid for schools, COVID-19 testing, treatment and vaccines, CNBC reported. Kudlow said he wouldn't get ahead of Meadows, but said the economy certainly benefited from the stimulus included in the Coronavirus Aid, Relief, and Economic Security (CARES) Act.
Senate Majority Leader Mitch McConnell said during a Thursday event that he couldn't say whether the two sides of the aisle would reach an agreement on another round of relief. However, he said "I think we need another one," and hoped that they could come together as they did in March for the CARES Act because the new coronavirus "does not care" who wins the election in November.
As talks stalled, Pelosi said they were willing to come down by a trillion dollars if the White House would come up by a trillion, with a meeting point of $2 trillion. Ahead of her conversation with Meadows, she told reporters she plans to open the call with the question as to whether the White House is ready to bring "more money to the table."
Kudlow told White that the White House will oppose packages with $3 trillion or $4 trillion price tags but advocated for passing a smaller package if they're able to agree on five or six areas. That could include aid to education and schools reopening, tax relief, expanded unemployment and the paycheck protection program, Kudlow said. However, they weren't planning on giving into some of the items Democrats want that are part of their "wish list" of unrelated COVID items, such as spending for the Postal Service.
When it comes to the future of the economy, the "biggest risk" is the course of the virus. Kudlow said the "good news" is that the spike in cases seen this summer didn't have the negative economic impact people feared would happen, but added "we're not home yet" and there's "much, much more work to be done."