A prominent economist confronted Sean Hannity on Friday over the Fox News host's claims about U.S. energy production under the Biden versus Trump administrations.
On his show Friday, Hannity attacked President Joe Biden's energy policies. His guest, Austan Goolsbee, a University of Chicago professor and former economic advisor for the Obama administration, denied one allegation after another in a heated exchange.
"He inherited energy independence, and we were a net exporter of energy, and now he's begging OPEC," Hannity said.
Goolsbee pushed back, saying Biden "inherited an economic downturn bordering on catastrophe, and in times like that, the price of oil tends to go way down."
Hannity insisted that Biden is responsible for a decline in energy production, saying he "reduced America's energy output by 40 percent" and noting the U.S. was a net exporter of energy under former President Donald Trump.
"No, he did not cut energy production by 40 percent," Goolsbee responded. "Energy production fell because we were in an economic catastrophic downturn."
The U.S. was producing 11,473 barrels of crude oil in October 2021, according to the latest data by the Energy Information Administration, compared to 10,413 barrels in October 2020, and 12,771 barrels in 2019 before the pandemic hit.
"Biden did not reduce oil production by 40%," Goolsbee told Newsweek on Saturday. "Oil production in the U.S. in 2021 was barely down from the peak years under Trump and was higher than all but 2 years in U.S. history."
Hannity countered that Biden fired Keystone XL pipeline workers, to which Goolsbee replied, "The Keystone pipeline wasn't built yet, Sean. That had no effect on energy production."
Hannity then asked the economist why Biden is "begging OPEC," adding, "Donald Trump didn't beg OPEC."
"He's not begging OPEC," Goolsbee replied. "He convinced OPEC, and OPEC is increasing their production."
Hannity insisted that OPEC keeps "rejecting" Biden.
"They didn't reject him," Goolsbee replied. "They said they're increasing production in the month of January. Why are you complaining about that, Sean? You're all over the map here. You were saying you didn't like to pay high gas prices. I told you gas prices went down and Biden convinced OPEC to increase production, and then you said, 'Why is he asking them to increase production?'"
On the matter of gas prices, Goolsbee told Newsweek that "Oil is a world commodity. Gasoline prices are up everywhere because world oil prices are up everywhere, not just in the U.S."
Despite the heated argument between Hannity and Goolsbee, the former economic advisor told Newsweek that they were "just having fun."
"Sean and I are old friends and we have been arguing together for years. As I say, we bicker like two old guys in the nursing home, but it's just our thing," Goolsbee said. "I always enjoy debating with him and I have a lot of respect for his skills. He always keeps me on my toes and I hope he would say the same for me."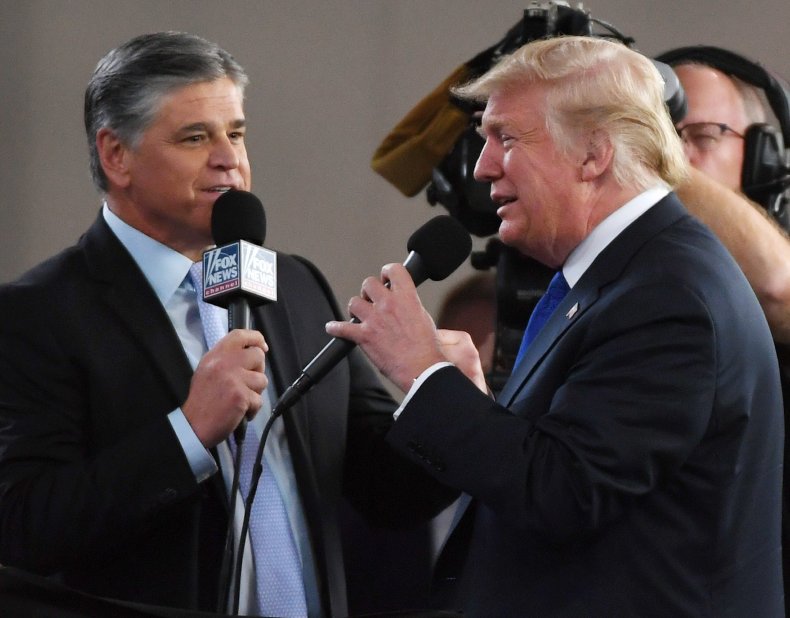 Hannity has long criticized Biden and his policies. In an interview with Newsweek in October, Hannity called the president "weak, frail and a cognitive mess."
"We now see the consequences, but the media has put him into a protection program," he said of Biden.
According to Reuters, U.S. energy firms added the most oil and gas rigs in the week of January 14 since April 2020.
The story was updated to include Goolsbee's comments and data from the Energy Information Administration.