Economists Back Record $3 Trillion Borrowing in Coronavirus Crisis Despite GOP Concerns
The Treasury forecast of nearly $3 trillion in borrowing amid the coronavirus crisis has been supported by economists, despite questions being raised over its long-term impact.
In the April to June quarter, it is forecast there will be $2,999 billion borrowing of "privately-held net marketable debt," some $3,055 billion higher than had been announced in February.
At that point, the Treasury had hoped to pay down some debt in the second quarter.
An announcement detailed the borrowing as "primarily driven by the impact of the COVID-19 outbreak," which has seen mass expenditure on plans to support individuals and businesses as well as the deferral of certain taxes.
Kenneth Rogoff, an economics professor at Harvard University and former chief economist at the International Monetary Fund, told Newsweek the level of borrowing "makes perfect sense" amid the coronavirus crisis.
"The whole point of saving for a rainy day is to be able to spend massively and without hesitation during wars, pandemics and other generational disasters," he said.
"The US is fortunate to be one of the countries in a position to do so. If COVID-related debt eventually amounts to $10 trillion or more, as it may well do—it could take 5 years or more to fully recover—and we get out this safely with the economy in decent shape, we should be fine with that."
Commenting on how the debt may in future be reduced, Rogoff added: "Unless there are severe market pressures, there is not likely to be any urgency whatsoever to getting debt down, especially as long as the US dollar rules the global financial system.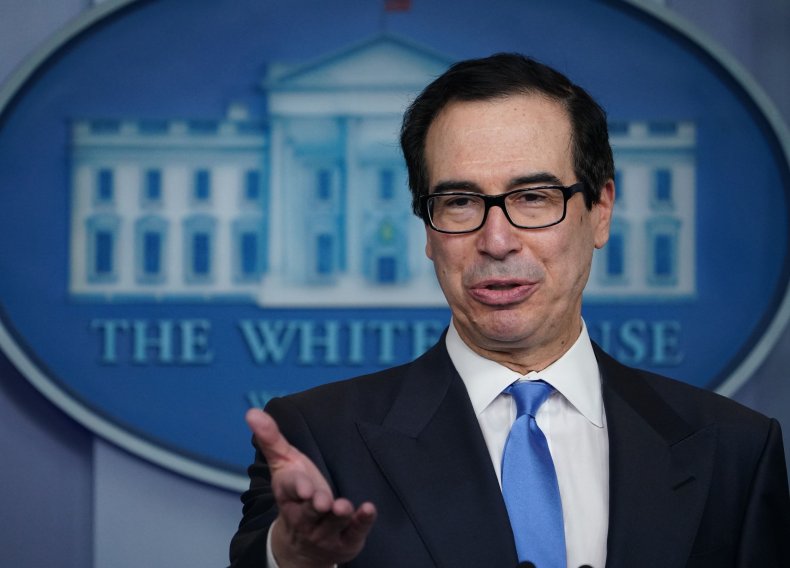 "If interest rates remain very low and growth picks up, the debt to income ratio will decline organically over time as long as the government does not continually run very large deficits."
Mark Gertler, Henry and Lucy Moses Professor of Economics at New York University and a research associate of the National Bureau of Economic Research, told Newsweek there is the capacity for such action at present, though this will not remain indefinitely.
"In the near-term, the U.S. has the capacity to finance the huge increase in transfers by deficit finance, given how low interest rates are," he said. "But it is unlikely to be able to do so indefinitely, as rising debt levels could put upward pressure on interest rates. Where exactly the threshold level of debt to GDP capacity lies is something we are uncertain about."
He said if the threshold to which there is capacity for this action is crossed then "some type of fiscal retrenchment would be likely."
However, he added: "To be clear, the odds are that we can absorb the current projected debt levels. The problem is that if it takes much longer than expected to reasonably contain the virus, since the economy cannot get back to normal until the former happens."
Describing the $3 trillion sum, which eclipses the total of similar borrowing for the whole of 2019, as staggering, Maya McGuiness, president of the Committee for a Responsible Federal Budget, said: "we didn't have much choice."
"This pandemic required that we 'freeze' economic activity temporarily to protect public health, which is the top priority," she told Newsweek.
"Along with funding the health care response, we needed timely, targeted—and temporary—fiscal relief to make whole those individuals and businesses who've lost their job or their customers."
Commenting on repercussions of the borrowing, she added: "The Treasury's latest figures on borrowing are the clearest sign yet that we'll need to think about how to get our fiscal house in order over the long-term once the virus is contained and the economy has stabilized."
Major federal sums have been made available in order to stimulate and steady the economy throughout the coronavirus crisis, with the latest major investment being the fourth relief bill, valued at $484 billion.
Meanwhile, Democrats have been pushing for a fifth bill, which could amount to $1 trillion or more.
Republican Senator Scott of Florida feels there is a need for work to bring down the deficit, calling for federal spending to be cut after the coronavirus pandemic is over.
A spokeswoman for Sen. Scott told Newsweek: "If Congress does nothing, there will be a day of reckoning—leading to either runaway inflation or deflation—both of which would hurt America's poorest families and those living on a fixed income.
"Once this crisis is over, Senator Scott is calling on Congress to make a plan to cut federal spending by at least the amount spent during the crisis."
While Rep. Ken Buck (R-CO) told Newsweek: "The true costs of our out-of-control spending and borrowing will be left for our children and grandchildren to deal with. It is not only fiscally irresponsible, but downright negligent to leave such a massive debt burden for future generations.
"We need a plan in place to cap spending and balance our budget in the future to start repaying this debt."
Newsweek has contacted the Treasury for comment.
The coronavirus outbreak has seen more than 1.2 million infections in the U.S., with lockdowns seeing business in areas across the nation brought to a halt.
The infographic below, from Statista, shows the worst-hit states.