Economists Call Out Trump and Congress for Stalled Stimulus Package as Unemployment Remains at Historic Levels
Economists have criticized President Donald Trump and Congress over their failure to pass another round of economic stimulus legislation as unemployment remains at historic levels and millions of Americans struggle to pay their bills.
New unemployment claims for the first time since March fell below 1 million last week, according to the Department of Labor's latest report released Thursday. But even as the number of new claims continues to decline, the number of Americans collecting weekly unemployment benefits remains above 25 million. The unemployment rate is estimated to stand at about 10.6 percent—higher than the 9.9 percent seen in 2009 during the Great Recession.
"Thinking back to the early days of the pandemic and the imposition of restrictions, there's no doubt that the severity of the outbreak has weighed on prospects for a more rapid economic recovery," Mark Hamrick, senior economic analyst for Bankrate.com, said in an email to Newsweek. "Even when effective vaccines become available, millions of Americans will still be struggling to put their financial lives back in order. But that time, in 2020 pandemic terms, remains a long way off."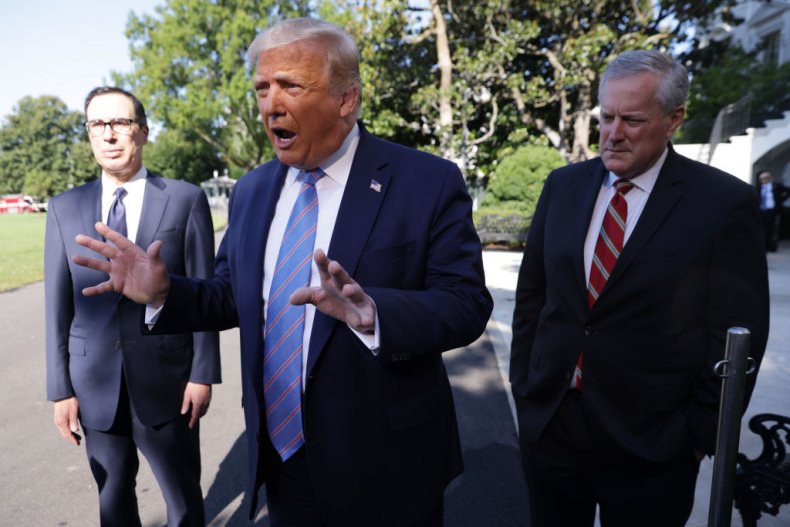 Hamrick said it was "quite stunning that Congress has yet to agree on a fresh round of relief legislation." The analyst explained that the "nation's governors and business interests alike have urged all sides to redouble their efforts to pass meaningful and much needed legislation."
Negotiations have stalled between Republicans, Democrats and the White House over a new round of coronavirus aid. The Democratic-controlled House of Representatives in May passed the $3 trillion HEROES Act, but that was quickly dismissed by Republicans and Trump as a "wish list." In late July, Senate Majority Leader Mitch McConnell, a Kentucky Republican, put forward the smaller $1 trillion HEALS Act as the GOP starting offer in negotiations.
Democratic leaders have said that the two sides should meet in the middle and pass a proposal closer to $2 trillion, but discussions have largely stalled. Major disagreements persist over how much unemployment assistance should be provided, as well as the level of aid to state and local governments and other issues.
The impasse led Trump to sign a series of controversial and legally complicated executive orders over the weekend, one of which extended extra unemployment payments through the end of the year. But the order cut the amount from $600 per week, which Democrats want to extend, to $400 per week.
"Today's Labor Department report underscores the ongoing impact of the untimely cut off of federal unemployment benefits, and offers more evidence that the President's Executive Order won't meet the challenges facing unemployed workers and the economy," Andrew Stettner, senior fellow at the Century Foundation, said in comments emailed to Newsweek.
"Workers will get little to no relief from the haphazardly crafted executive action announced by the President last week. Nearly a week after the announcement was made, there are more questions than answers about the new program of 'Lost Wages Assistance' advertised as a replacement for the successful CARES Act program," he said.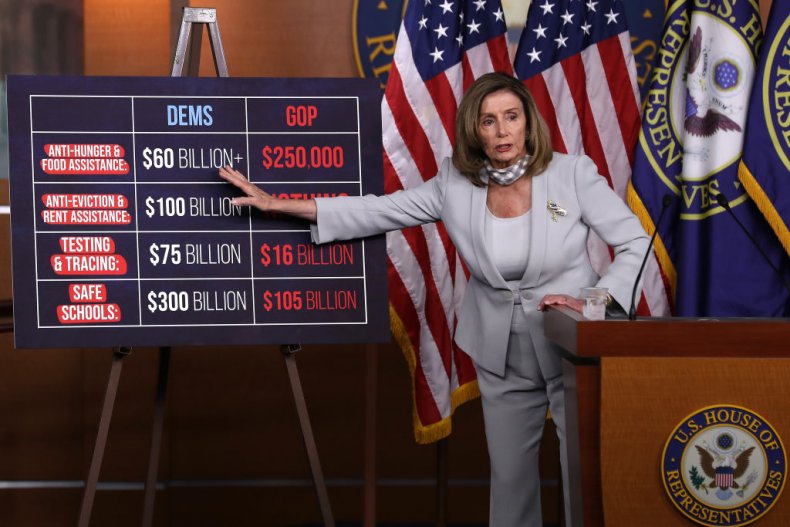 Julia Wolfe, state economic analyst at the Economic Policy Institute, shared similar concerns in a Thursday morning blog post.
"In an unserious move of political theater, the Trump administration has proposed starting up an entirely new system of restoring wages to laid-off workers through executive order," Wolfe wrote.
"This inaction and ongoing uncertainty is causing significant economic pain for workers who have lost their job during the pandemic and their families," she argued.
Nobel Prize–winning economist Paul Krugman urged American leaders to take action in an opinion column in The New York Times this week, warning that inaction could lead to dire consequences.
"The emergency relief that sustained the U.S. economy through the coronavirus has expired, even though the pandemic is still very much with us," Krugman wrote. "Unless very quick action is taken, consumer spending is about to collapse, bringing the whole economy down with it."