As Economists Push for Second Stimulus Check, Pelosi Faces Pressure to Support Targeted Relief Package
Speaker of the House Nancy Pelosi has been holding out for Republicans to up the price tag of another COVID-19 relief package, but with only weeks before the end of the year, she faces pressure to bend a little to provide it.
Pelosi has been in conversations with the White House for three months in an effort to bring forth a bipartisan coronavirus relief package. However, as cases surge past 12 million and legislators implement additional restrictions on gatherings and businesses, the two sides have yet to reach an agreement.
On Monday, more than 120 economists penned an open letter calling for recurring direct payments. They wrote that stimulus checks are an "essential tool" in keeping the number of people in poverty from increasing, as well as being a booster for consumer spending.
During a meeting with President-elect Joe Biden and Vice President-elect Kamala Harris, the parties agreed that a relief package needs to be passed in the lame-duck session. They're not the only ones hoping for a package before Biden takes office and several legislators have called for the two sides to compromise.
House Majority Leader Steny Hoyer told CQ Roll Call on Friday that there needs to be "some significant relief to people" even if it's not "everything that everybody wants.
"And then we're going to be here next year. If we need to do other things, we'll do other things," Hoyer said.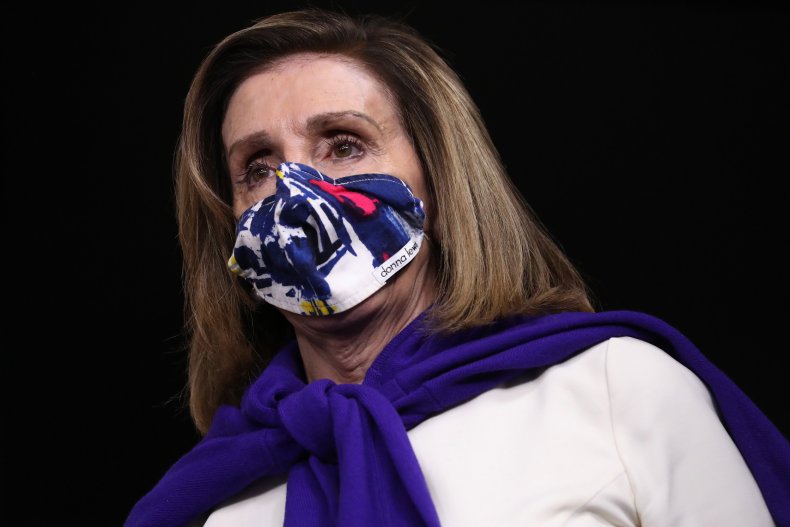 With control of the House, Democrats passed a $3 trillion relief package in May, but it was blocked in the Republican-controlled Senate. However, it's possible in January that Democrats won't face the same roadblock.
Democrats lost seats in the House during the 2020 election but managed to retain control of the chamber and still have an opportunity to take control of the Senate. If Democrats win both Senate seats in Georgia's runoff elections on January 5, there will be a 50-50 split in the Senate and casting the tie-breaking vote will fall on Harris as vice president. With Biden in the White House, it may give Democrats an easier path forward with regards to passing a relief package of their own.
Republicans, including Senate Majority Leader Mitch McConnell, have pushed for more targeted relief than the $2 trillion package Democrats want. On Wednesday, Representative Dwight Evans, a Pennsylvania Democrat, pushed Pelosi and Senate Minority Leader Chuck Schumer to "move swiftly and immediately" to pass legislation that expands unemployment benefits, rental and mortgage assistance and supports small businesses.
"The American people cannot afford to wait weeks to negotiate a package that the Senate may again refuse to consider," Evans wrote. "While undoubtedly, a substantial relief package is needed to address the impacts of the public health crisis in its entirety, I respectfully urge you to immediately pass bipartisan legislation..."
At the end of the year, the Pandemic Emergency Employment Compensation program, which provides 13 additional weeks of unemployment insurance, as well as the eviction moratorium and student loan forbearance will expire if Congress doesn't pass another package. Biden supports forgiving up to $10,000 in student loan debt because of the pandemic, but he doesn't take office until January 20, putting loans in limbo for at least three weeks.
Louisiana Governor John Bel Edwards, a Republican, is also pushing Pelosi and McConnell to put their differences aside and pass relief for the items they agree on.
"Our unemployment insurance trust fund is at zero and I do believe another round of stimulus would do it," Bel Edwards told WBUR. "I'm encouraging Speaker Pelosi and the Senate Majority Leader Mitch McConnell to sit down and figure this thing out. It's sad that there's so much they agree on and they still can't move forward on things they agree upon."
The Problems Solvers Caucus, a bipartisan group of legislators, said Congress "cannot delay" the relief any longer and after meeting with Senators from both parties, the caucus said there was an opportunity to provide bipartisan "urgently-needed assistance to American families and businesses."
A package passed in the lame-duck session should include resources for fighting the pandemic, aid for families and small businesses, as well as, state and local governments, expanded unemployment insurance and health care, according to Pelosi.
As of Monday, there were no ongoing "active negotiations," according to Pelosi, but she said she was "optimistic" that there would be a bipartisan package.