Economists Say America Faces Long Fragile Recovery Despite June's Historic Jobs Numbers
A record number of jobs were added to America's economy in June, and while job growth is always a good thing, economists have warned the country is far from over its unemployment hurtle.
The new coronavirus outbreak spiked American unemployment rates to levels not seen since the Great Depression, putting tens of millions of people out of work. As states reopened in May, unemployment numbers improved and the trend continued in June with unemployment rates declining by 2.2 percentage points.
Between May and June, 7.3 million jobs were added, according to the Bureau of Labor Statistics (BLS). President Donald Trump championed the historic increase of 4.8 million jobs in June and economists agree that more jobs is always positive.
"We're one third back in two months which is incredible but we've got a long way to go," Richard Burkhauser, an emeritus professor at Cornell University and a former member of Trump's council of economic advisers, told Newsweek.
At its height in April, about 23 million people were filing unemployment claims and more than 17 million people remained out of work in June, the BLS reported. With 11.1 percent of people unemployed, Henry Farber, an economics professor at Princeton University, said the growth in unemployment is "only a drop in the bucket."
The decline in unemployment was about what Farber expected given that restrictions eased and businesses were calling employees to come back to work. With that said, the recent rise in coronavirus cases puts America's positive unemployment trend in a precarious position.
America is seeing record high numbers of new cases and over the past week, reported more than 300,000 new cases—a twofold increase from the previous month. Spikes in California, Florida and Texas prompted orders for bars to close and Governor Andrew Cuomo paused indoor dining in New York City, once the epicenter of the outbreak, to prevent a resurgence.
They're the four biggest states in the country and Farber said the impact of the closures will be reflected in data that's released in August. It's hard to predict what July's numbers will be but he said it's possible there will be no improvement from June.
"What's true is, fundamentally we're nowhere close to where we were before the pandemic," Farber said. "It just takes time, and given the course of the disease you shouldn't fool yourself into thinking things will go in one direction, it's going to go up and down."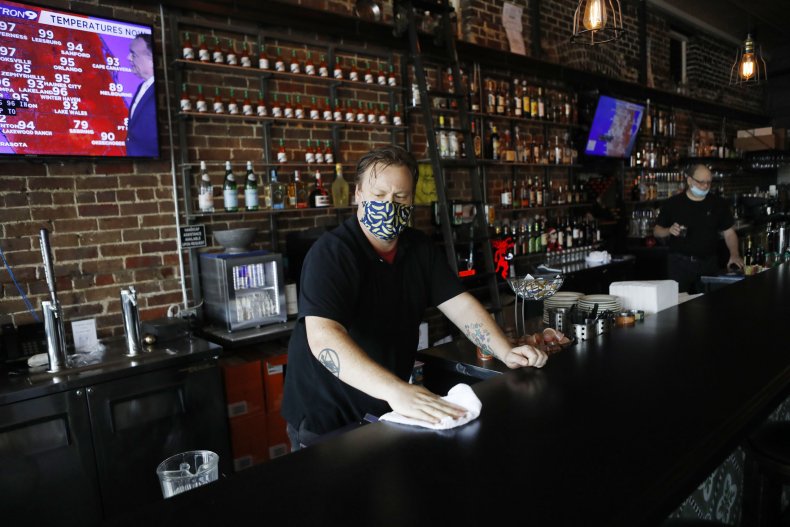 David Blanchflower, an economics professor at Dartmouth University and former Bank of England policymaker, said Trump celebrating the report is "a bit much" because of the uphill road America's still climbing. The labor market is functioning largely because of huge amounts of government support, and it's unclear what will happen to jobs once that support is gone, Blanchflower said.
He added that the reality of the situation is that the economy is on "life support" and if it's taken away, some businesses won't survive. Putting further strain on the return of jobs is the possibility that people's behaviors will fundamentally change because of the pandemic.
Amazon, Target and Walmart sales boomed as people were confined to online shopping and Blanchflower suspected some people who have gotten used to having everything delivered won't go back to the days of in-store shopping. While young people rushing out to bars fostered the virus' spread in some states, a lot of people remain fearful and aren't going to be fond of going to sporting events or getting on a plane.
That fear could also translate into people saving money instead of spending it, Blanchflower said, and without customers, businesses can't survive.
Burkhauser agreed that some people may be concerned about returning to normal life, so he said it's crucial that businesses take measures to convince clients it's safe. While weaker retail businesses will fold in part because of the pandemic and in part because online shopping was already on the upward swing, Burkhauser said he believed "there will always be jobs."
"To the degree that retail stores will go out of business, there's a growing population of older people who will need service and care and those are lower-skilled jobs that pay reasonably well," Burkhauser said.
Herd immunity is key to stopping an outbreak, and one way to achieve that is with a vaccine. Officials lauded the work that's been done on potential vaccines for the new coronavirus, as it's moved forward at an unprecedented speed, and if all goes smoothly an inoculation could be available in early 2021.
Farber, who said he wasn't sure if he was comfortable getting on a cross-country flight this fall, said the development of an effective vaccine is "the single most important thing" to making people comfortable shopping, dining out and traveling, three markets hit hardest.
There are too many "it depends" factors for economic experts to determine the exact timeline for the recovery, but they all agreed that additional help for individuals is needed to get people through the crisis. Although, they had differing ideas of what form aid should take.
Blanchflower advocated for continuing the additional $600 in unemployment insurance that is set to expire at the end of the month, saying it would be catastrophic to pull it. The unemployment expansion was part of the bipartisan Coronavirus Aid, Relief and Economic Security (CARES) Act, but Republican lawmakers have since criticized it for paying people more in unemployment benefits than they were making at their jobs.
To offset that criticism, Farber said lawmakers could tweak the system so that people earn what they were making at their job, but aren't overcompensated. From a political standpoint, this would remove the talking point about people earning too much while getting crucial money to people whose jobs haven't come back. Instead of expanding unemployment benefits past the July expiration date, Burkhauser backed return-to-work bonuses, a measure that's more popular among Republicans.
One point all three economists agreed on? This is a wholly unique situation.
"This is the biggest cliff edge you've ever seen in your life," Blanchflower said. "The last person in the world who wants to see this is our current president. The state of our labor market has a major impact on a president's ability to win a second term."