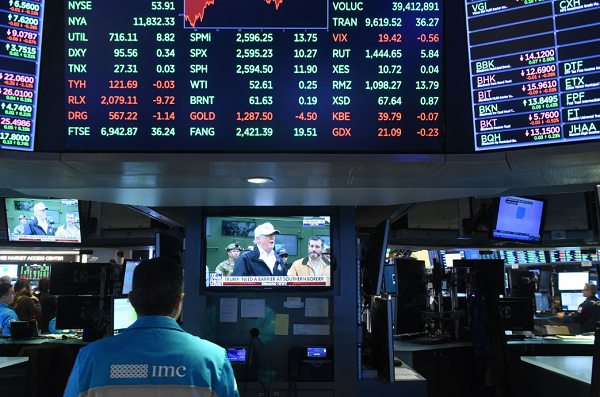 Consumer sentiment dropped to the lowest it's been in two years, according to data released and reported by CNBC on Friday. The University of Michigan consumer sentiment index was at 98.3 in December but dropped to 90.7 in January, according to the report.
Economists predicted the index to drop in the new year, but not nearly as low. A poll by Refinitiv cited top economists suggesting consumer sentiment to fall to about 96.4.
The drop to 90.7 is the lowest consumer sentiment has been since before the 2016 election. The drop likely occurred in connection with Donald Trump's policies, including "the partial government shutdown, the impact of tariffs, instabilities in financial markets, the global slowdown and the lack of clarity about monetary policies," according to Richard Curtin, the chief economist for Surveys of Consumers.
"Aside from the direct economic impact from these various issues on the economy, the indirect effect meant that half of all consumers believed that these events would have a negative impact on Trump's ability to focus on economic growth," Curtin told CNBC.
In addition to the current drop in consumer sentiment, Curtin noted that the data also suggested the year-ahead economic outlook was the worst it had been since 2014. That doesn't necessarily mean the economy is headed for a complete downfall though. "While the January falloff in optimism is certainly consistent with a slowdown in the pace of growth, it does not yet indicate the start of a sustained downturn in economic activity."
Despite the data, President Donald Trump on Saturday suggested the economy is in the best shape ever. "The Economy is one of the best in our history, with unemployment at a 50 year low, and the Stock Market ready to again break a record (set by us many times) - & all you heard yesterday, based on a phony story, was Impeachment. You want to see a Stock Market Crash, Impeach Trump!" he wrote.
Meanwhile, CEOs across the globe are fearful a full economic recession is on the horizon in 2019. A survey of 800 executives, conducted by research firm The Conference Board, revealed a recession risk was CEOs biggest concern. It was the main fear of CEOs in Japan, China, Latin America and the U.S.