'Eat Out to Help Out' Scheme for 50 Percent Food Discount in U.K. Begins
Today sees the launch of the U.K.'s "Eat Out to Help Out" scheme, which aims to provide a boost to the country's hospitality industry following the COVID-19 lockdown.
British Chancellor Rishi Sunak announced the scheme as part of his summer statement among a series of economic measures to help the country's economy.
Between August 3 and August 31, people will be able to claim a 50 percent discount on food and non-alcoholic drinks at participating restaurants, cafes and pubs.
The discount is only available from Mondays to Wednesdays and is set at a maximum of £10 ($13) per person per meal.
This means that if two people order £30 ($39) of food and non-alcoholic drinks, a 50 percent discount of £15 ($19), allows each person to claim a discount of £7.50 ($9) off their meal.
However, if the couple spent £50 ($65), they can only receive a discount of £20 ($26), given the maximum cap of £10 ($13).
There is no limit to the number of times you can use the discount in a day and it can apply to children and groups of any size.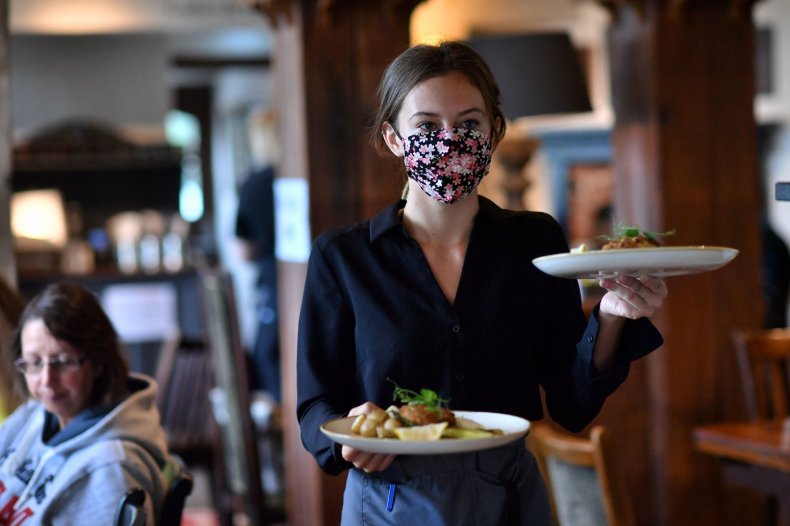 Launching the scheme in his summer statement, the chancellor said: "To get customers back into restaurants, cafes and pubs, and protect the 1.8 million people who work in them, I can announce today that, for the month of August, we will give everyone in the country an Eat Out to Help Out discount."
The scheme is expected to cost the government £500 million ($655 million), depending on uptake.
With COVID-19 cases rising in some areas of England, the government has said that local advice should be followed but they are still encouraging people to take advantage of the offer.
Hawksmoor, a British steakhouse and cocktail bar chain, which has signed up to the scheme says more than 5,000 diners had made bookings within six hours after it offered to feed visitors for just £10 ($13).
Will Beckett told Bloomberg: "It is a really good scheme and the industry should grab it with both hands and do interesting things with it. We are just one of a number of restaurants that are embracing it."
McDonald's has confirmed it too will be participating in the scheme, meaning the price of a single Big Mac will cost £1.60 ($2) instead of £3.19 ($4).
Burger King is also partaking in the scheme, with in-app offers set to run in two phases, with deals available from August 3-14 and the second phase running from 17 to the 31.
Alasdair Murdoch, chief executive of Burger King U.K. said: "We are really pleased to be taking part in the Government's Eat Out to Help Out scheme, and hope that it will bring some much-needed relief and joy to consumers during this challenging time, when they fancy a special treat."
In the U.S., Treasury Secretary Steven Mnuchin has called on Congress to work with President Trump to provide targeted support to the hardest hit industries from the COVID-19 pandemic, including the hospitality sector.
There is a "Real Economic Support That Acknowledges Unique Restaurant Assistance Needed to Survive (RESTAURANTS) Act of 2020" in the U.S. introduced in the House of Representatives in June with bipartisan support.
This would offer a $120bn grant program to help restaurants until December 31, 2020, with a priority on independent businesses. It is unclear whether this Bill will become law as no further action has been taken since the end of June.
Update 08/03/20 05:55: Since publication, information about the U.S. Restaurants Act has been added to compare the situation in Britain with the U.S.