Economy Is More Important Than Health Care For 32% Of Voters In Arizona, North Carolina and Florida: Poll
The economy remains the most important issue for voters in North Carolina, Florida and Arizona.
A new poll from the Kaiser Family Foundation and the Cook Political Report found that 32 percent of Sun Belt voters say the economy is the top issue when it comes to electing a president, in comparison to the 12 percent who ranked health care as the most important.
Another 17 percent think criminal justice would be their key factor when casting a ballot, while 16 percent say the coronavirus pandemic would have the greatest impact on which candidate they vote for.
More than 3,000 participants said that while they trust Democratic nominee Joe Biden to handle health care, coronavirus and race relations, more than half of voters think President Donald Trump would do a better job of dealing with the economy.
Despite the concerns of these swing state voters over the economy, Biden has a five-point lead in Arizona, a two-point lead in North Carolina and a one-point lead in Florida, according to the poll conducted between August 29 and September 13.
Numbers across the three states are relatively stable in each top issue, except for race relations, which is twice as important to voters in North Carolina than in Florida. Among more than 1,000 participants from each state, 16 percent of North Carolinians say race relations is their top issue, compared with 8 percent of Floridians.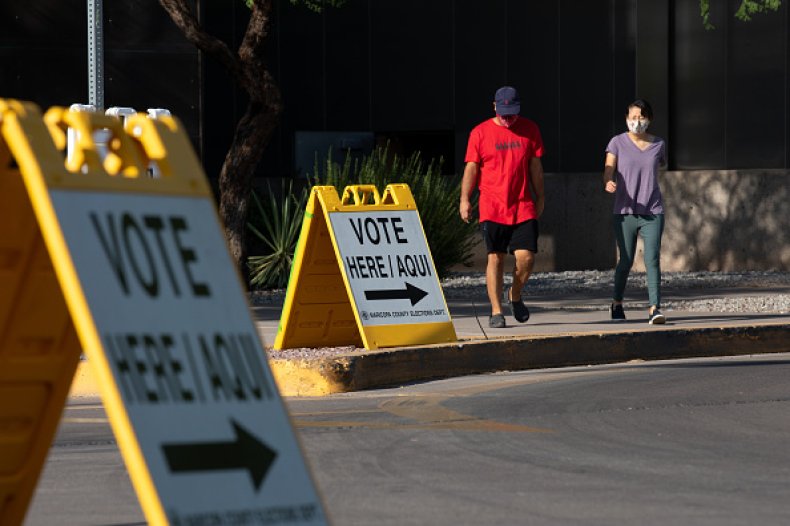 When broken down by party, the coronavirus outbreak is notably ranked as a top issue for Democrats and second for Independents, while the pandemic does not make the list of top four issues for Republicans. Immigration is the only issue that appears in only one of the top four lists, ranking third among Republicans.
The majority of voters who said they would vote for Biden said their vote is mainly a vote against Trump. Fifty-three percent of Biden voters will be voting against Trump compared to the 46 percent who will be voting for the former vice president.
In all three states, one in five individuals are "swing voters," a younger group who largely identifies as political moderates and independents, according to the poll. Hispanics also make up for a significant share of swing voters. Twenty-two percent of voters in the Sun Belt states will be up for grabs come Election Day, according to the poll.
Among these swing voters, Biden received slightly more positive ratings while Trump was given negative ratings. However, more than half of Arizona swing voters said Biden is too old to be president but only 19 percent of these voters think the same about Trump, who is younger by four years.