Goldman Sachs Chief Economist Warns U.S. Fiscal Outlook Is 'Not Good'
Goldman Sachs is warning its clients that the long-term fiscal outlook for the United States is "not good" because of high levels of deficit spending due to the recent Republican tax cuts and the omnibus spending bill. This spending could hurt the country's ability to recover from recession and even threaten the fiscal security of the country.
"An expanding deficit and debt level is likely to put upward pressure on interest rates, expanding the deficit further," wrote Jan Hatzius, Goldman Sachs's chief economist, on Sunday. "While we do not believe that the U.S. faces a risk to its ability to borrow or repay, the rising debt level could nevertheless have three consequences long before debt sustainability becomes a major obstacle."
By 2028, the CBO estimates that American debt held by the public will rise from 78 percent of GDP to 96 percent of GDP, the highest percentage since 1946 and double the average over the past 50 years.
Because of tax cuts, revenue will eventually struggle to cover only the cost of mandatory spending programs, like Medicare and Social Security, and the interest owed on its debt. There will be very little remaining for spending on other programs, like the military, education, infrastructure and emergency funding in response to natural disasters, according to the CBO.
Goldman warned that this would inhibit the ability of lawmakers to pass more fiscal stimulus, or recovery programs, during the next economic downturn. "Lawmakers might hesitate to approve fiscal stimulus in the next downturn in light of the already substantial budget deficit," explained Hatzius. They would also be unable to stimulate growth during the recovery following recession. "The current fiscal expansion...must at some point give way not just to a neutral stance, which we expect by 2020, but to a tightening of fiscal policy that could restrict growth," he said.
While the U.S. economy is still booming, there are signs a recession could be coming. The economy is cyclical and this is already the second longest economic expansion period in U.S. history. A Wall Street Journal poll of top economists last week found that 59 percent believed the next recession would begin by 2020, and 62 percent believed the recession would be caused by rising interest rates. Other reasons they believed the United States would cycle into a recession was because of another financial crisis (Congress is likely about to ease financial regulatory rules like Dodd-Frank, put in place as a response to the last financial crisis), an asset bubble popping, or an international trade crisis.
Hatzius is concerned about the increasing interest rates as well. Goldman calculates that when employment is high, as it is now, each 1 percent growth of the deficit increases the 10-year treasury yield (which helps to set the price for loans) by 0.01 percent. The seemingly small interest increases add up quickly; the 10-year yield reached its highest point since July of 2011 last week.
"While we expect Congress will eventually address the widening budget gap, it also seems quite likely to take longer than most market participants might expect," said Hatzius.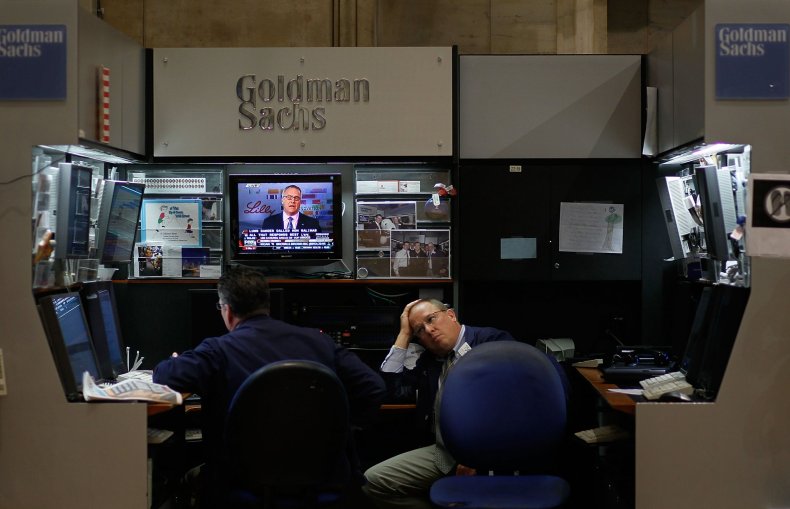 Goldman Sachs Chief Economist Warns U.S. Fiscal Outlook Is 'Not Good' | U.S.