U.K. Suffers 'Unprecedented' Economic Fall With Worse Expected to Come
The U.K. economy shrank by 2 percent in the first quarter of 2020, with a record slump in March, as the country was placed under a COVID-19 lockdown at the end of the month.
The rate of the economic slump is the fastest the U.K. economy has experienced since the financial crash in 2008.
The Office for National Statistics (ONS) released the figures which are the first official growth estimate since the government introduced social distancing measures on March 23.
In March, GDP fell by 5.8 percent, the biggest single-month fall since records began in 1997, according to the ONS, which reflected only one week of lockdown.
It is predicted that the current economic quarter till the end of June will see more negative economic performance as the impact of the lockdown becomes clearer.
The month of March saw some sectors of the economy particularly hit, with education, falling by 4 percent as a result of school closures at the end of the month and wholesale and retail trade and repair of motor vehicles and motorcycles, falling by 10.7 percent, driven by a reduction in new car registrations.
Travel agents saw a fall of 23.6 percent as a result of reduced demand caused by the introduction of travel restrictions.
Jonathan Athow, deputy national statistician for economic statistics at the Office for National Statistics (ONS), said: "With the arrival of the pandemic, nearly every aspect of the economy was hit in March, dragging growth to a record monthly fall.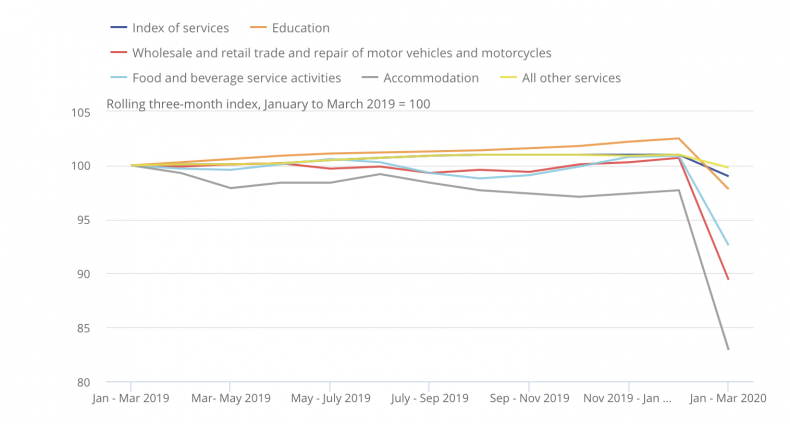 "Services and construction saw record declines on the month with education, car sales and restaurants all falling substantially.
"Although very few industries saw growth, there were some that did, including I.T. support and the manufacture of pharmaceuticals, soaps and cleaning products.
"The pandemic also hit trade globally, with U.K. imports and exports falling over the last couple of months, including a notable drop in imports from China."
Transport Secretary Grant Shapps told Sky News: "I think everyone will have expected there to be something of a hit to the economy. People have been staying at home and there will be more to come.
"I think the most important thing is that all the measures that Chancellor Rishi (Sunak) has been taking have at least ensured that some protection has been brought about."
The chancellor yesterday announced that the government's Job Retention Scheme, which allows employees who are not able to or not needed to work due to coronavirus to claim 80% of their normal wage, up to a maximum of £2,500 per month, while they wait for lockdown restrictions to be relaxed, would be extended until October.
From August, the scheme will continue for all sectors and regions, however with a greater degree of flexibility to allow companies to bring staff back to work part-time if they choose.