U.K. Economy Set for Record Slump
The U.K. economy is still headed for a record economic slump and is expected to drop by 9.5 percent this year as the economic fallout from the COVID-19 pandemic continues.
The Bank of England warned that the outlook both for the U.K. and global economies continues to remain "unusually uncertain" due to the pandemic.
The 9.5 percent figure is actually an improvement on previous predictions, with a 14 percent drop predicted by the Bank's experts.
It voted, as expected, to keep interest rates at a historic low of 0.1 percent in a bid to continue to aid the country's economic recovery.
Newsweek subscription offers >
However, unemployment figures are predicted to be better than first thought, with the bank claiming in its monetary policy and financial stability report that unemployment is expected to be at 7.5 percent by the end of the year as opposed to the previous estimate of just under 10 percent.
The report states: "In the MPC's (Monetary Policy Committee) central projection, GDP continues to recover beyond the near term, as social distancing eases and consumer spending picks up further.
"Business investment also recovers, but somewhat more slowly. Unemployment declines gradually from the beginning of 2021 onwards. Activity is supported by the substantial fiscal and monetary policy actions in place. Nonetheless, the recovery in demand takes time as health concerns drag on activity."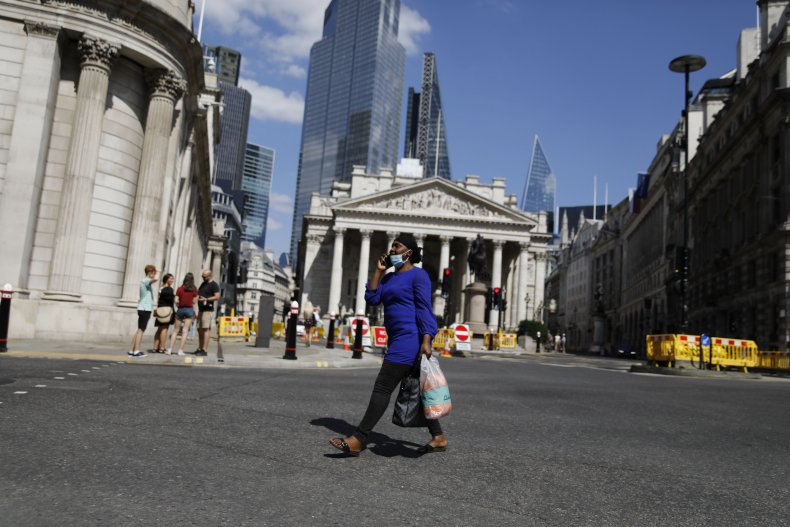 Newsweek subscription offers >
The bank's predictions were better than those in May, with the forecast drop of 9.5 percent in economic output the worst performance in 99 years, which is better than the initial prediction of a 14 percent contraction, which would've been the worst economic performance for the country in 300 years.
According to the MPC report, the economy is not expected to reach its pre-COVID-19 levels until the end of 2021.
However, spending on clothing and household furnishings had recovered to pre-COVID-19 levels, but areas such as the leisure sector and business investment still remained subdued.
The economy is expected to grow by 9 percent in 2021 and 3.5 percent in 2022.
The MPC said: "The Committee does not intend to tighten monetary policy until there is clear evidence that significant progress is being made in eliminating spare capacity and achieving the 2% inflation target sustainably."
In the U.S., recent figures show that the economy suffered its worst economic downturn in the second quarter of 2020 since at least the 1940s.
GDP fell by an annual rate of 32.9 percent as entire sectors of the economy were shut down in a bid to stop the spread of the virus, according to figures from the Commerce Department.
The country's interest rate has remained at 0.0 percent since March 2020.
U.K. Economy Set for Record Slump | World