U.S. Economy Could See Zero Growth If Shutdown Continues, White House Adviser Says
White House economic adviser Kevin Hassett warned that if the partial government shutdown (now in its 33rd day) continues, the U.S. economy could see zero growth in the first quarter of 2019.
"If [the shutdown] extended for the whole quarter, and given the fact that the first quarter tends to be slow because of residual seasonality, then you could end up with a number very close to zero in the first quarter," Hassett told CNN's Poppy Harlow on Wednesday. Hassett currently serves as the chairman of President Trump's Council of Economic Advisers.
Hassett was careful to note that the economy is typically weak in the first quarter because of a drop-off effect following increased spending at the end of the year. He also said that once the government reopens, the economy would almost immediately bounce back.
"But then again, the second quarter number would be humongous if the government reopened. It would be like 4 or 5 percent," Hassett said.
The adviser also told CNN he was not too worried about the shutdown's long-term effects on the U.S. economy. He does not think it will cause a downgrade in the country's credit rating and put the odds of a recession in 2020 "very, very close to zero."
Hassett predicted the U.S. economy will see 3 percent growth this year, even as many economists say they expect a 2019 recession. In a recent survey by Duke University and CFO Global Business Outlook, 50 percent of U.S. chief financial officers said they believe the country will be in a recession by the end of this year. Of those polled, 82 percent said that they believed a recession would begin by the end of 2020.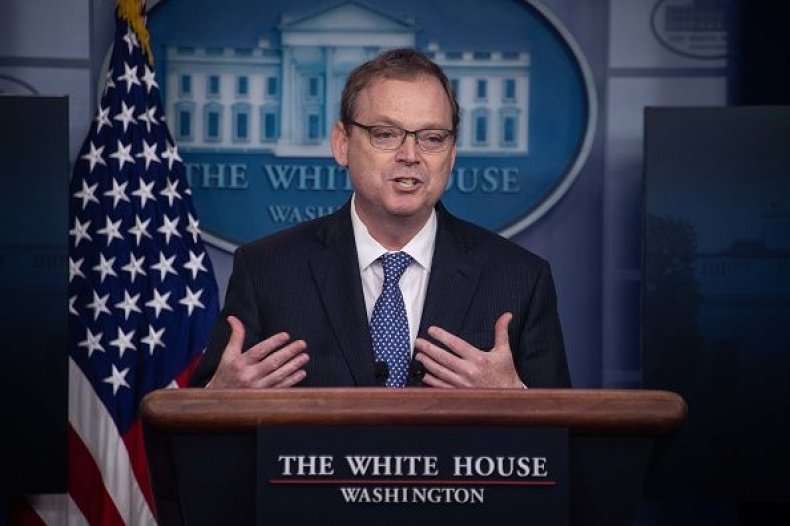 The shutdown over border security has become the longest in U.S. history, causing about 800,000 federal employees to either be furloughed or forced to work without pay. Federal employees are poised to miss a second round of paychecks since the shutdown began in late December at the end of this week.
As President Trump and top Democrats continue to argue over border wall funding, federal employees say the shutdown is deeply affecting their wallets. A GoFundMe account launched to assist federal workers had raised more $265,000 as of Wednesday afternoon.
President Trump has applauded the federal employees who have continued to work without pay during the partial shutdown, calling them "great patriots."
"To all of the great people who are working so hard for your Country and not getting paid I say, THANK YOU - YOU ARE GREAT PATRIOTS! We must now work together, after decades of abuse, to finally fix the Humanitarian, Criminal & Drug Crisis at our Border. WE WILL WIN BIG!" he tweeted on Sunday.