Gay Democratic Donor Ed Buck Charged With Running Drug House After Third Man Overdoses in His Home
Ed Buck, a Democratic donor and liberal activist, has been charged with operating a drug house out of his West Hollywood apartment after an unnamed man suffered a methamphetamine overdose there.
Buck has already come under fire for two previous incidents involving men overdosing after he provided meth. Critics accuse the 65-year-old of using young black men for sex and keeps them pliable with drugs. A wrongful-death suit claims Buck is a wealthy white man with "a predatory and injurious system of soliciting black men and watching them cling to life."
According to the Los Angeles District Attorney's office, the most recent victim, who is also African American, survived the overdose on September 11.
"I remain deeply concerned for the safety of people whose life circumstances may make them more vulnerable to criminal predators," said Los Angeles County District Attorney Jackie Lacey. "With this new evidence, I authorized the filing of criminal charges against Ed Buck."
The LAPD declined to file criminal charges against Buck in 2017, when the body of 26-year-old Gemmel Moore was found in his home, reportedly surrounded by drug paraphernalia.
According to the suit filed by Moore's family, Buck solicited Moore for sex and insisted on injecting him with crystal meth. "If it didn't hurt so bad, I'd kill myself, " read Moore's last journal entry, from December 2016. "But I'll let Ed Buck do it for now."
In January 2019, another gay black man died at Buck's home: Timothy Dean, 55, was found on a mattress littered with sex toys and drugs. Buck claimed he was in the shower at the time and that Dean, who had been acting strangely, was already unconscious when he discovered him. He told police he attempted CPR for 15 minutes before calling paramedics.
Buck has denied any wrongdoing in Dean and Moore's deaths. He has yet to issue a statement about Tuesday's arrest.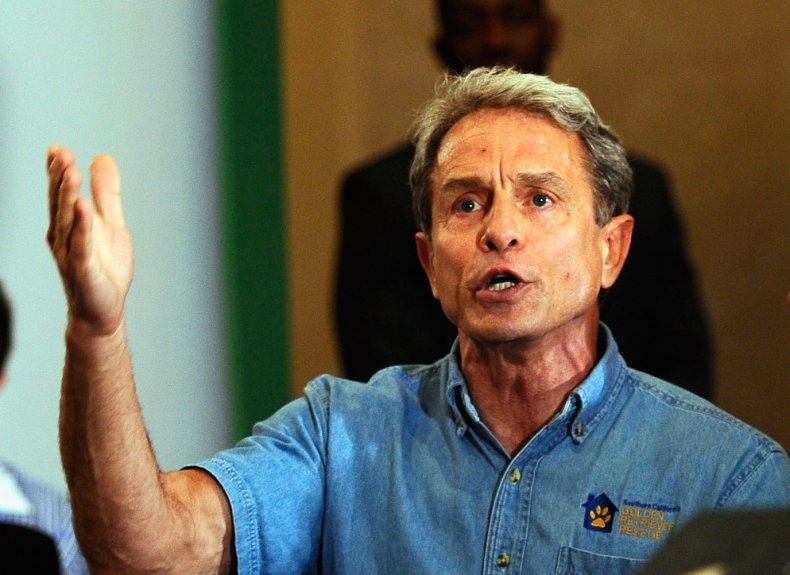 Activist Jasmyne Cannick, who has been working with the Moore family, posted a photo of herself in front of Buck's apartment building, now covered in police tape. According to Cannick, Buck has coerced other young black men into shooting meth and having sex.
"I'm a bit overwhelmed right now," she tweeted on Tuesday. "This has been two years of my life fighting for this man to be arrested."
A recent amendment to the Moore's suit additionally accuses Buck of human trafficking, alleging he "regularly solicits sex from black men in exchange for temporary housing and/or monetary compensation."
"Gemmel Moore at the time was 26 years old and Ed Buck flew him here from Texas," Cannick told reporters. "And within 24 hours, he died of a crystal meth overdose."
The Moores also accuse Buck of creating revenge porn with his "meth-fueled" sexual encounters: "Information we received from other victims of Ed Buck [indicates] that Ed Buck loves to take pictures of these young men, loves to take videos of them in their inebriated state," said Cannick. "The new amendment is about making sure no box is left unchecked when it comes to all of the crimes that Ed Buck has committed."
The Moores allege Buck previously avoided arrest "because he is white, and because Mr. Moore was black." They have named Lacey as a co-defendant for his failure to press charges, though the D.A.'s office maintains there was insufficient evidence to prove Buck was responsible for Moore's death beyond a reasonable doubt.
On Tuesday, Buck was charged with three felony counts—battery causing serious injury, administering methamphetamine and maintaining a drug house. He is slated to be arraigned on Wednesday, with prosecutors pushing for bail to be set at $4 million.
"Yes, Ed does have individuals he associates with who have problems with drugs," his attorneys told CNN in February, after Dean's death. "He tries to talk them out of it. Sometimes they bring their problems into his apartment, and that's where the problem is."
A contributor to various California Democratic races, PACs and progressive causes, Buck first made headlines in September 2010 when he disrupted a campaign rally in Los Angeles for then- Republican gubernatorial candidate Meg Whitman and was confronted by former New Jersey Governor Chris Christie.