Ed Sheeran's Baby Daughter Lyra Antarctica is Likely Named After His Favorite Book
Singer Ed Sheeran has announced he is "on cloud nine" following the birth of his baby girl with his wife, Cherry Seaborn last week.
The "Shape of You" singer confirmed on Instagram that the couple welcomed a "beautiful and healthy" daughter—named Lyra Antarctica Seaborn Sheeran—into the world last week.
He wrote on Instagram: "Ello! A quick message from me as I have some personal news that I wanted to share with you ... Last week, with the help of an amazing delivery team, Cherry gave birth to our beautiful and healthy daughter—Lyra Antarctica Seaborn Sheeran.
"We are completely in love with her. Both mum and baby are doing amazing and we are on cloud nine over here. We hope that you can respect our privacy at this time. Lots of love and I'll see you when it's time to come back, Ed x."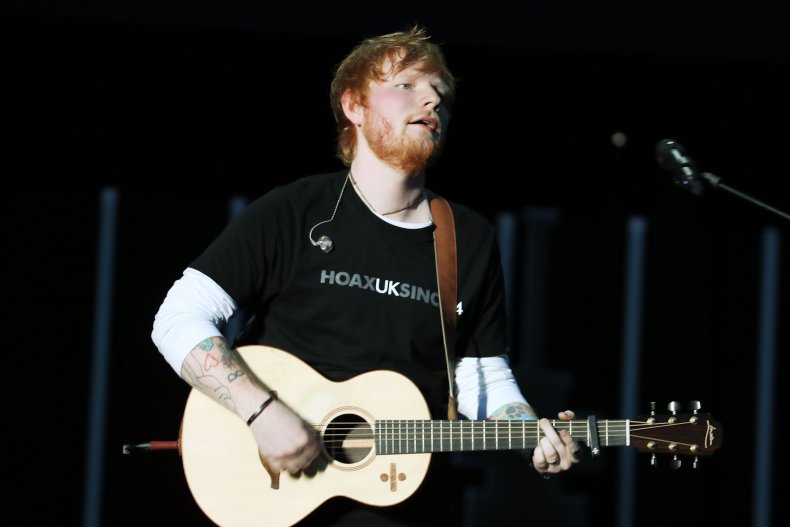 The 29-year-old accompanied his caption with a sweet photo of a blanket and a pair of tiny socks.
Sheeran and his partner have been together for five years and tied the knot in a private ceremony in January 2019.
He annouced his engagement to Seaborn in January 2018 with a candid Instagram post, and a joyful message to fans: "Got myself a fiancée just before new year. We are very happy and in love, and our cats are chuffed as well xx."
Although he provided no further information on why they chose the unusual name for their daughter, Lyra is likely a reference to fantasy novel His Dark Materials, which he once described as his favorite book.
Back in 2015, he tweeted: "Bar far, Philip Pullman—his dark materials are the best books I've ever read."
During his 2017 appearance on Desert Island Discs, Sheeran revealed the book he would take with him if he was a castaway would be the His Dark Materials trilogy, which the British singer said was "the greatest love story ever told."
Sheeran is famously a bit of a fantasy buff, having also made a cameo appearance in Game of Thrones.
Lyra, is the lead character in the Philip Pullman novels, which was dramatized into a series for HBO and BBC last year.
The singer-songwriter's post has already garnered more than 400,000 likes and thousands of comments from well wishers.