Ed Sheeran Wins Copyright Lawsuit Despite Being Slammed as 'Magpie'
Ed Sheeran has won a copyright lawsuit over his 2017 smash hit single "Shape of You."
The British musician, one of the world's best-selling artists, had been accused of copying parts of Sami Chokri's 2015 track "Oh Why" during the high-profile case. Sheeran, along with co-writers Johnny McDaid and Steven McCutcheon, had denied the claims made by Chokri and his co-writer Ross O'Donoghue.
On Wednesday, Sheeran and his co-defendants were cleared of plagiarism in London's High Court, with a judge saying there was "insufficient" evidence of "deliberate" copying, according to U.K. newspaper The Independent.
"Shape Of You" is the U.K.'s most-streamed song of all time, with 496 million plays, according to officialcharts.com.
At the start of the 11-day trial, Sheeran was accused of being a "magpie," who "borrows" musical ideas from others. The "magpie" tag went on to be used to refer to Sheeran in a number of videos across social media.
Moments after the verdict was revealed, Sheeran took to Twitter to share a video statement, in which he said that he hopes the case will lead to "future baseless claims like this" being avoided. The video can be viewed at the top of this article.
He said: "Whilst we're obviously happy with the result, I feel like claims like this are way too common now and have become a culture where a claim is made with the idea that a settlement will be cheaper than taking it to court—even if there's no base for the claim.
"It's really damaging to the songwriting industry. There's only so many notes and very few chords used in pop music. Coincidence is bound to happen when 60,000 songs are being released every day on Spotify. That's 22 million songs a year. There's only 12 notes that are available."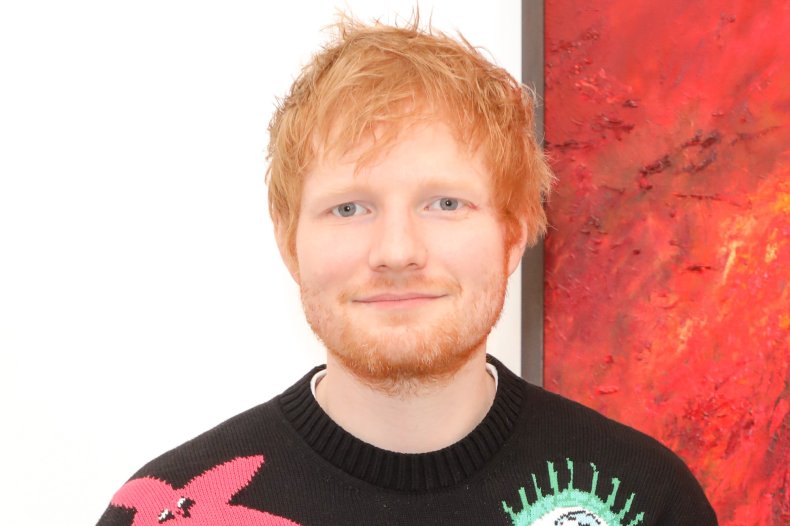 "I don't want to take anything away from the pain and hurt suffered from both sides of this case, but I just want to say I'm not an entity, I'm not a corporation, I'm a human being," the star continued. "I'm a father, I'm a husband, I'm a son.
"Lawsuits are not a pleasant experience, and I hope that [with] this ruling, it means in the future baseless claims like this can be avoided. This really does have to end."
Following the verdict, Sheeran's lawyers said in a statement: "The judgment is an emphatic vindication of the creative genius of Ed, Johnny and Steve—as they have always maintained, they created 'Shape Of You' together, without copying from anyone else."
Sheeran is one of the world's most successful musicians, having sold more than 150 million records worldwide, according to The Independent.
The musician has faced similar lawsuits in the past.
He was accused of copying parts of Marvin Gaye's "Let's Get it On" for his 2014 hit "Thinking Out Loud." In 2019, a U.S. judge threw out Sheeran's attempts to have the case dismissed, stating that a jury should decide on the matter. The judge added that he found "substantial similarities between several of the two works' musical elements."
During his recently-concluded court battle over "Shape of You," Sheeran admitted that he had settled a previous copyright case over his 2015 single "Photograph," though he said it was because his lawyers had advised the $20 million lawsuit from songwriters Thomas Leonard and Martin Harrington was "more trouble than it was worth."
Leonard and Harrington alleged similarities between Sheeran's hit and their track, "Amazing," which was performed by Matt Cardle, a previous winner of the U.K. version of The X Factor.
Sheeran paid them $5 million and handed over 35 per cent of his gross publishing revenue, shares they have since gone on to return, according to The Guardian.
Insisting that the similarities were purely coincidental during his trial last month, Sheeran said: "Even though I felt that I had done nothing wrong, we decided to settle the case because of the money and time it would take to fight it.
"However, that left me with a very bad feeling afterwards. The decision to settle felt morally weird given that we were innocent of the allegations made. It made me feel like I did not want to play the song any more."
Back in 2017, Sheeran gave the writers behind the TLC classic "No Scrubs" credit on "Shape of You" after similarities were pointed out between the two tracks.