Eddie Gallagher Won't Face Investigation for Comments About Intent to Kill ISIS Detainee
The Navy announced Tuesday that it will not further investigate former Chief Special Warfare Operator Eddie Gallagher's comments that his team "intended to kill" an Islamic State detainee who died in 2017.
Last month, Gallagher spoke about the detainee's controversial death on an episode of The Line podcast, saying "We killed that guy. Our intention was to kill him. Everybody was on board." Gallagher further explained that his team planned to "do medical scenarios" on the detainee "until he died," in an effort to prevent ISIS soldiers from torturing him to death.
An internal Navy review found that Gallagher's recent comments "were not corroborated and no substantive information was found to merit an investigation based on those statements," according to Navy spokesperson Cmdr. Courtney Hillson.
The controversy around the ex-Navy SEAL, who faced war crime charges in 2018 including for the alleged 2017 stabbing murder of a 17-year-old detainee, began when a picture he took of himself holding a hunting knife next to the dead soldier's corpse leaked to the public. He had texted it to a friend with the caption: "Good story behind this, got him with my hunting knife."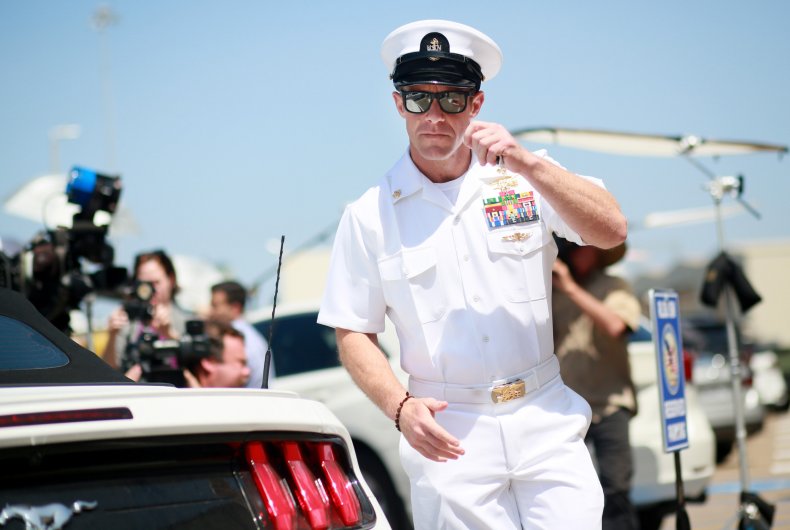 "Evidence against Gallagher related to medical treatment and the death of the detainee was already investigated and/or adjudicated at Gallagher's court-martial," Hillson said Tuesday. "Under the Uniform Code of Military Justice and our Constitution, he cannot be prosecuted again for these alleged offenses."
Gallagher was acquitted in 2019 of murder charges for the 17-year-old's death when Navy SEAL Corey Scott, who previously said that he saw Gallagher stabbing the deceased, changed his story. Scott had been granted immunity to say he himself had asphyxiated the prisoner to prevent him from being tortured.
Gallagher was convicted of wrongfully posing with a human casualty for the now-infamous photo.
Former President Trump intervened in the case while Gallagher was awaiting trial in the Navy brig. Trump tweeted that Gallagher would be moved to "less restrictive confinement" because of his "past service to our Country."
After Gallagher's acquittal, Trump again intervened and reversed the Navy's decision to demote him, and restored his Navy SEAL Trident pin insignia.
Gallagher has since referred to the photo he sent as "dark humor" and "a joke text." He said he doesn't feel bad about the young soldier, either. "That's war. He was out there trying to kill us," he said in a March 2020 interview with 60 Minutes.
Newsweek reached out to the United States Navy Press Office for comment.