The Theory of Everything star Eddie Redmayne penned an emotional tribute to renowned physicist Stephen Hawking, who died on Tuesday.
In a statement to Deadline, Redmayne offered his condolences to Hawking's family and everyone who was touched by his work. "We have lost a truly beautiful mind, an astonishing scientist and the funniest man I have ever had the pleasure to meet," Redmayne wrote. "My love and thoughts are with his extraordinary family."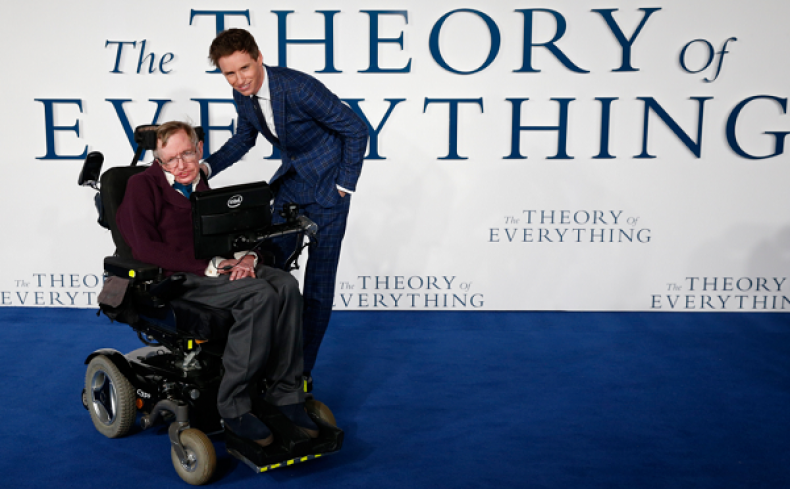 Redmayne played Hawking in the 2014 film and took home the Best Actor Oscar for his portrayal of the scientist.
Although they only met five days before Redmayne began filming the movie based on Hawking's life, he was just as impressed with Redmayne's portrayal of him as everyone else. Following the film's release, the legendary physicist congratulated Redmayne on Facebook for his exceptional performance. "Well done Eddie. I'm very proud of you," Hawking wrote.
Redmayne's tribute was one of many that poured in from Hawking's famous fans after news of his death broke. His Theory of Everything co-star Felicity Jones, who played Hawking's wife Jane in the filn, also expressed her sadness at the loss of a man who "pushed the boundaries of who we are and what we believe."
"[Hawking was] an extraordinary human who could bring humor to the most despairing moments and find hope in the unknown," Jones said in a statement to The Hollywood Reporter. "He showed the world that anything is possible. My thoughts are with his wonderful family in this difficult time," she wrote.
Despite being diagnosed with ALS when he was just 21 years old, Hawking went on to become one of the most respected scientists of the 21st century. A best-selling author and Albert Einstein Award winner, Hawking was one of the most sought-after physicists, providing his opinion on theories of human existence, time travel and the origin of the universe.
Hawking was 76 years old.