An Edgier CPAC Reflects Fractures On The Right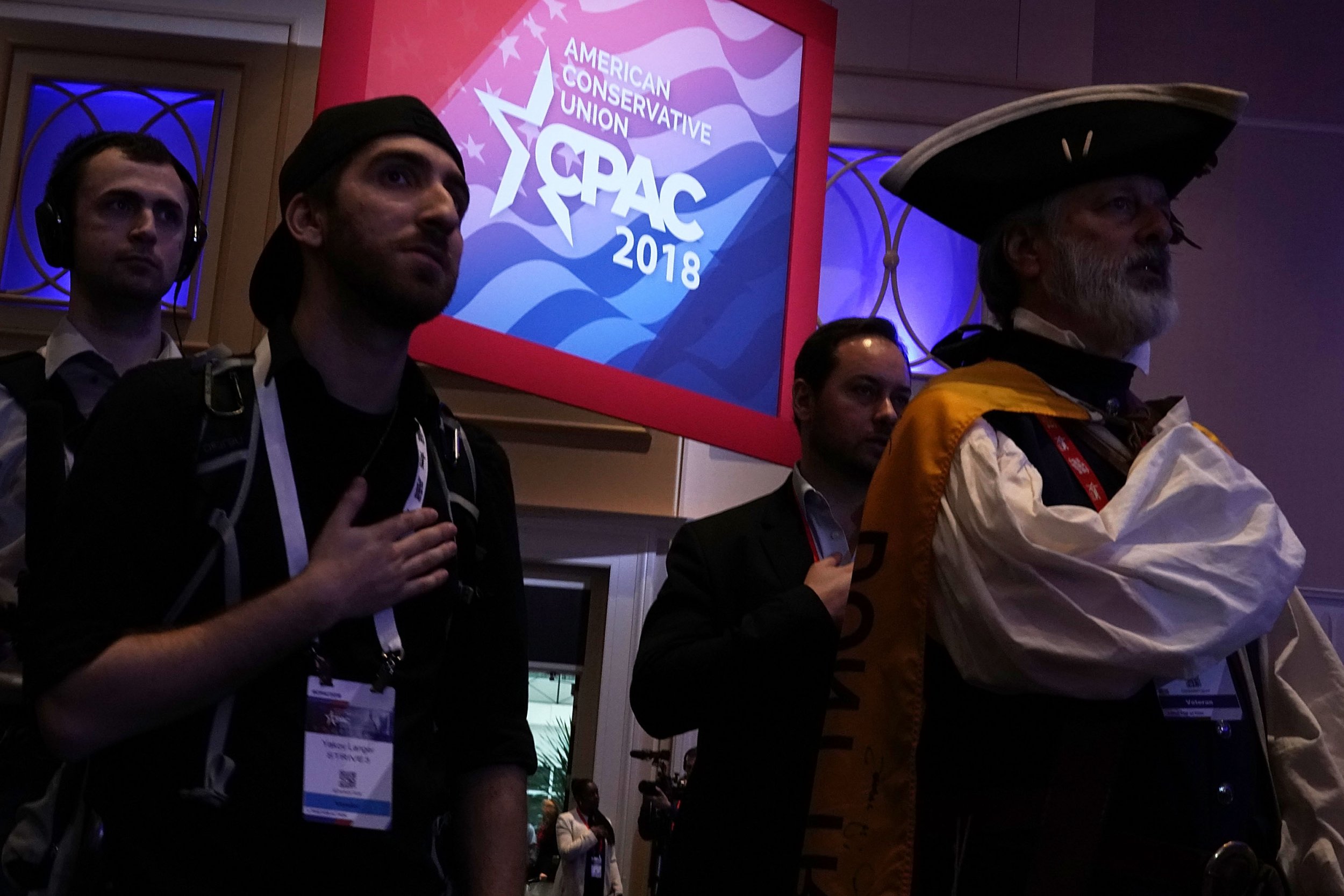 Last year, the Conservative Political Action Conference, or CPAC, was a studied show of unity between the conservative base and the Republican establishment. In the annual conference's most memorable moment, President Trump's chief of staff, Reince Priebus, sat on stage with White House political strategist Steve Bannon. The two promised a concerted assault on the liberal establishment and its abettors in the federal government: The "deconstruction of the administrative state," as Bannon famously called it. Swamp, drained. Media, cowed. American, great again.
A year later, CPAC is a rather different affair.
As conservatives began to gather on Wednesday in National Harbor, Maryland, for the four-day day event, the fractures on the right were on full display. President Trump is scheduled to speak on Friday morning, but he will be bracketed by decidedly harder-edged figures: French ultra-nationalist Marion Maréchal-Le Pen, Brexit proponent Nigel Farage and National Rifle Association executive vice president Wayne LaPierre, whose appearance just days after the Parkland, Florida, shooting is expected to be so controversial, CPAC organizers at the American Conservative Union withheld public notice of his attendance at the event (it got out anyway).
CPAC begins in earnest on Thursday morning, when Vice President Mike Pence is scheduled to speak, but the lanyard brigade had grown large by Wednesday night. Ben Shapiro, the young Daily Wire editor, took pictures with fans in the lobby. Charlie Kirk, founder of campus activist group Turning Point USA, struck a similarly prominent pose, as Millennial conservatives emerged from an "activism boot camp." The two men represent an aggressive brand of conservative campus advocacy that, in the age of Trump, is ascendant once again, after years of quiescence.
In the Gaylord's lobby bar, meanwhile, former Secret Service agent and Fox News mainstay Dan Bongino entertained a scrum of fans. His defense of Second Amendment rights has received harsh criticism on Twitter. But here in National Harbor, he was safe from any such liberal winds. Nearby was Jack Posobiec, the far-right social media personality who promoted the Pizzagate conspiracy theory. He, too, was safe.
CPAC has always been a gathering of the base, where shows of faith are made to the legacy of Ronald Reagan. But this year, the Republican base seems to have undergone a rightward deviation, even as the GOP mainstream remains skittish about Trump. All this comes, quite inconveniently, with the midterm elections fast approaching. The administrative state has not been deconstructed. Democrats are preparing for a November wave. Republicans, meanwhile, are still figuring out who, exactly, they are.