Russia is undertaking a "deliberate and systematic buildup" of its military in Crimea, the peninsula it seized from Ukraine in 2014, U.S. defense officials have warned.
Satellite imagery has revealed Russia is building up its forces to such an extent, it can now better strike targets from the hub of its Black Sea fleet.
"The combat radius covers all Ukraine and beyond the Black Sea. It significantly increases their strike options, potentially extending to the Middle East," a U.S. official told Defense One.
Another official said that the buildup, which included new S-400 air defense systems and improvements to Soviet-era bases, meant Russian forces could "strike targets beyond the Black Sea, including southern Europe and Syria, without even departing Sevastopol."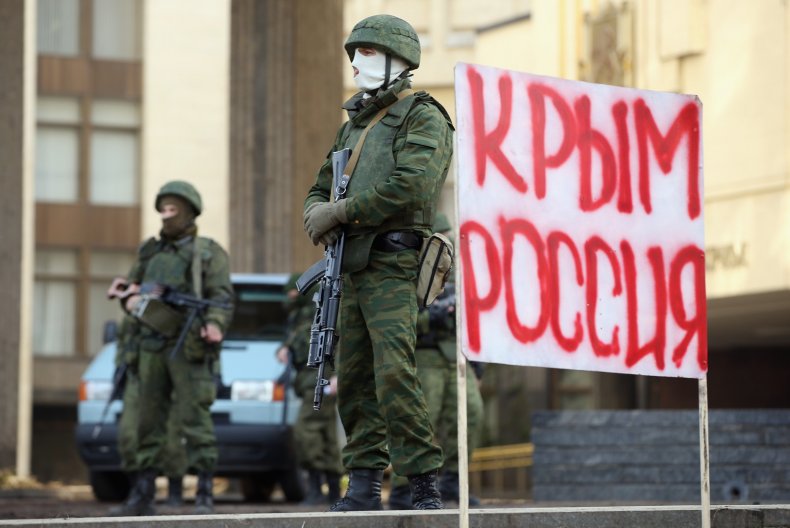 The images were taken between January 2018 and April 2019 by private satellite imaging company Planet Labs and showed five S-400 batteries, five S-300 air-defense systems and fighter jets at four locations, the publication said.
Since 2014, Russia has doubled its force there to 30,000 troops and plans to add another 13,000 in the next four years. Its military now has 81 airplanes and helicopters in the peninsula.
The U.S. and its NATO allies insist ties with Moscow cannot go back to normal until the return of Crimea to Ukraine.
The U.S. has imposed sanctions on companies and people doing business in the peninsula.
On Wednesday, the European Union agreed to extend its investment ban on the Crimean Peninsula, in place since 2014, by another year, Radio Free Europe reported.
Sarah Bidgood, an expert on nonproliferation efforts throughout Russia and the former Soviet Union, told Defense One that Russia wanted to project power further afield.
"This is a significant buildup. NATO is going to be under increasing pressure from allies in the region to show that it's able to push back against Russian attempts to gain greater control of the Black Sea,"
"To me, that's a really dangerous environment," Bidgood said.
Jeffrey Lewis, director of the East Asian Nonproliferation Program at the James Martin Center, said the peninsula is "bristling with missiles like a hedgehog."
"The scale raises this question...are they just defending the peninsula or using the peninsula to project power through the Black Sea?" The scale is really quite something."
"This is a real investment in the defense of the Crimean peninsula."