Education Department Memos Stir Debate at Betsy DeVos Hearing on Forgiving Student Loans
Two-year-old memos took center stage at a House Education Committee hearing on Thursday where Education Secretary Betsy Devos defended her position to only issue partial relief to some students who were defrauded by their schools.
DeVos told legislators on Thursday that students must have suffered financial harm to qualify for federal student loan relief under the Borrowers Defense policy. Under DeVos' methodology, students would receive relief based on how much they were financially harmed, determined by comparing their income with the median income of graduates in comparable programs.
On Wednesday, NPR published several memos from January 2017 addressed to then-Under Secretary Ted Mitchell that showed the Borrowers Defense Unit recommended full debt relief for certain Corinthian Colleges, Inc., and ITT Technical Institute students.
DeVos told the committee she hadn't read the NPR article and therefore couldn't speak to its specific content. In running her department, she said she considers recommendations and establishes policies and practices consistent with the law.
Representative Jahana Hayes, a Democrat from Connecticut, suggested that DeVos' unfamiliarity with the NPR story ahead of the hearing showed a "total lack of regard." DeVos responded that there are "hundreds of documents," and she couldn't be expected to read every story a media outlet publishes.
"I should read everything a news outlet chooses to print? Ma'am, I am focused on getting a process right for students and for taxpayers," DeVos said.
Democratic representatives expressed concerns that DeVos implemented a policy that was out of step with the recommendations of the Borrower Defense Unit, which is responsible for reviewing claims. That policy and the department's failure to evaluate claims in a timely manner caused students to have piles of debt from obtaining worthless degrees, according to lawmakers.
Representative Suzanne Bonamici, a Democrat from Oregon, criticized DeVos' methodology, saying that a person earning money doesn't automatically negate the possibility they were defrauded.
However, Republican lawmakers and DeVos herself mentioned at least three times during the hearing that DeVos did not take office until February 2017, after the memos were issued.
"Some of our colleagues evidently don't know the calendar in 2017," GOP Representative Virginia Foxx said. "So if they have an argument with anybody, it ought to be an argument with these folks who got the memo on January 10."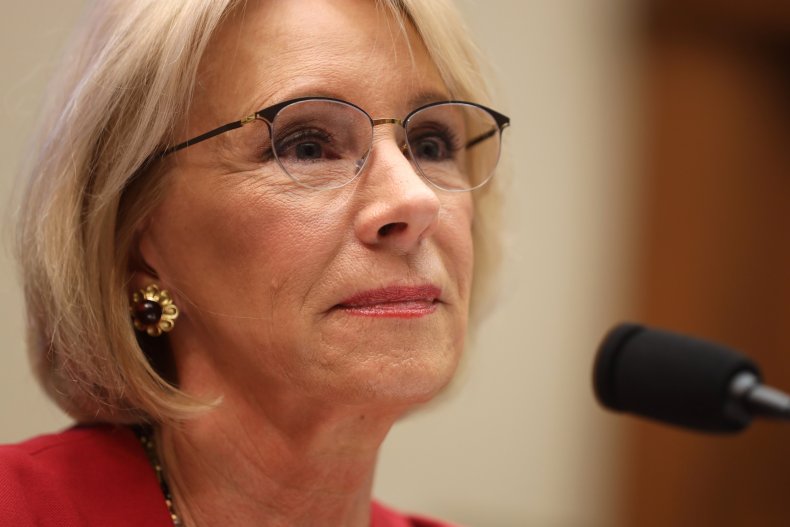 "The Secretary has developed a robust and scientifically sound way to evaluate and process these claims," a spokesperson for the Department of Education told Newsweek. "Someone with a legitimate borrower defense claim should–and will–get loan forgiveness."
The Borrower's Defense rule, which enables students to receive relief from federal student loans if they were defrauded by their university, has been around for more than 20 years, but there was an influx in claims in 2015 after Corinthian Colleges, Inc., collapsed. An investigation into the for-profit college determined that the school misrepresented job placement rates and in 2016, the Department of Education under Obama, announced Corinthian students were eligible for loan forgiveness.
"Awarding full relief to students who make guaranteed employment allegations is consistent with the Department's approach to providing relief to Corinthian students seeking BD relief on the basis of false job placement rates," the January 9, 2017 memo stated.
The Education Department told the Associated Press that Corinthian College students who had their claims approved under the Obama administration will still receive full loan forgiveness. Those students who weren't previously approved will be awarded at least 10 percent relief notwithstanding financial harm.
During Thursday's hearing, DeVos criticized her predecessor for forgiving claims regardless of individual circumstances and told legislators on Thursday that her methodology establishes a fair method for students and taxpayers.
"We had to create a process," DeVos said. "...I understand that some of you here want blanket forgiveness for everyone who raises their claim, but that's not right."
Magistrate Judge Sallie Kim had ordered DeVos to stop using the partial relief formula because the administration violated the Privacy Act to obtain its data. The Education Department released an updated methodology on Tuesday that continued to issue relief based on income comparisons but relied on public data so as to not violate the Privacy Act.
Kim also ordered the Education Department to stop collecting loans from certain Corinthian students, an order the department defied. DeVos was found in contempt of court in October and ordered to pay a $100,000 fine. The education secretary told legislators it wasn't intentional but was due to human error.
General Mark Brown, COO of Federal Student Aid, told legislators on Thursday that the department will have almost 300,000 applications by the end of the calendar year and each is assessed on its own merit. In assessing a case, the department considers the validity of the case without regard to the institution in question.
When asked if she thought Corinthian defrauded students, DeVos said some students were financially harmed, but others received a "valuable education" from the now-defunct institution.
Education Department Memos Stir Debate at Betsy DeVos Hearing on Forgiving Student Loans | U.S.