Racism in Schools: Harassment Claims Rise as Education Department Scales Back Civil Rights Investigations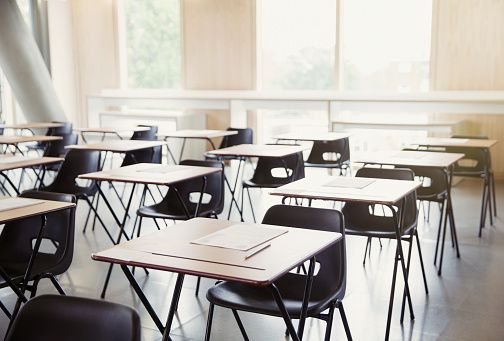 Update | The U.S. Department of Education saw a spike in student racial harassment complaints in 2017 as it plans to scale back civil rights investigations and shrink the office that handles these submissions.
The department's Office for Civil Rights (OCR) received 675 complaints of racial harassment in fiscal year 2017, including college students, according to data provided to The Huffington Post. This number marked a nearly 25 percent increase from the year before and the biggest climb in one year since at least 2009.
Record-breaking numbers of complaints for the entire OCR spiked 61 percent in fiscal year 2016 and continued to increase overall in 2017.
Education Department officials did not immediately respond to Newsweek's request for comment Friday regarding what they think might have sparked the hike or what initiatives might be employed to curb racial harassment in schools.
Amid this bump in complaints reporting, the department has begun to roll back responsibilities of the OCR, which handles all Title IX complaints. Title IX is a federal law that protects students from discrimination based on race, color and national origin.
In June, the department announced it would scale back civil rights investigations at the nation's public schools and universities, including requirements for investigators to look into systemic issues behind these cases. Earlier this month, the department confirmed it would no longer investigate civil rights complaints from transgender students barred from school bathrooms corresponding with their gender identity.
Liz King, a senior policy analyst with the Leadership Conference on Civil and Human Rights, told Newsweek in early February that Secretary of Education Betsy DeVos's decision to rescind policies dealing with students' civil rights represents a "failure" of her "legal and moral obligations to protect students from discrimination."
The department has sought to reduce its staff as well, largely within the civil rights office. Forty-five of about 570 office employees received voluntary buyout offers as of late last year, the most for any unit in the department, The Wall Street Journal reported. In addition, the Trump administration's proposed 2019 federal budget would have cut more than 40 jobs in that office, according to the Associated Press.
Education Department spokeswoman Liz Hill told the Journal the civil rights office is the largest in the agency, adding that "these positions can be back-filled as the workload demands."
With these developments taken into account, the ballooning number of racial harassment complaints "shouldn't surprise anyone," American Federation of Teachers President Randi Weingarten said in a statement to Newsweek on Friday.
"When you slash funding for schools, when you refuse to enforce civil rights laws, when you gut the office charged with investigating them, you reap what you sow," she said. "The OCR data confirm what we've seen elsewhere: the rise in ... race hate incidents."
This rise aligns with a nationwide amplification of white supremacist rhetoric, as well as a growing number of hate groups in the U.S. The Southern Poverty Law Center on Wednesday released a report saying it is now tracking 954 hate groups—a 4 percent rise from last year's data.
More than 600 of these groups are linked to some form of white supremacist ideology, the report stated. Others identify as black nationalist groups.
White nationalist groups have "ramped up their recruiting of college students," according to the Southern Poverty Law Center. PBS reported that racist flyers, banners and stickers found on college campuses increased more than threefold between fall 2016 and fall 2017.
"It's regrettable, it's unfortunate, but that's where we are in 2018," Terry Hartle, a senior vice president at the American Council on Education, told PBS.
This article was updated to include a comment from American Federation of Teachers President Randi Weingarten.