Education Department Scrapped Tool for Defrauded Students to Recoup Money and Lied About it: Documents
Newly obtained documents released Tuesday by congressional panels showed that the Department of Education ditched an online system—reportedly because it was too easy to use—earlier this year for student borrowers who were defrauded by their colleges or universities to recover their lost funds via loan forgiveness.
The documents, which consisted of emails between a website builder and the Education Department's Federal Student Aid office that were released by the House Oversight and Education Committees, also revealed that a department spokesperson lied at least twice about its handling of the web tool.
Students with federal loans who attended higher education institutions that misled them, such as deceptive job placement statistics, or that violated certain laws, can apply for loan forgiveness.
"The Department of Education continues to undermine and harm these defrauded students at every turn," Oversight Chairwoman Carolyn Maloney (D-N.Y.) and Education Chairman Bobby Scott (D-Va.) said in a joint statement. "Regrettably, the department lacks any credibility to carry out this program fairly for these borrowers and their families."
An email from a Federal Student Aid office employee on May 21 to Accenture, the company building the online tool, confirmed that all work on the program was to cease. Such an order was first reported by U.S. News & World Report in June.
"I know this is disappointing, as many of us have done a lot of work to get to this point," Jessica Barrett Simpson wrote.
Still, the Education Department went on to issue aggressive—and false—public denials.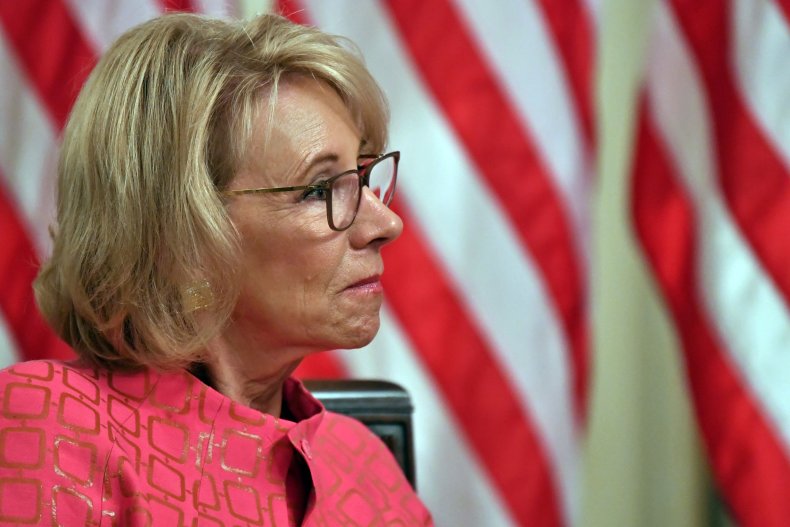 "Anyone who says that there has been any effort by anyone at the Department to delay or obstruct the development of a new borrower defense form or website is lying," Education spokeswoman Angela Morabito told U.S. News in June, as the outlet reported about a whistleblower complaint. "It's as simple as that."
A whistleblower complaint to the Education Department's inspector general at the time accused a top official, Principal Deputy Undersecretary Diane Auer Jones, of axing the online loan forgiveness application because it would have been "too easy" for students, according to U.S. News.
The Education Department did not immediately respond to Newsweek's request for comment about the revelations and its prior false claims. U.S. News was first to report about the new documents unveiled Tuesday by the Democratic-led House committees.
The emails also showed that after U.S. News' original inquiry, the Education Department sought to reinstate the project one week later with a total cost of $1 million. Its completion is not expected until November—four months after the Education Department's new borrower defense loan forgiveness rules went into effect.
However, the same department spokeswoman continued to deny there was ever such an order to halt construction of the web tool.
"There has been no reversal on this at all," Morabito falsely claimed. "There can't be a 'reversal' on a decision that was never made."
The revelations come on the heels of a judge last week lambasting Education Secretary Betsy DeVos for rejecting 94 percent of student debt relief applications since April, when DeVos struck a deal with defrauded borrowers whose claims remained stalled.