The Movement of Meditation Replacing Detention in Schools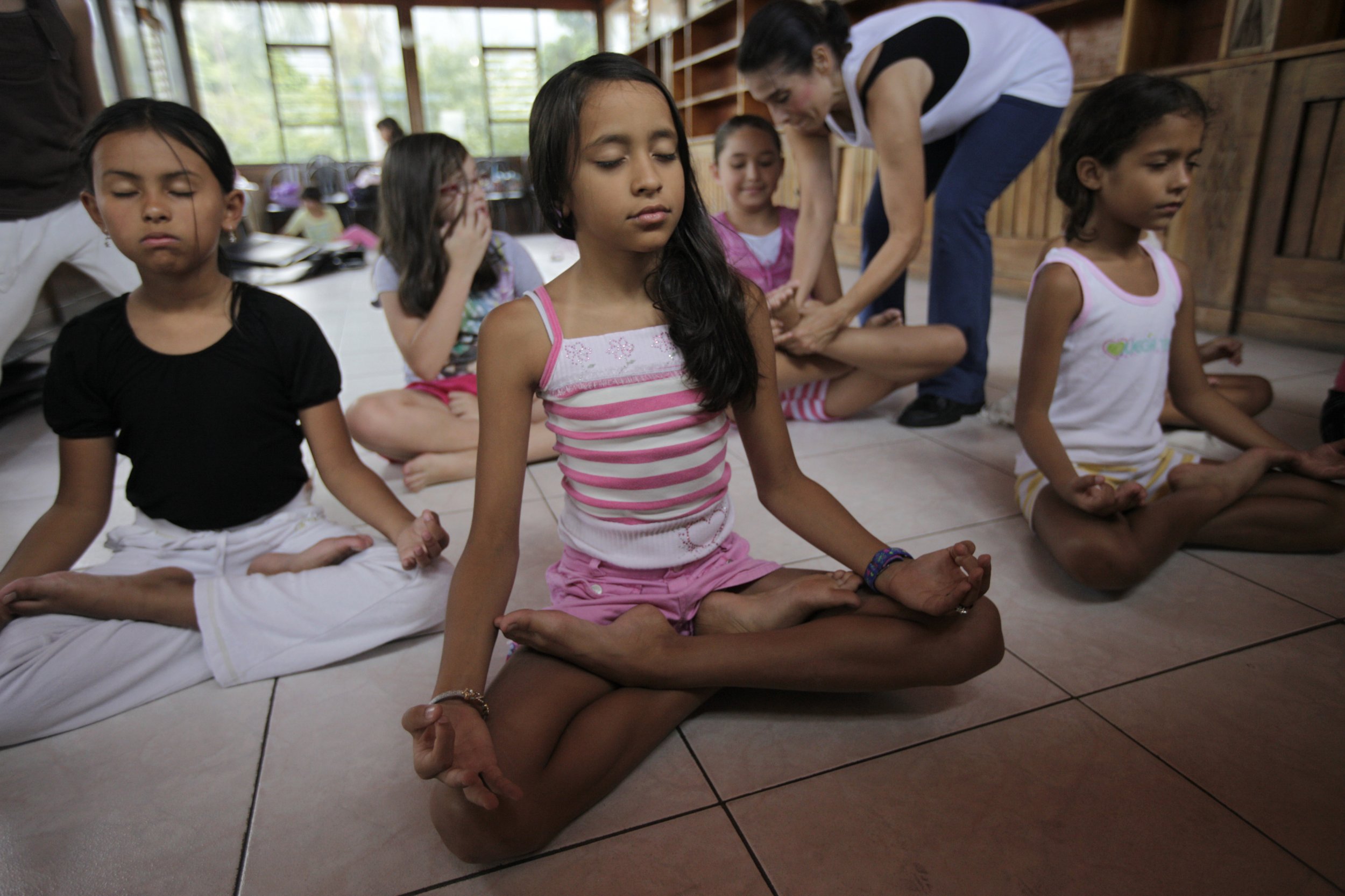 The students in detention at Robert W. Coleman Elementary School in Baltimore aren't staring at white walls—they're meditating and practicing yoga as part of the Holistic Me after-school program. Here's how the project, created by the Holistic Life Foundation, works: Holistic Me hosts 120 male and female students in a program that runs from 2:30 to 5:30 p.m. and involves yoga, breathing exercises and meditative activities. Disruptive students are brought to the Mindful Moment Room for breathing practices and discussion with a counselor and are instructed on how to manage their emotions.
The project, which focuses on prekindergarten through fifth-grade students, approaches punishment in an entirely different way and reports an incredible result: zero suspensions in the last year. Comparatively, the 2013–2014 school year had four suspensions.
"With the first year being so successful, I started seeing a difference in their behaviors. Instead of the students fighting or lashing out, they started to use words to solve their problems," Carlillian Thompson, the school's principal, told the Holistic Life Foundation. "We see the success rate of those students who began in the program now. They are middle school students who are very successful; they come back and participate in the program."
Brothers Atman and Ali Smith and friend Andres Gonzalez started the nonprofit in 2001 in their hometown of Baltimore. Their goal was to provide kids from a low-income and high-crime-rate neighborhood with the tools to cope with stress and anger. Over the past 15 years, students of the program have graduated and transitioned into mentor roles—former students now make up 50 percent of its workforce.
"It's a serious cycle in most inner cities where people don't know how to resolve conflict peacefully. That's why there's so much violence and abuse, you know," Atman Smith said to VOA News. "I see in us teaching these kids meditation and giving them the tools to self-regulate, it's going to change the social construct, the dynamic of how the inner city is thought of."
Suspensions have decreased nationally as more schools test alternative ways to deal with students. As of 2016, 2.8 million K-12 students received one or more out-of-school suspensions, a 20 percent decrease from the number of out-of-school suspensions only two years ago, according to the U.S. Department of Education.
However, the department's report indicates that this trend is not necessarily the case for students of color. K-12 black students are nearly four times more likely to be suspended than white students, and black students are also nearly twice as likely to be expelled as are white students, a rate that has increased slightly from the 2014 report. Furthermore, there is no evidence that removing students from classrooms—through measures like suspensions and expulsions—improves behavior.
"We started to see a shift in the kids we were working with. We were picking up less kids from detention, we were breaking up less fights. Then the teachers, the parents and the principal of the school would come by, and say, 'I don't know what you guys are doing, but whatever you are doing, keep doing it,'" Ali Smith said in a TEDxTalk.
The Baltimore school is not the only one that has tried incorporating meditative practices. California's Mindful Schools has provided training in 48 states and 43 countries both online and in person since 2010. In 2015, Brooklyn Urban Garden Charter School in Queens, New York, implemented Transcendental Meditation in the classroom through the David Lynch Foundation.
New York City's public schools have also taken steps toward incorporating new teaching styles into the classroom with the 2014 Department of Education initiative Move-to-Improve, which lists yoga and stretching as two of many physical activities in the curriculum. While there have been a few trailblazers in the development of meditative practices in schools, some professionals are hesitant to believe these can have the same, standard success rate at each institution.
"It definitely doesn't address poverty, and it may not work for everybody," Patricia Jennings, an associate professor at the Curry School of Education at the University of Virginia and the author of a book called Mindfulness for Teachers, told The New York Times. Mark T. Greenberg, a professor of human development and psychology at Pennsylvania State University, also told The New York Times that even if the practice does provide benefits for students, research has yet to explain how meditative practices could revolutionize student learning. But for now, it's too early to see the long-term effects.