Why Does Betsy DeVos Want to Cut Child LIteracy Programs That Work? | Opinion
When I was 7, I sat in my second-grade classroom crying because I couldn't read as well as my classmates. Now I'm a member of Congress.
I know from experience just how important reading is. It's the first step to all other learning. And at a time when only one in three kids can read at grade level, it's more important than ever that we put more books into the hands of our kids. That's why I was shocked to learn that Education Secretary Betsy DeVos wants to cut funding for every single dedicated literacy program. Every single one.
She came before my committee recently and defended her decision. What transpired was the height of hypocrisy.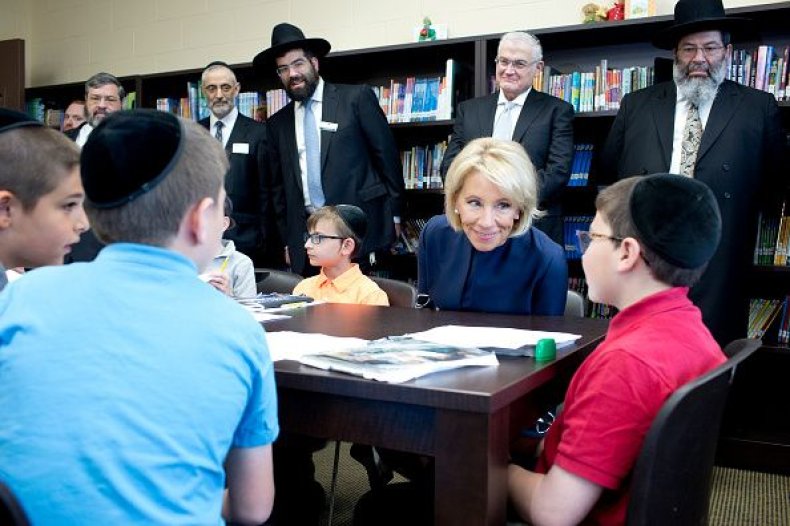 Betsy DeVos has called reading "the foundation of learning" and the "starting point on the pathway to the American dream," and she jumps at every chance to take a photo with a kid and a book. Even her Facebook banner shows her proudly reading to children. But now DeVos wants to cut the books programs for those very same kids.
During our hearing, she confirmed under oath that she wants to cut over $200 million from literacy programs. When DeVos is outside Washington, she wants to be seen as an advocate for reading. But when she gets back inside the Beltway, she ducks into a backroom and proposes radical cuts. It's a national crisis, and it hits especially hard in my home, California's Central Valley, where we rank 44th in the state in literacy.
DeVos also claimed that lagging improvements to literacy rates mean that these programs don't work. She's just wrong. The first program she wants to cut, Innovative Approaches to Literacy, literally helps school libraries provide more books to kids. Giving more books to children obviously increases literacy. The other grant program, Striving Readers Comprehensive Literacy, helps states come up with plans to teach more kids to read. And they work. The fact that we're behind on literacy means we should be investing more in programs that work, not less.
It's heartbreaking that our kids are being left behind. Reading is fundamental for a lot of reasons, not least of which is our continued competitiveness. If we want to remain a world leader and economic powerhouse, we must make sure the next generation of Americans are confident readers. Countries like China have made investments in education that could threaten to edge us out if we don't keep pace. You'd think that with all this administration's posturing against China, Devos would want to invest in education to stay ahead. I guess not.
We still have a long way to go toward improving our literacy rates and empowering our children to have a lifelong love of learning. Continuing federal support for reading initiatives will ensure that our kids are confident readers and position the United States to remain a worldwide leader in innovation, research and economic output.
Fortunately, Congress has the power of the purse, and people like DeVos don't have full rein to slash and burn our education system. Any final budget will have to go through the House, and I'm ready to make sure we don't allow such cuts to hurt our kids' futures.
As nerdy as it sounds, I now love to read. I am so grateful for the literacy programs that allowed me to feed my thirst for knowledge and have now enabled me to fight for all our kids. I'm saddened that it takes a televised committee hearing to point out the hypocrisy of our education secretary. But I won't stop bringing our national leaders to task for their decisions—especially when those decisions affect kids.
Our kids deserve to have the best education in the world, and that means having a Department of Education committed to helping them—not taking their books away. I agree with DeVos' words, but I am shocked at the hypocrisy of her actions.
Rep. Josh Harder represents California's Central Valley in Congress. He serves on the House Education and Labor Committee, where he is focused on improving literacy, investing in career and technical education, and expanding jobs in the Central Valley.
The views expressed in this op-ed are the writer's own.