On Education, Republican Candidates Retreat From National Standards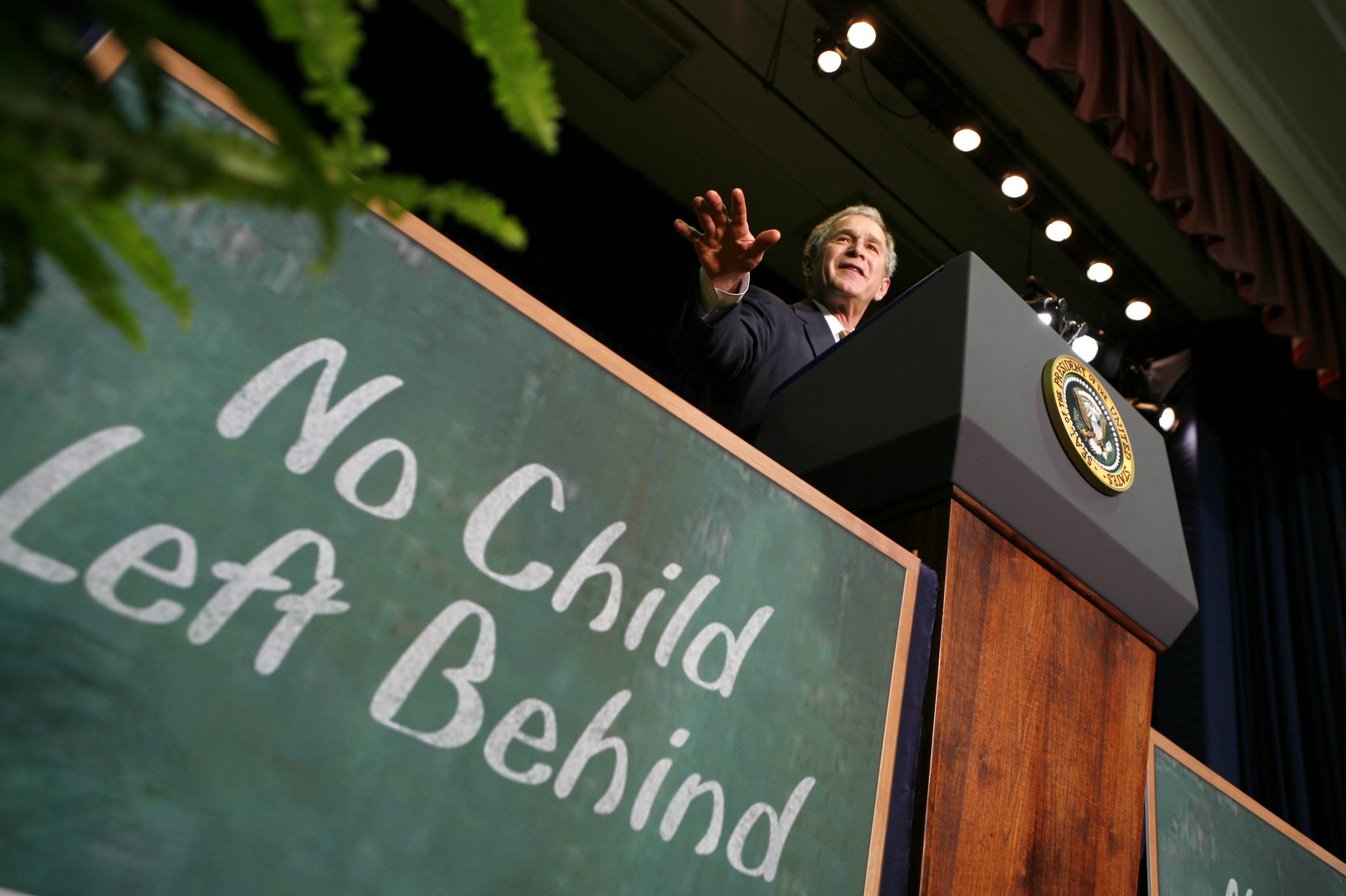 After 15 years of rising federal involvement in K-12 schools, U.S. education policy is poised for a big shift in direction. If that wasn't already apparent, it certainly became clear on Wednesday, when six of the Republican Party's leading 2016 contenders spoke about their views on educating America's youth, and what their priorities would be should they make it to the White House.
The consensus: National-level reform efforts are out. Ceding control to state and local school districts is in.
That's always been the preference for some segments of the Republican Party. But under President George W. Bush, a crop of GOP leaders interested in business-backed education reforms banded together with Democrats eager to expand public funding for schools, particularly underachieving schools, to carve out a more assertive federal role. That coalition helped pass the 2001 law known as No Child Left Behind, which set national standards for schools and used federal funding to create incentives to meet them.
Though there is now broad agreement that parts of No Child Left Behind were ill-conceived, the Obama administration has continued Bush's muscular approach to education, prodding states to participate in national programs with offers of federal cash.
But that coalition of Democratic and Republican reformers is now looking wobbly. The House and Senate have both passed updated versions of No Child Left Behind that would rein in the federal government's role in setting K-12 education policy, though not nearly as much as conservatives would like. The next step is reconciling differences between the bills in a way that keeps the more conservative House happy, without jeopardizing President Barack Obama's signature. That's going to be a tough task for Congress this fall.
On the presidential trail, Democrats like Hillary Clinton and Bernie Sanders have made clear that they side with teachers unions who are critics of expanding charter schools and more teacher accountability, which both Bush and Obama tried to promote nationally. On the Republican side, meanwhile, the six candidates who spoke at the American Federation for Children's Education Summit 2015 in New Hampshire fell all over themselves trying distance their agendas from current education policies and declare their support for local autonomy.
"I think we're much better off if the money and the resources and the responsibilities go back to the state and local level," said Wisconsin Governor Scott Walker. Even Ohio Governor John Kasich, who has embraced reform groups' initiatives like the Common Core national curriculum, took pains to reinforce his preference for local solutions. "I want to empower the states," he declared.
The one treading the finest line was former Florida Governor Jeb Bush, who's long been associated with the national reform movement his brother supported in office. Jeb Bush pushed through a number of controversial voucher policies during his time in Tallahassee. When he left the governor's mansion in 2007, he launched an education nonprofit group to push those policies across the country.
Jeb Bush tried to play down his longtime backing of Common Core, which has grown virulently unpopular among conservatives who believe it's an unwarranted intrusion by Obama and Washington, D.C., bureaucrats. Obama's education department actually had nothing to do with developing the standards, which was done by a group of governors, but it has promoted their adoption.
"If people don't like Common Core, fine, just make sure your standards are higher than before," Jeb Bush told Campbell Brown, the former CNN anchor and education reform advocate who heads up The Seventy Four website, which is backed by the same coalition of business interests and reformers that rallied around George W. Bush and Obama policies. But Jeb Bush struggled to explain how the country could maintain high standards if every state is allowed to develop different ones. After all, Merriam-Webster's definition for "standard" is something "established by authority as a rule for the measure of quantity, weight, extent, value, or quality." If there's no common form of measurement, is it really a standard?
"You know if every state has high standards, because you have experts who know it," Jeb Bush insisted. And "clearly low standards, you know it."
He wasn't the only Republican who had trouble reconciling a desire for higher education standards with keeping authority at the local level. Kasich said he wouldn't want to dictate policies to states, but would try to encourage their legislatures to follow good examples, like his mentorship program in the Buckeye state. New Jersey Governor Chris Christie had the same sort of vision, saying he'd use the president's bully pulpit to encourage accountability. "I wouldn't do it through statutes," said Christie, a one-time supporter of Common Core who has backed away from the curriculum.
Brown pushed back. The whole point behind Common Core was "commonality," she noted. And she suggested there's a national interest in making sure American education is working across the country. "Isn't the knowledge of citizenry as important to our standing in the world…as our missiles are?" she asked Christie.
"Sure it is," the New Jersey governor replied, "but it doesn't need to be taught by one national textbook."