Education Secretary Betsy DeVos Blames 'Antiquated' Education Methods for Low Test Scores Among Eighth-Graders
The latest report from the National Assessment of Educational Progress showing a drop in test scores in civics, U.S. History and geography among eighth-graders, drew sharp criticism from Education Secretary Betsy DeVos, who referred to the results as "stark and inexcusable."
The tests were administered in 2018 to 42,700 students in 780 public and private schools nationwide, which showed a decline in geography and history over a four-year period, while civics remained steady.
"America's antiquated approach to education is creating a generation of future leaders who will not have a foundational understanding of what makes this country exceptional," DeVos said in a statement.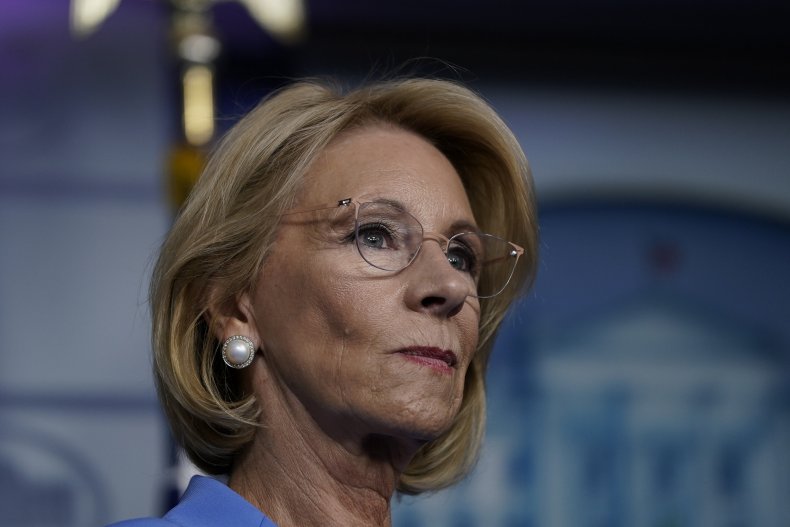 At least 25 percent of America's eighth-graders are what NAEP defines as 'below basic' in U.S. history, civics and geography, indicating a lack of understanding in key issues related to the U.S Bill of Rights, or pointing out basic locations on a map, Devos lamented.
"We cannot continue to excuse this problem away. Instead, we need to fundamentally rethink education in America. It is the only way our nation's students will be in a position to lead our nation and the world," she said.
According to the National Center for Education Statistics, which produces the nation's report card, the 2018 scores for lower-performing students decreased compared to scores in 2014, while the scores for middle- and higher-performing students remained relatively stable.
"Our nation is experiencing a teachable moment with the current health crisis in terms of how important it is to understand historical forces, the role of our civic institutions, and the impact of geographical conditions of our interconnected world," Peggy Carr, associate commissioner at the National Center for Education Statistics, said in an Associated Press report.
Eighth-graders scored an average of 263 out of a possible 500 on the U.S. history portion of the assessment, which was four points lower than in 2014.
By comparison, the average geography score was 258 on a 500-point scale, three points lower than in 2014, with scores for black and white students showing declines.
"These results are another indication that the achievement of already low performing students has been declining relative to higher-performing students," NCES Commissioner Lynn Woodworth, The Hill reported. "This pattern raises another important issue for education researchers and policymakers to investigate as American school children are missing a considerable amount of classroom instruction this year, which is likely to have a larger impact on lower-performing students."
According to Education Week, 41 states and three U.S. territories will forgo returning to school amid the novel coronavirus pandemic, decisions that impact the approximately 43 million students who attend public school. While many students are able to attend classes via virtual learning, lack of internet access could keep others from finishing schoolwork to close out the year.