U.S. Department of Education Secretary Miguel Cardona supports mask mandates for students if it means getting kids back to in-person learning even as COVID-19 cases see a resurgence across all age groups, he told reporters on Thursday.
"Let's do what we know works," Cardona told reporters at the White House. "I'll tell you what works—when you wear masks, when you provide distancing, when you are testing regularly and when you're quarantining, you can function in school."
Several states, including Florida and Texas, have threatened to pull funding from schools that have considered masking requirements as students begin to head back to classrooms for the fall.
Florida Governor Ron DeSantis, a Republican rumored to be eyeing a future run for president, issued an executive order this week that directs the state Department of Education and Department of Health to give parents the power to decide whether their children wear face coverings in class.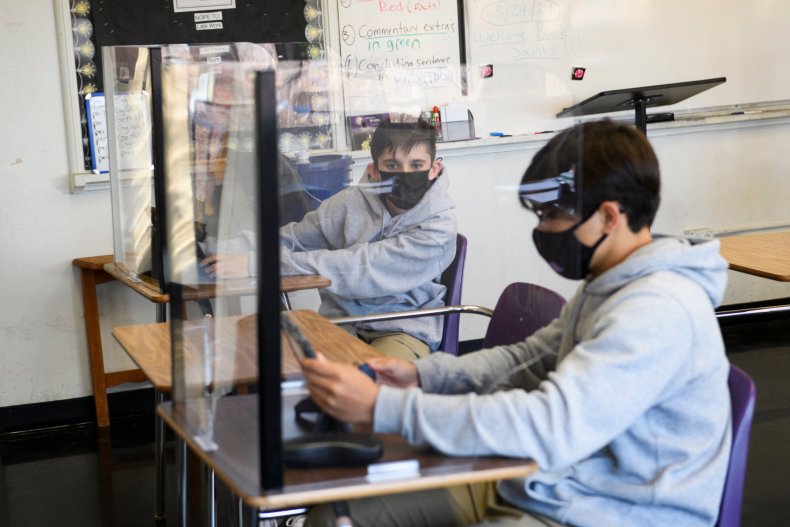 Texas Governor Gregg Abbott, also a Republican, has issued an executive order that prohibits schools or any other governmental entities from requiring masks.
Meanwhile, some states are reopening schools with mask mandates in place. Illinois Governor J.B. Pritzker announced this week that all students and teachers will be required to wear masks while indoors at school.
Cardona joined the White House press briefing to tout safety measures that the federal government is recommending to get students back in classrooms following a break for the coronavirus pandemic.
"Don't be the reason why schools are interrupted—our kids have suffered enough," he said. "Politics doesn't have a role in this—educators know what to do."
The Education Department has been in touch with officials in Texas and Florida about their policies and is trying to work with them, Cardona said.
"I want to make sure those students have access to in-person learning," he said. "At the end of the day, we're all in this together, and it's critically important that we have conversations with governors directly, with state chiefs directly. We want to be an ally, and make sure that we're supporting our students
COVID-19 has killed nearly 612,000 people in the United States and cases are surging amid the highly contagious Delta variant. Vaccinations are available to anyone 12 and older. According to Centers for Disease Control and Prevention (CDC) data, about 11 million people between the ages of 12 and 18 have gotten at least one vaccine dose.
Because of the recent surge in cases, experts have recommended even those who have been vaccinated wear masks indoors. Cardona said the issue goes beyond curbing the pandemic and extends to making people feel safe in the environment and returning kids to classrooms.
"They've suffered enough," Cardona said. "It's time for them to be in the classroom without disruption to their learning."