Education Secretary Miguel Cardona acknowledged the depth of student loan debt n the country during a speech Thursday. However, he did not say what the next steps from the Biden Administration would be to handle the issue.
"Today, too many talented Americans are choosing against enrolling in higher education due to the fear of debt and the feeling that college is out of reach," Cardona said. "We maintain a posture of neglect when post-secondary education is out of reach for students and their families. This is un-American."
Almost one-third of all American students must go into debt to get themselves through college, Investopedia reported. As of November 2021, there was a collective $1.75 trillion of student loan debt, with a possible average balance of around $40,000 per borrower, according to the Education Data Initiative.
Cardona mentioned that the Biden administration canceled $15 billion in student loan debt already —more than any other administration in history.
He also pointed out the Public Service Loan Forgiveness Program (PSLF) was revamped, allowing public servants who have paid for a decade to be able to receive loan relief. The remaining balance of the loan will be forgiven under the program if an individual is under a qualifying repayment plan while working full-time during the 10 years, the Federal Student Aid website reported.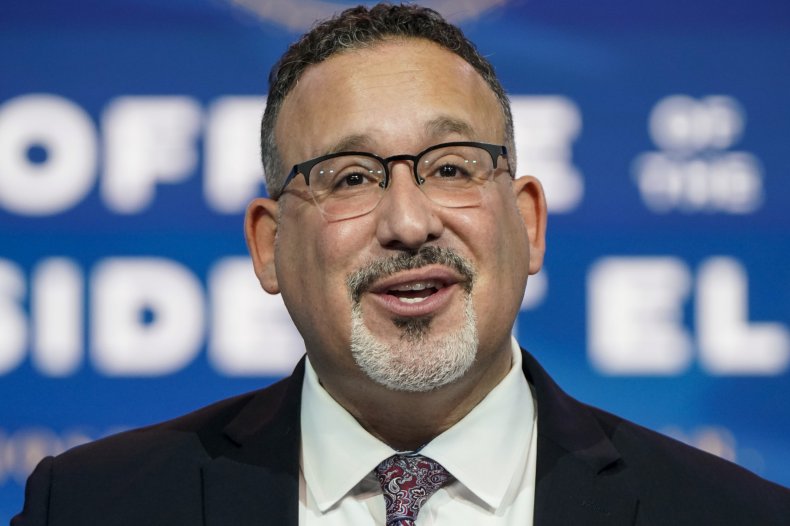 But while Cardona gives specific achievements, there were no specific solutions or timelines about other possible debt forgiveness from the federal government.
Cardona said the U.S. Department of Education will work together with Congress to improve the PSLF program.
He also said the Federal Student Aid enforcement unit has reformed again to combat defrauding. The education department will also hold programs, colleges, and universities accountable, Cardona said.
The education department is working on creating a strong Gainful Employee Rule, he said. The rule was made to ensure graduates from career-education programs are left with a debt that is affordable relative to their actual income, according to The Insitute for College Access and Success.
"In all we do at the Department, we will be student-centered," Cardona said. "As we work to make colleges more affordable and accountable, we must also make them more accessible."
"Students will not be taken advantage of for financial gain," Cardona added.
Student loan payments have been paused until at least May 2022, President Joe Biden announced last year.
Both Senate Majority Leader Chuck Schumer and Sen. Elizabeth Warren said Biden has the legal authority to cancel student debt, according to CNBC.