Education Secretary Slams Florida's 'Don't Say Gay' Bill as 'Hateful'
U.S. Education Secretary Miguel Cardona condemned Florida's controversial Parental Rights in Education bill as being "hateful" after lawmakers in the state Senate moved to pass the legislation on Tuesday.
The bill, nicknamed by critics as the "Don't Say Gay" bill, would heavily restrict primary school teachers in Florida from discussing sexual orientation or gender identity with their students. The legislation has been widely scrutinized for having broad language that opponents say could lead to students and instructors facing punishment for discussing any LBGTQ related topics during class.
"Parents across the country are looking to national, state, and district leaders to support our nation's students, help them recover from the pandemic, and provide them the academic and mental health supports they need. Instead, leaders in Florida are prioritizing hateful bills that hurt some of the students most in need," Cardona said in a statement Tuesday.
"The Department of Education has made clear that all schools receiving federal funding must follow federal civil rights law, including Title IX's protections against discrimination based on sexual orientation and gender identity," the statement said. "We stand with our LGBTQ+ students in Florida and across the country, and urge Florida leaders to make sure all their students are protected and supported."
Specifically, the bill bans any classroom instruction on gender identity and sexual orientation from kindergarten through third grade. It also prohibits such teaching "in a manner that is not age appropriate or developmentally appropriate for students," which opponents say could be applied to all grade levels. Under the law, parents could also sue school districts for alleged violations.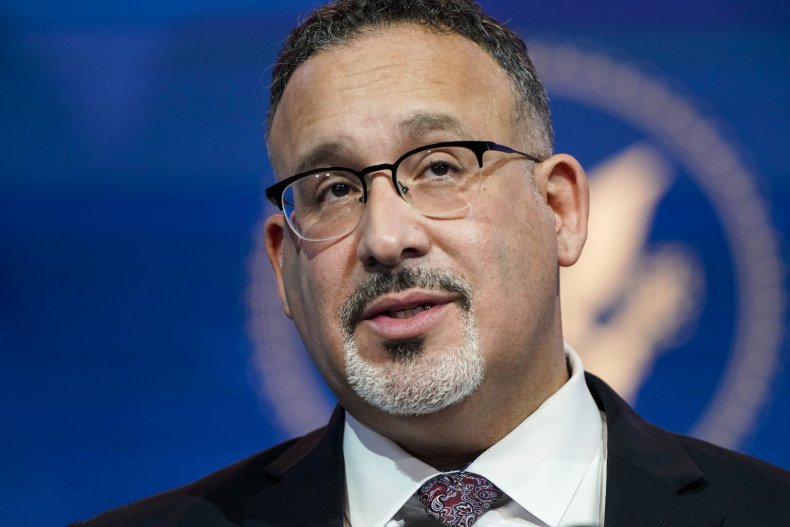 The bill passed in the Republican-controlled Florida state Senate on Tuesday after being approved by the state House last month. Now, the bill will head to the desk of Republican Governor Ron DeSantis—who has previously signaled his support for the legislation—before it can be signed into law.
Several Democratic lawmakers and LGBTQ activists joined Cardona in criticizing the bill's passage on Tuesday.
"The Florida state legislature is playing a dangerous political game with the health and safety of LGBTQ+ kids," Cathryn M. Oakley, state legislative director and senior counsel at the Human Rights Campaign, said in a statement following the vote.
"These bills shamefully attack and endanger LGBTQ+ students who are just trying to get a quality education, whom the state has an obligation to treat fairly and protect."
Republican lawmakers, in response, have defended the legislation by claiming that it allows parents to have control over their children's education.
"This bill says parents your right to raise your children does not end when they walk into a classroom. This bill recognizes that parents are not the enemy," Republican Senator Danny Burgess said ahead of the vote on Tuesday. "The bill simply says that there should be an age limit on certain discussions, it's not a new concept, nor is it radical."