Accused Navy Spy Edward Lin Had Friends in Sensitive Places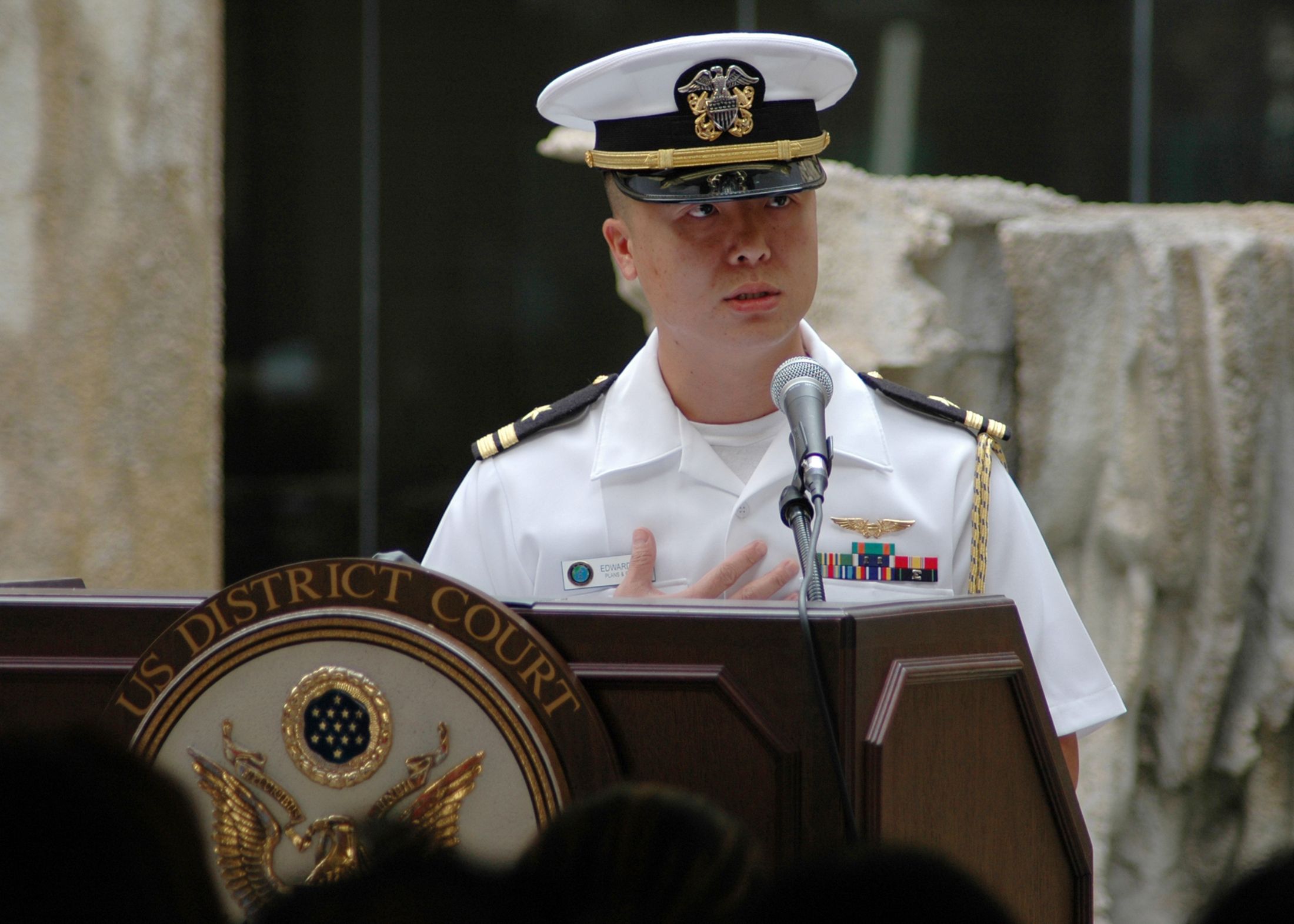 Edward Lin, the U.S. Navy officer suspected of spying for China and Taiwan, had scores of friends in sensitive places, if the number of contacts who "endorsed" him for military and security "skills" on LinkedIn, the professional networking site, is any guide.
Among those who endorsed Lin, a Taiwan-born officer assigned to a highly classified naval air reconnaissance unit in Hawaii until his secret arrest last year, are senior Taiwanese military officers and a Beijing-based venture capitalist specializing in "mobile internet applications and mobile games," according to their LinkedIn bios. His American endorsers on the site include the second in command at the U.S. Naval Air Station, Guantanamo; the U.S. Pacific Fleet's senior political-military analyst on Southeast Asia; a Navy congressional liaison officer; and fellow former aviators in his reconnaissance squad, including one now working at the Northrop Grumman Electromagnetic Systems Laboratory in Sacramento, California.
Lin also served as a congressional liaison for the assistant secretary of the Navy for finance management and comptroller from 2012 to 2014, a position that presumably gave him access to highly classified strategic weapons planning and put him in regular contact with senior members of the House and Senate armed services and military appropriations committees.
Only one of Lin's eight endorsers whom Newsweek attempted to contact via LinkedIn responded, and he declined to comment on the espionage charges laid against the lieutenant commander, whose identity was first reported April 10 by the U.S. Naval Institute News (USNI). Newsweek is withholding the endorsers' names to avoid any negative inference being drawn about their relationship to Lin, whose arrest has ignited ugly racial commentary on the site.
Lin's LinkedIn entry has been deleted since Newsweek reached out to his contacts.
Among Lin's Chinese contacts on LinkedIn was a former Washington, D.C.–based Taiwanese military attaché whose job was to "file intelligence reports on current statuses and events of U.S. Navy and Marine Corps to superiors in the home navy force." Another Taiwanese who endorsed Lin listed himself as a current "security manager" for Apple who previously worked high up in Taiwan's Ministry of Defense, where he was "responsible for U.S. and European think tanks engagement," an intelligence-oriented billet. A former senior British nuclear submarine commander, who served as a Royal Navy liaison officer in Washington, D.C., from 2012 to 2015, also endorsed Lin for various military and communication skills.
Lin, 39, had also joined a Beijing-based executive-recruiting group on LinkedIn.
According to the USNI, Lin, who emigrated from Taiwan to the U.S. with his family as a teenager, is fluent in Mandarin and had been a department head for the Hawaii-based Special Projects Patrol Squadron Two, which flies electronics signals–collecting intelligence aircraft "based on variants of the EP3-E Aries II signals intelligence aircraft."
The Aries is "a four-engine, low-wing, electronic warfare and reconnaissance aircraft utilizing state-of-the-art electronic surveillance equipment for its primary mission," according to the Federation of American Scientists website. "Its numerous missions include anti-surface warfare, and-submarine warfare, mining, reconnaissance and surveillance." Manned by a crew of 11, it can carry missiles, torpedoes and mines.
An EP-3 collided with a Chinese interceptor near Hainan Island on April 1, 2001, setting off a tense standoff between Beijing and Washington. The 24 crew members were detained and interrogated by the Chinese authorities until the George W. Bush administration issued the so-called "letter of the two sorries" expressing regret for the aircraft's intrusion into Beijing's airspace and the death of the Chinese fighter pilot in the collision.
Lin's job "was to manage the collection of electronic signals from the aircraft—a sensor coordinator," the USNI reported.
Few Navy activities are more sensitive than its methods for monitoring the movements and communications of enemy warships and weapons systems, especially in submarines. "Knowing the methodology for how the U.S. gathers signals intelligence—information that Lin would likely have with his Aries II experience—could allow adversaries to devise ways to counter U.S. monitoring," USNI reported.
On April 9, Newsweek reported that Lin was secretly arrested in an espionage investigation that is ongoing. The Navy's heavily redacted charge sheet says the unidentified officer gave secret information "relating to the national defense to representatives of a foreign government." But the four-page document does not say exactly what information was provided, or for how long a period, how the information was transmitted or which nation it was provided to.
The Navy's charge sheet says the officer is accused of three counts of attempted espionage, three counts of making false official statements and five counts of communicating defense information "to a person not entitled to receive said information." It also says the officer provided a false address when he was on leave "rather than the actual foreign destination" and failed to report contacts with foreign nationals.
The Navy accused the officer, "a married man," of procuring prostitutes on various occasions and having sex with "a woman not his wife," a violation of the Uniform Code of Military Justice.
The multiple charges of espionage and attempted espionage, made public only on April 8, suggest Lin was under surveillance by Navy counterespionage agents for an extended period of time. The officer was arrested "about eight months ago," according to a U.S. official who asked for anonymity in exchange for discussing some details of the case.
The official did not rule out the possibility of further arrests in the case, which is being jointly pursued by both the FBI and Naval Criminal Investigative Service as a "national security case." The officer is being held in the Naval Consolidated Brig in Chesapeake, Virginia.
It's a desultory end to a future that not long ago looked quite bright. In 2008, the Navy celebrated Lin's citizenship naturalization in a ceremony.
"I always dreamt about coming to America, the 'promised land,'" he said, according to a Navy press release at the time. "I grew up believing that all the roads in America lead to Disneyland."
Lin enlisted in the Navy as an ordinary sailor in 1999. Following basic training, he attended the Navy's nuclear training schools in Charleston, South Carolina, from March of 2000 to February of 2002, according to his official Navy biography, obtained by USNI News on Monday. Later that month, he was enrolled as a student in the Navy's Officer Candidate School. He was commissioned on May 10, 2002.
Correction: A previous version of this story mistakenly referred to the U.S. Naval Institute Press. We meant to refer to the U.S. Naval Institute News. A previous version of this story also described one of Lin's Linked-in contacts as the U.S. Pacific Fleet's top intelligence analyst on Southeast Asia. He is the U.S. Pacific Fleet's senior political-military analyst on Southeast Asia.