Edward Nahim: Sierra Leone's Only Psychiatrist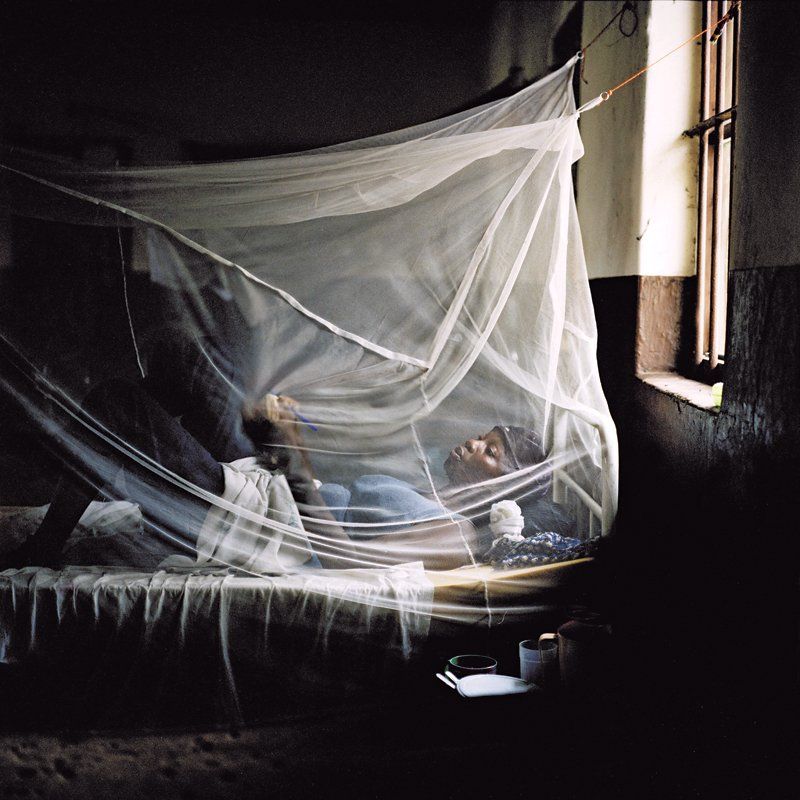 Dr. Edward Nahim leans over a stack of weathered folders at the Sierra Leone Psychiatric Hospital in Freetown, where he has worked for 30 years. The room is silent but for the scratch of his pen as he etches notes for each patient. With his black hair broken by rivulets of gray at his temples, and his yellowish eyes that blend with his lemon-colored shirt and the lemon walls, Nahim appears to be an old fixture of the building.
The 67-year-old psychiatrist tilts his head up and says he will bring out the most "lucid" patients for me to interview. An aid escorts them in separately: a young Nigerian man with a wide smile who believes his penis has split in two; a middle-aged man with deformed elbows who speaks fluent German and is "a prophet of God"; a petite elderly lady with missing teeth who says she is pregnant with twins; and a man who divides his life into historical epochs and claims he is visited each night by people who torture him under the orders of his ex-lover Claudia Schiffer.
Nahim chuckles as he finishes his paperwork. "You won't find patients like this anywhere in the world," he says with a strange air of pride.
Nahim is the only trained psychiatrist in Sierra Leone, a nation that suffered one of the most brutal civil wars in Africa. Earlier this year, former Liberian president Charles Taylor was sentenced in The Hague to 50 years in prison for "aiding and abetting" war crimes during the 11-year conflict, which killed 50,000 people and left countless others maimed and with deep psychological wounds. After the war ended in 2002, a mental-health survey conducted by the World Health Organization (WHO) estimated that 400,000 Sierra Leoneans suffered from mental illnesses such as depression or post-traumatic stress disorder, with less than 1 percent of the population receiving treatment.
Though he is technically retired, Nahim continues to work full time for the government, treating ex-combatants and hospital patients. There are only two qualified psychiatric nurses in the country. "We are extremely concerned about having one psychiatrist who is retired," says Donald Bash-Taqi, the director of training, noncommunicable diseases, and research at Sierra Leone's Ministry of Health. "We are a country that has come from a brutal civil war with a rising youth involvement in drugs. It is not enough."
The psychiatric hospital sits in Kissy, the poor eastern side of Freetown. Known as "Crase Yard" in the native Krio, it is surrounded by burnt-out houses and razed buildings jutting from the earth. Kissy was occupied by the Revolutionary United Front (RUF), the rebel group that became notorious for recruiting child soldiers and committing mass amputations. During the conflict, Nahim and his patients and staff were forced to leave the hospital, and sections of the building were destroyed.
Nahim takes me beyond an old stone wall covered in moss, part of the hospital's original structure. It was built in 1872—the first mental-health clinic in Africa. Inside, the walls are cold and bare, and the windows are barred. We enter a ward where 16 patients lie on thin mattresses. Four of them are shackled by their hands or feet to the iron bed frames. Nahim says the restrictions are necessary due to the lack of trained staff to watch over the patients. "It is not like in Australia or England, where you have closed-circuit televisions in the ward and the wards are all electronically controlled, doors are locked, and there is 24-hour electricity," he says. "Here, we can't keep them in the wards, so they can go out anytime they want to. The only way we can restrain them is to chain them for a short time."
The only other care facility in Freetown is the City of Rest, a run-down building that houses 40 patients crammed into small rooms. Patients wear an ankle chain when they first arrive. Their treatment involves Christian prayer, singing, and counseling. Nahim visits the City of Rest every week to prescribe medications to those who need it. Inside, I meet a man I'll call Adama, a 29-year-old who was admitted by his family for smoking too much marijuana, or "jamba." Before coming to City of Rest, Adama says he was taken to a traditional healer, who restrained his leg inside a log and read verses from the Quran. He was unable to move for three months. "They thought it was a demon. Native doctors are very wicked," Adama says. (Throughout many parts of Africa, people suffering from mental illness consult or are forced to be treated by traditional healers.)
Drug abuse is Sierra Leone's biggest mental-health challenge, Nahim says, with young male addicts accounting for around 80 percent of the hospital's admissions. Drugs were "a major contributing factor to the atrocities committed during the war," he says. "Many young people were unemployed and on drugs, and all you needed was someone to recruit them, which was easy."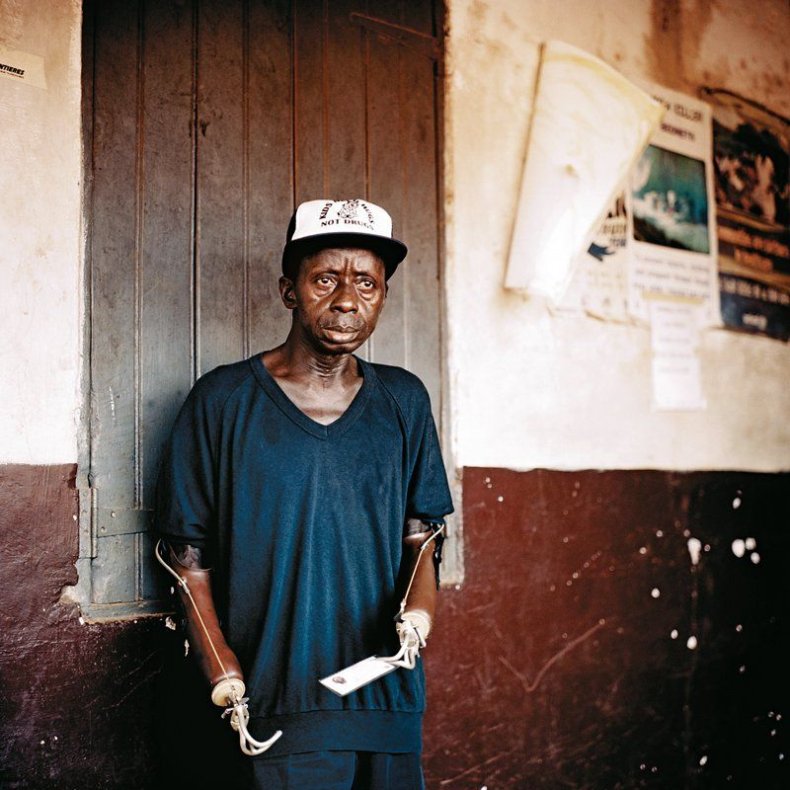 The shortfalls in the country's mental-health system are not unique in sub-Saharan Africa, where it is estimated that one psychiatrist is available for every 5 million patients. On a continent with high rates of infant and maternal mortality, and prevalence of infectious diseases, mental health is often overlooked. Most developing countries dedicate less than 2 percent of health budgets to mental-health care, according to WHO, and many have no specific money allocated for mental health at all. In neighboring Liberia, which suffered an equally brutal conflict and where an estimated 40 percent of the populace suffers from post-traumatic stress disorder, there is likewise only one public psychiatrist and one psychiatric hospital.
Funding isn't the only challenge. The stigma toward people with mental illness remains high. "You still have a very widespread supernatural belief in the causation of mental illness, where people see it as a result of a curse or some voodoo," says Professor Oye Gureje, president of the African Association of Psychiatrists and Allied Professionals, who is undertaking a research project funded by the U.S. National Institute of Mental Health that will try to integrate mental-health care with traditional forms of treatment. "People with mental illness may sometimes be seen as being deserving of it rather than it being an illness just like any other illness. [There is] stigma and reluctance to seek medical treatment."
These beliefs put patients at risk of harassment or neglect, says Janice Cooper, who heads a project on mental health run by the Carter Center in Liberia. "People feel that some forms of mental illness are contagious, like epilepsy," she says. "We have a lot of cases where people are burned or drowned because [they] have a fit and they convulse and people are afraid of keeping them safe."
But policy changes are slowly underway. In recent years, global institutions have focused on the importance of mental health, including WHO, which launched the Mental Health Gap Action Program in 2008 to address insufficient mental-health care in low- to middle-income countries. "There have been significant changes in the last five years and we have seen development agencies beginning to back mental-health-related programs in developing countries," says Vikram Patel, a professor and senior research fellow at the London School of Hygiene and Tropical Medicine.
In Sierra Leone, a Mental Health Coalition was formed last year on Oct. 10 to honor World Mental Health Day. The European Commission is also helping sponsor psychiatry training for 25 nurses at the University of Makeni, and the government has developed a mental-health policy to launch later this year. Its targets include boosting the number of psychiatrists to five over the next year, along with 10 psychiatric nurses and 29 social workers. The outdated Lunacy Act—which is more than 100 years old—will also be revised. It details procedures for the commitment of patients and the administration of their property, but it says little about the rights of the mentally ill and nothing about regulations for treatment. However, without substantial funding to back it up, the policy risks remaining a piece of paperwork.
In Africa's post-conflict countries, a strengthened mental-health-care system is essential for national recovery and "collective healing," says Søren Buus Jensen, a trauma psychiatrist who has worked in Sierra Leone and other African countries devastated by conflict. But this takes time. "Three generations at least are affected before trauma starts to fade out," he says.
Back in Nahim's private practice in Freetown's business district, I ask him whether he's worried about the future of mental health in Sierra Leone. "I'm concerned, but what can I do?" he says, with deep bags underscoring his eyes. "I lecture the medical students in psychiatry, and when I tell them we have scholarships for psychiatry and ask if anyone is interested, they burst into laughter," adding that he is known as the "crazy doctor."
Nahim's receptionist comes in and gently reminds him that there are patients waiting. As soon as I leave, the door quickly closes.