Edward Snowden Joins Twitter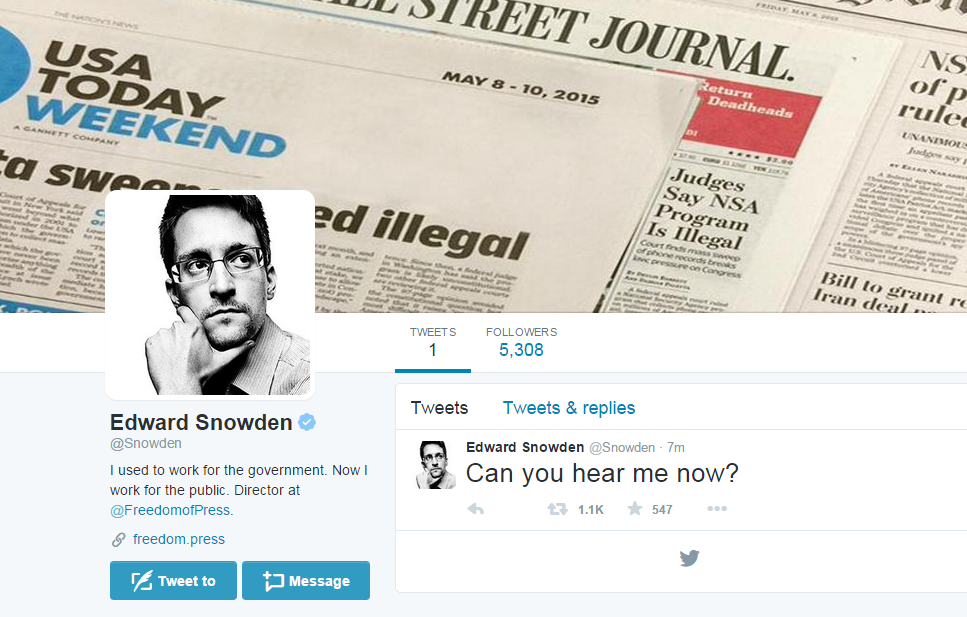 Updated | Edward Snowden—the former NSA contractor who defied the world's most powerful government and leaked a trove of classified documents exposing its broad surveillance programs— joined Twitter on Tuesday, using the handle @Snowden.
Snowden fled the U.S. years ago to avoid prosecution, and currently lives in Russia.
A conversation with famous astrophysicist Neil deGrasse Tyson may have prompted him to join the Twitterverse, the Intercept reports:
"You kind of need a Twitter handle. So like @Snowden, maybe? Is this something you might do?" asked Tyson.
"That sounds good, I think we've got to make it it happen," said Snowden.
The @Snowden handle was already taken when Snowden went to set up his profile, the Intercept reports. But because the user had been inactive for three years, Twitter agreed to turn the handle over.
Ben Wizener of the ACLU, and Snowden's attorney, says Snowden is controlling the account. His first tweet:
Update: Snowden has a second tweet: