First Look at Joseph Gordon-Levitt as Edward Snowden in Upcoming Biopic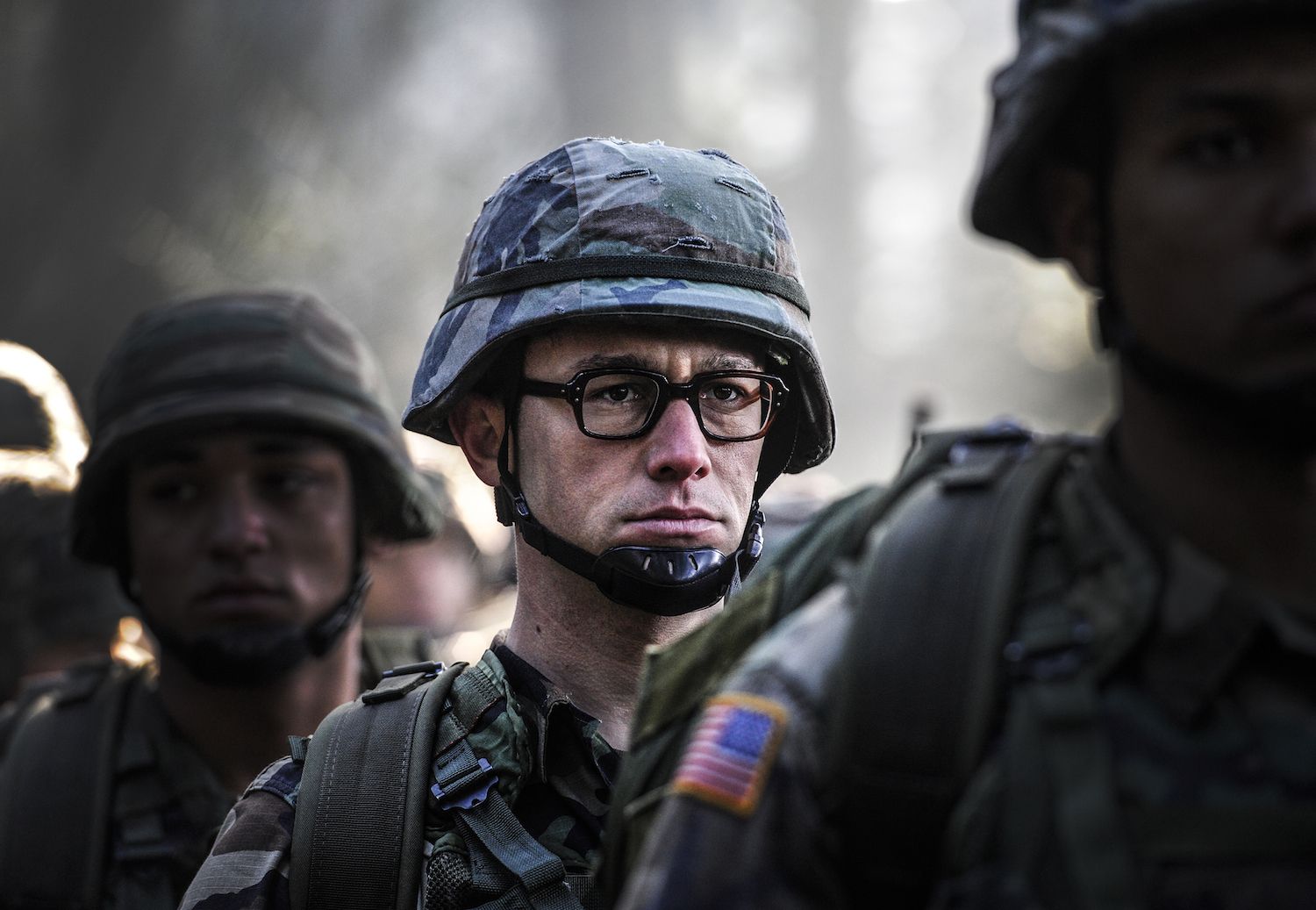 The first photo of actor Joseph Gordon-Levitt as National Security Agency (NSA) whistle-blower Edward Snowden in Oliver Stone's upcoming biopic was released Tuesday. The photo shows the 34-year-old bespectacled actor in U.S. military gear, likely a nod to Snowden's time in the Army Reserve.
Stone'sSnowden, set to be released on Christmas Day this year, follows the former NSA analyst's life before he collected and released evidence of mass government surveillance programs in 2013 to news outlets such as The Guardian. The leaks sparked a worldwide debate about the surveillance reach of the U.S. government and prompted a review of the NSA's data collection policies. The cast is currently filming in Munich.
"In this first look, before he was a whistle-blower, Edward was an ordinary man who unquestioningly served his country," reads a statement from Open Road, the film's distributor. Snowden was discharged from the Army Reserve five months after he enlisted in 2004. He joined the NSA in 2009. He fled to Russia via Hong Kong after his first classified leaks were published.
Gordon-Levitt is best known for his roles in romantic comedies like 500 Days of Summer and the television series 3rd Rock From the Sun, before taking on the role of Batman sidekick John Blake (Robin) in 2012's The Dark Knight Rises.
According to the Internet Movie Database, Divergent's Shailene Woodley will play Lindsay Mills, Snowden's girlfriend, while Zachary Quinto of Star Trek and Heroes will play Glenn Greenwald, one of the first journalists to write about Snowden's leaks. Melissa Leo, who won a Best Supporting Actress Oscar in 2011 for her role in The Fighter, will play film director Laura Poitras.
Greenwald and Poitras were part of the team behind her Academy Award-winning documentary Citizenfour, which follows the story of Snowden's leaks of classified government data from the moment he contacted Poitras under the name "Citizen Four."
Stone, an Oscar-winning director, announced last June that he would be making the film with producing partner Moritz Borman after they had purchased the rights to The Snowden Files: The Inside Story of the World's Most Wanted Man, by Guardian journalist Luke Harding. The Guardian will be assisting in the film's production, according to its editor-in-chief, Alan Rusbridger.
Snowden, who currently lives in Russia after being granted political asylum in 2013, is reportedly in talks with his lawyers to come back to the U.S., where the government wants him to stand trial for leaking NSA information. Snowden has said he would be willing to come home if he is guaranteed a fair trial.