What Was Edwin Hawkins's Cause of Death? Pancreatic Cancer Killed 'Oh Happy Day' Singer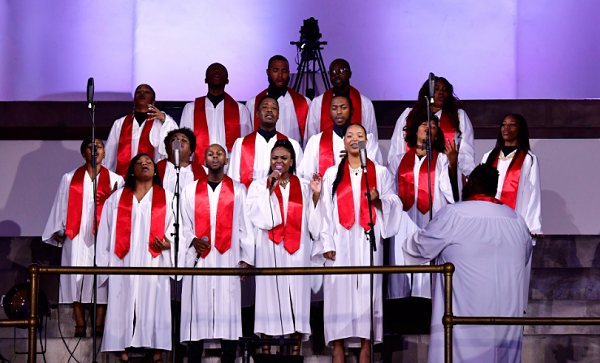 Gospel singer Edwin Hawkins died at his California home on Monday, according to the New York Times. The singer, who is best known for the timeless gospel song "Oh Happy Day," was 74 years old.
A representative for Hawkins confirmed that the singer died of pancreatic cancer.
Hawkins first gained popularity in the late 1960s while singing with the Northern California State Youth Choir. The group planned to sell music locally to raise money for a trip to a gospel competition in Southern California. But their first record, Let Us Go into the House of the Lord, became an instant hit after Bay Area disc jockey Abe Kesh started playing "Oh Happy Day" on KSAN radio station.
During a 2008 interview with The Modesto Bee, Hawkin's said the song was recorded on his friend's "little two-track machine"—and was never intended for commercial use. But "Oh Happy Day" went on to land the No. 4 spot on Billboard's pop chart and No. 2 on the R&B chart in 1969, and more than 7 million copies of the track have been sold.
The single also brought Hawkin's and his musical group—renamed the Edwin Hawkins Singers—their first Grammy Award, for Best Soul Gospel Performance. Hawkins was nominated for 19 Grammys in his career, winning three more: for the 1971 hit "Every Man Wants to be Free," 1978's "Wonderful!" and the group's live album, Edwin Hawkins Music & Arts Seminar Mass Choir, in 1993.
Hawkins was born in Oakland, California, on August 19, 1943. He began singing with his seven siblings at neighborhood churches. When Hawkins was 7 years old, he became the group's keyboardist.
Despite growing up in music, Hawkins told USA Today in 1991 that he didn't think he'd have a lifelong career as a singer: "I wasn't planning on going into the music business. ['Oh Happy Day's'] success decided my fate."
Year's after it's release, "Oh Happy Day" maintained its prominence, appearing in blockbuster films like Sister Act, Big Momma's House, Nutty Professor II: The Klumps and Robin Williams' 2007 film License to Wed. The song was also covered by a number of music legends, including Aretha Franklin, Elvis Presley, Glen Campbell and Johnny Mathis.
Gospel aside, Hawkins also appeared on secular tracks. including Melanie's 1970 hit, "Lay Down (Candles in the Rain)." The song charted to the No. 10 spot on Billboard's Hot 100.