Eerie Video Shows Convicted Killer Lurking in Family's Yard, Peering Through Teen's Window
An eerie surveillance video captured a "peeping Tom" lurking in a Florida family's yard and peering into the window of the family's teenaged daughter.
Sarah Martinez says she first spotted the man on May 24 when she was getting ready for work in her bathroom.
"Through the reflection of my mirror, I saw a man's face looking into my bathroom window," she told WFLA-TV.
Running outside to see who it was, she said she saw a truck that she didn't recognize leave her yard. She immediately told her neighbors, who in turn bought a security camera.
Four days later, that camera captured footage of a man lurking around the window of Martinez's 17-year-old daughter. Martinez identified the man in the video as the same one who she saw earlier in the week.
She said seeing the man on video has terrified her daughter from being alone in the house.
"Being able to see those videos is chilling. She's scared. She's afraid of coming home from school by herself," Martinez said. "You can see there's a point where he reaches up and pushes on my daughter's window to see if it's unlocked, I'm presuming. That is just something that I can't stop thinking about."
Luckily, with tips from neighbors and the security footage, deputies from Polk County Sheriff's Office were able to identify and arrest 39-year-old Santos Pantoja, who has served two stints in state prison on manslaughter and burglary charges.
A spokesperson for the sheriff's office told Newsweek that there have not been any other recent reports of this kind of activity.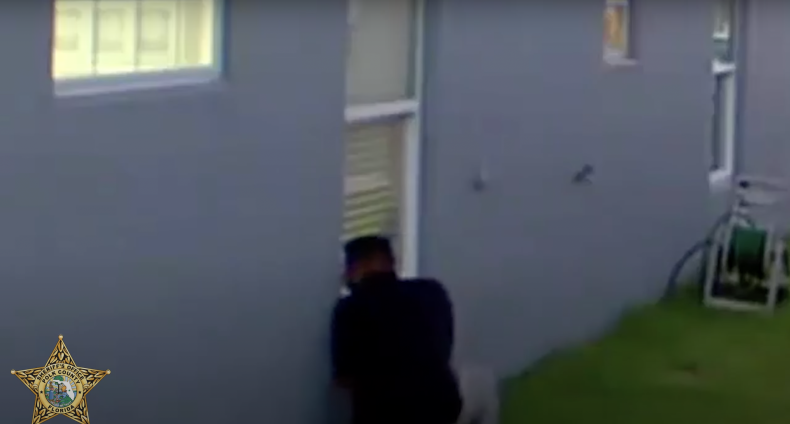 According to the sheriff's office, Pantoja was in a truck owned by his employer, Weber Environmental Services, and was holding a sprinkler in his hand as he was lurking around the house.
"He told a neighbor he was looking for his missing 23-year-old daughter. At 7 o'clock in the morning, holding a piece of sprinkler in his hand? I'm suspicious," Polk County Sheriff Grady Judd said during a media briefing.
Officials said the landscaping company that Pantoja worked for told deputies they didn't have any jobs in that neighborhood, but that their GPS showed Panoja was in the area that day.
"Detectives have arrested him. He's in custody," Judd said. "He's got a hitch in his giddy-up to be trying to look into a child's window before 7 o'clock in the morning."
The sheriff said there needs to be more investigation into how Pantoja knew there was a teenager living in that room, but praised Martinez's neighbors for helping deputies identify the lurker.
"We want to thank the community. That's the beautiful thing about Polk County. I encourage the community to help us gather evidence against bad guys, then call us and we'll go to work putting them in jail," Judd said.
Martinez also extended her thanks, telling WFLA-TV, "Within about an hour and a half to two hours of posting the picture of the work truck on Facebook, we had his name. We had everything because of one of those crimestopper pages on Facebook."
Brian Bruchey, a spokesperson for the Polk County Sheriff's Office, wrote to Newsweek, "We got the word out about Pantoja's crime via social media and broadcast & print media to serve as a reminder of how important it is for people to be aware of suspicious activity in their neighborhoods, as well as watching out for their neighbors."
"We frequently remind residents that if they hear something or see something, to say something," he added.
According to the Polk County Sheriff's Office inmate database, Pantoja has been released on bond.