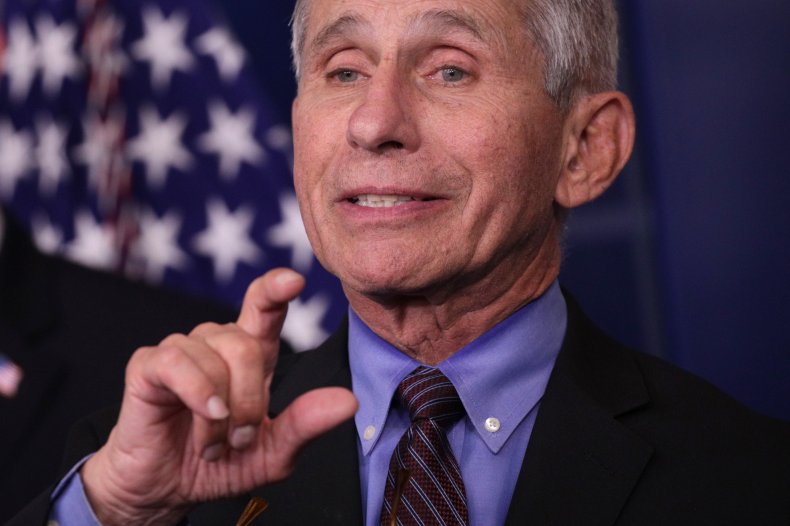 National Institute for Allergies and Infectious Disease Director Dr. Anthony Fauci said that results from clinical trials to determine the efficacy of a number of possible COVID-19 treatments will not be available "for months."
While addressing reporters during Friday's White House Coronavirus Task Force briefing, Fauci said there are "a number of candidate interventions" that are beginning clinical trials, and suggested that Americans visit clinicaltrials.gov to see for themselves how such studies are conducted.
"You'll see that many of them are the randomized control trials that are the really gold standard of how you find out whether something really is safe and effective, and as the weeks and months—and it'll probably be months, sometime in the summer—we'll start to see which are working, which are not and to focus on those that are we developing and will work," he said.
Fauci, who has run the NIAID since 1984 and was awarded the Presidential Medal of Freedom by President George W. Bush in 2008, said that the social distancing measures that governors across the U.S. have imposed to prevent the spread of COVID-19 are working and should remain in place to prevent spikes in new infections.
"It's important to remember that this is not the time to feel that since we have made such important advances in the sense of success of the mitigation, that we need to be pulling back at all," said Fauci,
He added that despite recent statistics showing that "New York, New Jersey, New Orleans and other areas where they have really big spikes" in infection could be leveling off, there are other parts of the country where leaders are interested in ensuring that their areas do not have similar spikes.
Although President Donald Trump had suggested as recently as last month that many of the social distancing measures would be able to be lifted by Easter Sunday, as of earlier this week, at least 42 states remain under the stay-at-home orders that have so far contributed to both a drop-off in new infections and levels of unemployment not seen since the Great Depression.
Fauci and White House Coronavirus Response Coordinator Dr. Deborah Birx have cautioned that measures to restrict movement and person-to-person contact could be needed for some time, or at least until widespread testing measures are in place to enable the spread of SARS-Cov-2 to be better tracked, as well as to determine who has developed immunity and can, therefore, return to work.
"You don't make the timeline, the virus makes the timeline," Fauci said during an interview with CBS News last week.
When asked Friday whether Americans had to choose between staying healthy and returning to work, Trump responded that they could do both, and that the administration was "looking at a date" to reopen the economy.
"If you look at what we're doing, we're looking at a date, we hope we're going to be able to fulfill a certain date, but we're not doing anything until we know that this country is going to be healthy," he said. "We don't want to go back and start doing it over again, even though it would be in a smaller scale."
When pressed further on whether he would heed the advice of experts like Fauci if they advised him to keep social distancing measures in place past the end of April, Trump said he would "certainly listen."