Pictures of the plexiglass barriers that will separate Senator Kamala Harris and Vice President Mike Pence during the upcoming vice presidential debate surfaced on social media Wednesday morning, about 12 hours before the two nominees are due to participate in the evening's election event. Harris and Pence's moderated discourse will take place in person, at the University of Utah's Kingsbury Hall in Salt Lake City.
Given the wave of COVID-19 infections diagnosed among Pence's Republican colleagues, including President Donald Trump, the Commission on Presidential Debates agreed to install transparent dividers on stage as means to protect against virus transmission. However, photos of the plexiglass sheets—posted to Twitter by reporters early Wednesday—prompted scrutiny from social media users who suggested the barriers were inadequate safeguards. Harris and Pence will reportedly be 12 feet apart during the debate.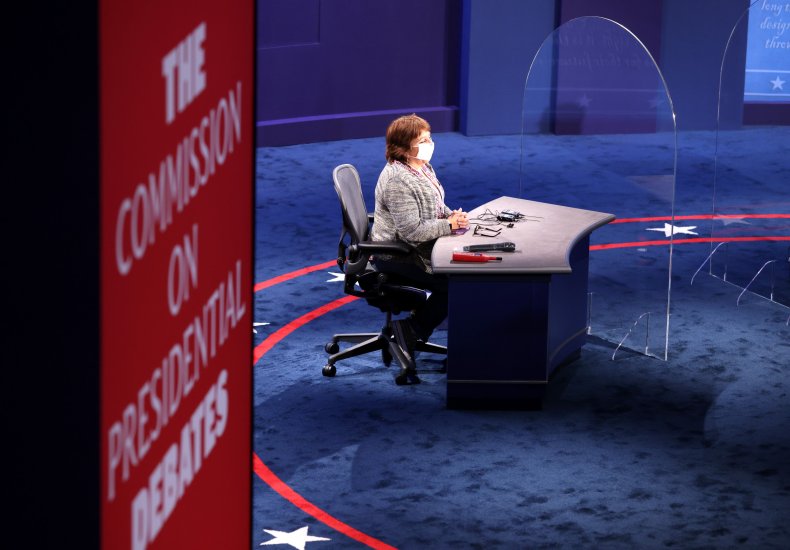 Although some reports published earlier this week suggested three barriers would be installed to separate both nominees as well as debate moderator Susan Page, the Washington bureau chief at USA Today, Wednesday's photo only showed two, positioned between Harris and Pence's designated seats.
Twitter users flooded the comments sections of posts picturing the debate stage with concerns about the efficacy of plexiglass barriers in reducing potential COVID-19 transmission risks. Many questioned why the debate's participants are not required to wear face coverings during the event or stay farther apart, especially considering recent updates from the Centers for Disease Control and Prevention (CDC) regarding the potential for airborne spread in enclosed spaces.
"Apparently nobody understands AEROSOL TRANSMISSION (read: *airborne*)," wrote epidemiologist and health economist Eric Feigl-Ding in a tweet Wednesday morning.
"This...does not feel like enough," added Jessica Valenti, a feminist author and Gen Mag columnist who often tweets about political affairs, in response to photos of the plexiglass barriers. Monica Lewinsky agreed.
"I'm all for the barrier, but is this really that effective? Especially since there isn't one for Susan Page," Yashar Ali, a contributing writer at New York magazine and HuffPost, pointed out in another tweet referencing the plexiglass dividers.
In its updated guidelines related to COVID-19 and the potential for airborne spread, issued Monday, the CDC acknowledged the virus is most often transmitted through close contacted with an infected individual. The public health agency said airborne transmission can occur under certain circumstances, including confinement in enclosed indoor settings "within which an infectious person either exposed susceptible people at the same time or to which susceptible people were exposed shortly after the infectious person had left the space."
To avoid possible risks of aerosol transmission, the CDC recommends maintaining physical distance from others, wearing face masks, disinfecting surfaces, ensuring enclosed spaces are adequately ventilated, and avoiding crowded indoor settings.
Newsweek reached out to the Commission on Presidential Debates and CDC for comment but did not receive replies in time for publication.