Effort to Raise Debt Limit Resets After Senate GOP Blocks Weeks From Default
The U.S. House of Representatives approved legislation Wednesday to suspend the debt limit. The bill, crafted by Democrats, suspends the federal debt ceiling through December 2022 and effectively resets the effort to raise the debt ceiling, which was recently blocked by Republicans in the Senate.
The House had already passed legislation to increase the debt ceiling when it was part of a spending bill that included a plan for extending government funding beyond the current October 1 expiration in order to avert a shutdown. Members of the GOP in the Senate filibustered that bill, though, with Senate Minority Leader Mitch McConnell making good on his vow that he and fellow Republicans wouldn't support it.
McConnell also blocked Senate Majority Leader Chuck Schumer from passing a separate bill on Tuesday that would have suspended the debt ceiling through unanimous consent.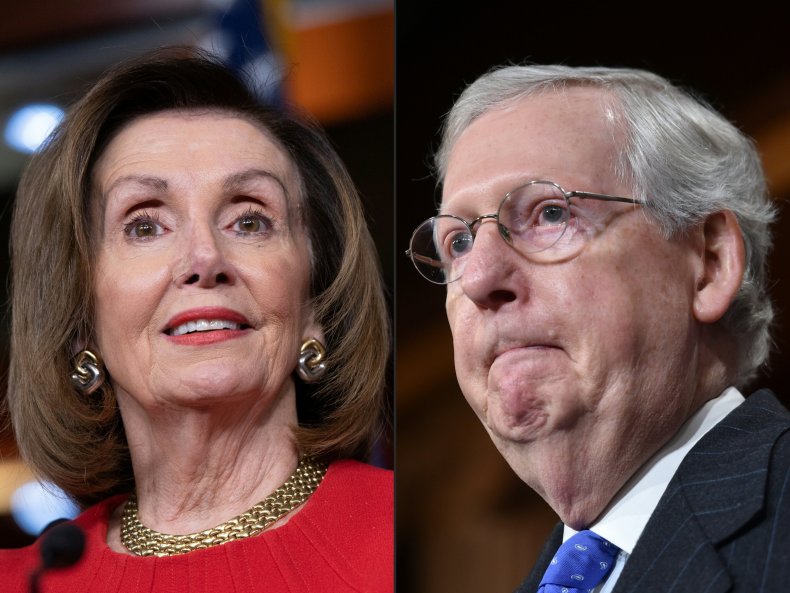 House Speaker Nancy Pelosi announced the plan to split the previous bill in two in hopes of at least having the debt ceiling suspended. One bill would focus on raising the debt limit, and the other legislation would avert a government shutdown.
"Today, the House plans to move forward to honor its responsibility to protect the American economy and American families from the catastrophe of a default by passing legislation to suspend the debt limit," Pelosi said in a Wednesday press release announcing the plan.
"Thank you for the great unity and patriotism demonstrated with last week's vote on lifting the debt ceiling and on a Continuing Resolution to keep government open and avoid a devastating shutdown," she added.
Republicans have tried to force Democrats to raise the debt ceiling through a budget reconciliation resolution, which could not be blocked by the GOP but would require unanimity among Democrats. Meanwhile, Democratic leaders have said raising the debt ceiling through budget reconciliation would likely not occur before the U.S. defaults for the first time ever on the national debt.
On Tuesday, Treasury Secretary Janet Yellen testified to the Senate Banking, Housing and Urban Affairs Committee about the debt ceiling. She warned of interest rate increases and a severe negative economic impact if the ceiling is not raised or suspended quickly.
"If the debt ceiling were not raised, I think there would be a financial crisis and a calamity," Yellen said. "And absolutely, it's true that the interest payments on the government debt would increase."
If the U.S. government does not raise the ceiling in time, she said, the American dollar could be undermined as world currency and interest payments for mortgages and cars could increase.
Yellen has also stated that if the debt limit is not raised or suspended by October 18, the country could default on its debt.