Effort Underway to Oust USPS Head DeJoy Over Failure to Electrify Vehicles
Environmental concerns have pushed Democrats to renew their efforts to oust controversial Postmaster General Louis DeJoy from the U.S. Postal Service.
Virginia Representative Gerry Connolly tweeted that "DeJoy has to go right now" on Wednesday, not long after the Environmental Protection Agency (EPA) and the White House Council on Environmental Quality issued letters urging the U.S. Postal Service (USPS) to reconsider its decision to update its delivery truck fleet with mostly gasoline-powered vehicles.
Connolly, chair of the House Oversight Subcommittee on Government Operations, called for a "full investigation" into the postal service's multi-billion dollar contract for the new gas-powered fleet, noting that the contract was awarded despite President Joe Biden and Congress aiming to replace gas-powered government vehicles with electric ones.
DeJoy has been heavily criticized for his handling of the postal service by Democrats since he took on the role in June 2020. Complaints include cost-cutting measures that were introduced just before the 2020 presidential election and slow mail delivery during his tenure, while the FBI also launched an investigation of DeJoy over campaign contributions last summer. DeJoy was a major donor to former President Donald Trump and was appointed to his position during his administration.
Although DeJoy has faced increasing calls to be fired since Biden took office, neither Congress nor the president can directly fire him. The postmaster general can only be removed by the USPS board of governors, which currently supports DeJoy. Biden nominated two new board members to replace DeJoy allies last November but the picks have yet to be confirmed by the Senate.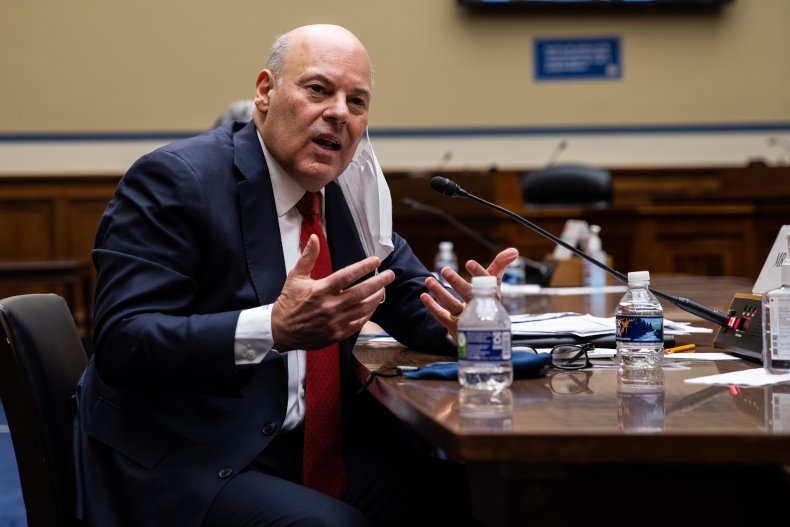 Connolly told The New York Times in an article published Wednesday that the fleet contract was an "enormous example" of why DeJoy should either resign or be ousted by the board.
"This is directly counter to the goals both Congress and the president has set to have an emissions-free federal fleet," the congressman said. "I would love for him to resign and if he won't resign, I want the board of governors to fire him."
Vicki Arroyo, the associate administrator for the EPA's office of policy, wrote in Wednesday's letter to the USPS that the decision to order more gas vehicles "represents a crucial lost opportunity to more rapidly reduce the carbon footprint of one of the largest government fleets in the world."
A contract to replace the 30-year-old fleet with up to 165,000 new trucks over 10 years was awarded to Wisconsin-based Oshkosh Defense last year. The company was selected over electric vehicle maker Workhorse Group, which went on to file but then voluntarily dismiss a legal challenge over the decision.
Connolly was only one of several Democratic lawmakers to cite the fleet contract while pushing for DeJoy's removal on Wednesday.
New Jersey Representative Bill Pascrell, Jr. tweeted that "Dejoy and his enablers should be removed and thrown into the street for what they've done to your post office," while Illinois Representative Sean Casten urged the expedited confirmation of Biden's board nominees because DeJoy was "attacking the health of our planet."
DeJoy has made a modest commitment to adding electric vehicles to the USPS fleet, pledging to make 10 percent of the fleet electric while maintaining that the entire fleet cannot be made electric due to a lack of funding. Biden's Build Back Better Act, which has stalled in the Senate, would provide $6 billion in funds to help pay for the electric vehicles.
"While we can understand why some who are not responsible for the financial sustainability of the Postal Service might prefer that we acquire more electric vehicles, the law requires us to be self-sufficient," USPS spokesperson David Partenheimer said in a statement to Newsweek. "For that reason, given our current financial condition, the total cost of ownership of our delivery vehicle fleet must be a part of our analysis."
"The Postal Service is certainly willing to accelerate the pace of electrification of our delivery fleet if a solution can be found to do so that is not financially detrimental to the Postal Service," added Partenheimer. "The Postal Service has engaged in extensive discussions with the Administration and Congress to explain our financial condition and the reasons why additional funding would be necessary to accelerate this pace over the course of our ten-year contract."