Alabama-based Gravel Ridge Farms recalled eggs sold in Alabama, Georgia and Tennessee after a multi-state salmonella outbreak.
Fourteen people in Alabama and Tennessee contracted Salmonella Enteritidis, USA Today reported. No deaths have occurred, but two people have been hospitalized, according to the Centers for Disease Control and Prevention (CDC).
The eggs were stamped with the UPC code 7-06970-38444-6 and have "use by" dates of between July 25 and October 3.
The CDC instructed people to throw out any eggs from Gravel Ridge Farms, offered instructions on how to clean refrigerators that previously held potentially contaminated products and issued advice on how to handle and cook eggs. The agency also published a full list of stores that sold the eggs, which includes locations in Atlanta and Birmingham in Alabama.
"Most persons infected with Salmonella bacteria develop diarrhea, fever, and abdominal cramps 12 to 72 hours after infection. The illness usually lasts 4 to 7 days, and most persons recover without treatment," according to the CDC. "However, in some persons, the diarrhea may be so severe that the patient needs to be hospitalized. Salmonella infection may spread from the intestines to the bloodstream and then to other body sites and can cause death unless the person is treated promptly with antibiotics."
The elderly, infants and individuals with compromised immune systems are particularly susceptible to suffering an extreme response from Salmonella.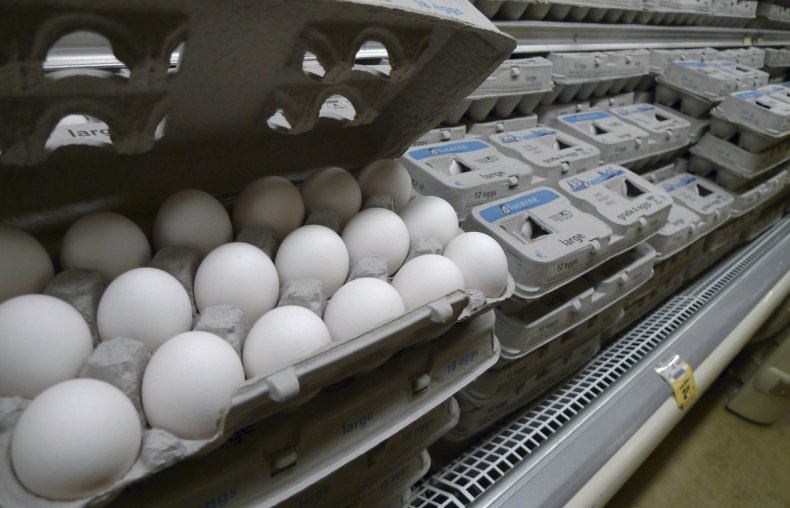 About 1.2 million people are infected with Salmonella each year in the U.S, with about 1 million of these cases stemming from food. Approximately 23,000 of these infections lead to hospitalization, and 450 people die annually from the bacteria, the CDC reports.
The Gravel Ridge Farm recall is the twelfth Salmonella-related recall to occur this year. Last month, Empire Kosher Poultry issued a public health alert after its products led to 17 infections, including eight hospitalizations and one death. The outbreak affected people in Maryland, New York, Pennsylvania and Virginia.
"We are shocked and saddened to have just learned there may have been a death potentially related to a Salmonella outbreak and we extend our sympathies to anyone affected," Empire Kosher said in a statement about the illnesses.
In April, North Carolina-based Rose Acre Farms recalled over 206 million eggs that could have been infected with salmonella. The recall followed a multistate outbreak involving 45 infections in 10 states. The Rose Acre Farms-linked outbreak led to 11 hospitalizations.