Egypt Bombing Raises Fears of More Sectarian Attacks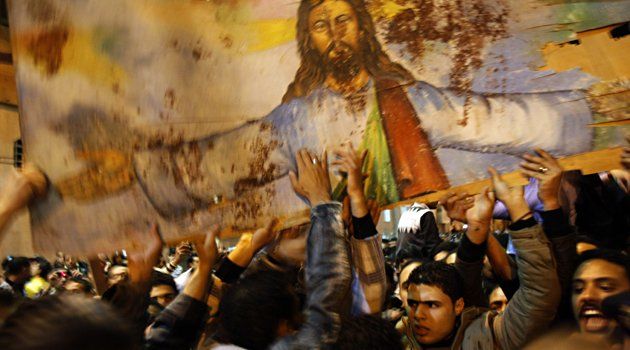 The new year began in the Arab world's most populous country with an explosion of long-simmering sectarian tensions. Thirty minutes after midnight on Jan. 1, during a New Year's Eve mass, a bomb exploded in front of Saints Church in the northern port city of Alexandria, killing 21 worshipers and injuring about 100 others in the deadliest attack on Egypt's Christian minority in more than a decade.
Initially blaming "foreign elements" for a car bombing, the government on Sunday refocused its investigation on a local suicide bomber. But whether outside agents or national fundamentalists orchestrated the attack, one thing is clear—the bloody tactics of jihadist groups, such as Al Qaeda, are being deployed in Egypt. The move heralds a new challenge for the already volatile domestic situation in a country where tensions between the Muslim majority and Christian minority are always only a few degrees away from boiling over. "The blast is the first suicide sectarian incident in Egyptian history," says Khalil al-Anani, a political analyst at the School of Government and International Affairs at Durham University who studies Islamist groups. He sees the bombing as "an indicator that jihadists have a new space and ground in the Egyptian soil ... Failure in tackling the parties behind this attack will be explained by terrorists as a weakness of the Egyptian state, which might engender a new wave of violence."
Fundamentalism in Egypt has spiked over the last decade. The last year alone saw a string of new sectarian incidents. A drive-by shooting of worshipers leaving an Orthodox Christmas mass in January 2010 killed seven people in the southern town of Naga Hammadi. This fall, incendiary sectarian rhetoric reached unprecedented heights as Muslim and Christian religious leaders traded accusations on satellite stations, fanning the flames of anger.
The number of bloody attacks and revenge riots is likely to rise if the Egyptian government does not quickly address the root causes of sectarian hatred. Christians account for about 10 percent of the country's 80 million people and complain frequently of discrimination. The regime of President Hosni Mubarak is struggling to soothe civic unrest, even as the streets of Cairo and Alexandria have been continually jammed with spontaneous protests this past weekend. "The main issue here is, there is a local element. It's not totally foreign elements; there are local partners for what happened in this attack. So if the government doesn't start to stop all kinds of discrimination and act to respect Christianity in Egypt and stop the attacks on the Christians in Egypt, I think perhaps the situation will be very dangerous," says Emad Gad, an analyst at the government-funded Al Ahram Center think tank. "Perhaps we will see a mixture of attacks, new [ones] like what happened in Alexandria and old, like Naga Hammadi."
The south, where the bulk of Egypt's Christians live in isolation, is the most likely target of further attacks. "There are a lot of churches in Egypt, and particularly in the south. It will put a huge strain on resources to police all of them—and that's not forgetting the possibility that people within the local security services share some of the grievances against Christians," says Richard Gauvain, an assistant professor of Middle Eastern studies at the American University in Dubai who studies regional adherents of Salafism, an ultraconservative brand of Islam.
A new and dangerous regional element has entered the country's smoldering sectarian crisis. In November, Al Qaeda in Iraq threatened attacks on Egypt's Christians, claiming that Coptic monasteries were holding two women it said had sought to convert from Christianity to Islam. AQI's demagoguery on the incident may have inspired some Muslim Egyptians to take action against Christians. Local militant groups across the region that seek Al Qaeda's attention are known to orchestrate attacks in hopes of joining the network.
Egypt is no stranger to deadly violence by radical Islamist groups. A string of attacks against tourists in the Sinai between 2004 and 2006 killed more than 100 people. In the 1990s, armed fringe Islamist groups battled the government, targeting Christians and foreigners alike. At the time, the country's impoverished south, far removed from the urban centers where Egyptian security forces have a strong presence, was racked by a good deal of violence. The government cracked down on and disbanded the militant groups, but the latest Alexandria attack suggests mass violence is returning to Egypt. On the city's streets this past weekend, mourners returned to the scene of the bombing. Shouts and wails filled the alleys behind the barricaded church Sunday as Christians hurled accusations at security forces cordoning the area. "I'm scared for my children," said Nasseh Azmy, a carpenter who is Christian. "The situation is getting worse. It's changed a lot since years ago, and we need America to interfere and get us our rights. We are being killed, and we don't feel secure." Most Christian residents expressed anger at the government and Salafist preachers, whom they blamed for inciting violence.
"You should have seen the scene, of people and children and outside, we walked out and saw people holding their stomachs, clutching their organs, scattered body parts," says Nadia Fawzy, who attended the New Year's mass at Saints Church. She explains what happened that night as her young daughter stands close by in a narrow alley. "Those who went out early sacrificed their lives to protect the congregation." She takes her daughter's arm and walks away. As they leave, a mob remains behind, screaming at police in riot gear. The security apparatus may be strong enough to prevent another mass-scale incident in the short term, but if the regime fails to resolve the issues inflaming Christians and other groups, the country could be heading toward a national tragedy.