Egypt Bus Attack: Deaths Reported After Bomb Blast Strikes Tourist Bus Near Giza Pyramids
A bomb has reportedly targeted a tourist bus near the popular Great Pyramids landmark in the Egyptian city of Giza, leaving at least two people dead.
Egyptian security officials said the blast was caused by a roadside bomb that went off not far from the only surviving site out of the Seven Wonders of the Ancient World.
"On this day, the 28th, at around 6:15 p.m., an improvised explosive device was hidden next to a wall at Al-Marioutiya Street in Giza during the passage of a tourism bus carrying 14 tourists of Vietnamese nationality, resulting in the death of two and injuring of 10, including the driver of the bus and a tourism company representative who were Egyptian nationality," the Egyptian Interior Ministry said in a statement.
"Security services immediately arrived at the scene of the incident, and examinations are being completed," it added.
Various local outlets shared photos online of what appeared to be a badly damaged bus bearing the logo of the Trogils Travel company on the side.
Egypt has been plagued in recent years by Islamist insurgencies, especially by the Islamic State militant group (ISIS), which claims an area of influence within the Sinai Peninsula. ISIS claimed responsibility for the bombing of Russian Metrojet Flight 9268, killing 224 people in October 2015. Before the rise of ISIS, other groups, such as Al-Jama'a al-Islamiya targeted tourists, most notably in the 1997 Luxor massacre that killed 62 people at an archaeological site at Deir el-Bahari.
Sporadic bombings claimed by ISIS have also especially targeted Egypt's Coptic Christian minority, killing dozens.
Egyptian unrest has worsened since the 2011 revolution that ousted longtime leader Hosni Mubarak. His successor, Mohammed Morsi of the long-restricted Muslim Brotherhood, was himself overturned in a second uprising backed by the military in 2013, paving the way for current Egyptian President Abdel Fattah el-Sissi to take power in another election.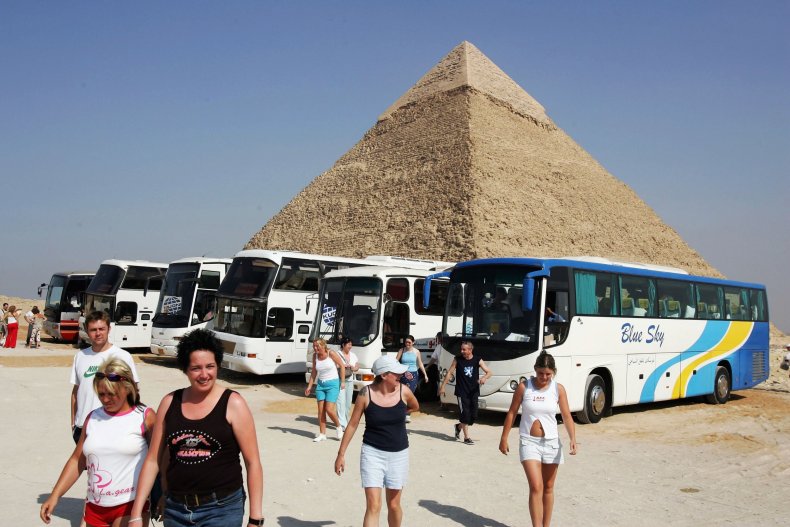 The State Department has classified Egypt as a level two travel risk, asking citizens to "Exercise Increased Caution" and explicitly tells travelers to avoid "The Sinai Peninsula (with the exception of travel to Sharm El-Sheikh by air)" and "The Western Desert due to terrorism," as well as "Egyptian border areas due to military zones."
"Terrorist groups continue plotting attacks in Egypt. Terrorists may attack with little or no warning, targeting tourist locations, transportation hubs, markets/shopping malls, and local government facilities. There is a possibility of terrorist attacks in urban areas, despite the heavy security presence. Terrorists have targeted religious sites, to include mosques, churches, monasteries, and buses traveling to these locations," the U.S. advisory reads.