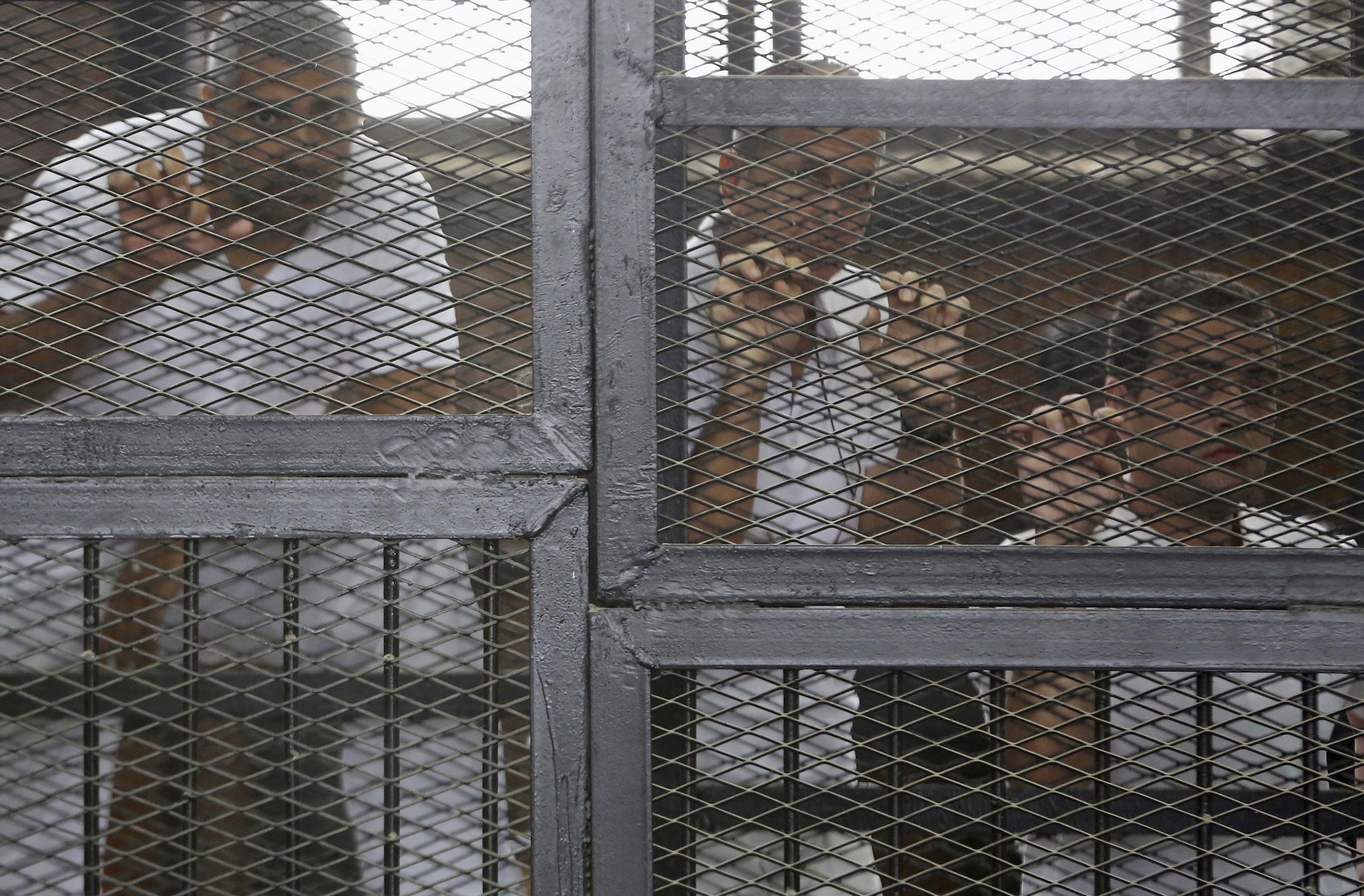 CAIRO (Reuters) - Three Al Jazeera journalists were jailed for seven years in Egypt on Monday after a court convicted them of helping a "terrorist organisation" by spreading lies, in a case that has raised questions about the country's respect for media freedom.
The three, who all deny the charge, include Australian Peter Greste, Al Jazeera's Kenya-based correspondent, and Canadian-Egyptian national Mohamed Fahmy, Cairo bureau chief of Al Jazeera English.
The third defendant, Egyptian producer Baher Mohamed, received an additional three-year jail sentence on a separate charge involving possession of ammunition.
There was a loud gasp in the courtroom as the verdicts were read out. Shaken and near tears, Greste's brother Michael said: "This is terribly devastating. I am stunned, dumbstruck. I've no other words."
The three men had looked upbeat as they entered the courtroom in handcuffs, waving at family members who had earlier told journalists they expected them to be acquitted.
The three were detained in late December and charged with helping a "terrorist organisation" by publishing lies that harmed the national interest and supplying money, equipment and information to a group of 17 Egyptians.
All three journalists have been held at Egypt's notorious Tora Prison for six months, in a case that has drawn criticism from Western governments and human rights groups.
The remaining 17 defendants faced charges of belonging to a "terrorist organisation", an apparent reference to the Muslim Brotherhood, which has been protesting against the government since the army toppled Islamist president Mohamed Mursi in July.
Two of the 17 were acquitted, including Anas Beltagi the son of a senior Muslim Brotherhood official who is now in jail.
Four were also sentenced to seven years in jail and a further 11 were sentenced in absentia to 10 years in jail.
Western governments and rights groups have voiced concern over freedom of expression in Egypt since Mursi's ouster and the crackdown has raised questions about Egypt's democratic credentials three years after an uprising toppled Hosni Mubarak after 30 years in power and raised hopes of greater freedoms.
JOURNALISM ON TRIAL
The ruling came a day after U.S. Secretary of State John Kerry met newly elected Egyptian President Abdel Fattah al-Sisi in Cairo and discussed the political transition the country.
"This is a deeply disappointing result. The Egyptian people have expressed over the past three years their wish for Egypt to be a democracy. Without freedom of the press there is no foundation for democracy" Britain's ambassador to Egypt, James Watt, told Reuters after the verdict.
Australia's ambassador Ralph King also said his prime minister would make his disappointment clear after entreaties made by his government in recent days appeared to make little difference.
Egyptian officials have said the case is not linked to freedom of expression and that the journalists raised suspicions by operating without proper accreditation. The trial began on Feb. 20. The journalists, known in the Egyptian media as "The Marriott Cell" because they worked from a hotel of the U.S.-based chain, appeared in metal court cages.
Qatar-based television network Al Jazeera has previously said the accusations are absurd.
One of the defence lawyers, Shaaban Saeed, said there had been no respect for due process during the trial.
"We were expecting innocence but there is no justice in this country. Politics is what judges," Saeed said. The government has declared the Brotherhood a terrorist group. The Brotherhood says it is a peaceful organization. The Gulf state of Qatar, which funds Al Jazeera, backs the Muslim Brotherhood. Its ties with Egypt have been strained since Sisi ousted Mursi last year after mass protests against his troubled one-year rule.
Al Jazeera's Cairo offices have been closed since July 3 when security forces raided them hours after Mursi's ouster.
"These … verdicts are a stark admission that in today's Egypt, simply practicing professional journalism is a crime and that the new constitution's guarantees of free expression are not worth the paper they are written on," said Sarah Leah Whitson, Human Rights Watch's Middle East and North Africa director.