'Egypt is Holding My Cousin Hostage'
For generations, my family and many close friends have been targets of what my employer—the Committee to Protect Journalists—and other international human rights groups recently called "judicial harassment," and "hostage-like arrests," in Egypt.
Why?
Because we had the audacity to demand a more open, inclusive, vision of Islam that went against the orthodoxy of the religious authorities backed by the Egyptian state. For calling for a firm separation of religion and state, and for criticizing both the human rights abuses by the government and the violence of extremist groups who oppose it.
They came for my father when I was seven.
I remember being woken up by an Egyptian police officer along with my younger brothers in our family's first "dawn raid"—the first of many. The officer was one of a dozen agents who arrived in a convoy of military-grade vehicles and barged into our small three-bedroom Cairo apartment, pointing big guns at all of us as if we were violent criminals.
After ripping the apartment apart for "evidence," I watched as they took my father away, not knowing if he will ever come back. As soon as they left, my brothers and I tried to make light of the situation in front of family and neighbors by joking that the police officers missed the bulk of "evidence" against my father when they failed to look under our makeshift beds.
We were half-serious: My bed had shelves for clothes, but also space to store copies of my father's latest books. In these books he repeatedly committed the crime of claiming all human beings are equal and have a fair chance on judgment day.
But my father did come back from State Security after 40 days of detention, thanks to someone whom he never met but shared our family's sense of humor about the arrest: Dr. Farag Foda, a secular opposition journalist who met with my mother and wrote a scathing column about our ordeal.
Foda and my father have now become best friends and prolific columnists. Until one day, my father came home one morning with the newspapers in his hands. He sat down and told us Foda had been shot dead in front of his office in broad daylight. And that he, my father, would most likely be next!
I knew why.
Foda and my father have made the case for years that Egypt should become a "civil", as opposed to a religious state—the closest anyone could get to saying "secular" at the time. They took their case to a nationally televised debate against a number of representatives from the powerful theological al-Azhar University, and leaders of Egypt's Islamist parties.
Foda would become only the first of 12 journalists killed in Egypt for doing their job since 1992. (Photographer Mayada Ashraf was the most recent one, in 2014.) We later found out that the man who pulled the trigger to kill Foda was illiterate. He did not read a word that Fouda or my father wrote. He relied entirely on religious edict, a fatwa, issued by clerics at Al-Azhar and declaring both Foda and my father apostates.
My turn to be summoned by State Security to be questioned and intimidated came at 17. I had the misfortune of opening our apartment door to a police officer, who promptly handed me a crumpled 2-inch note with only my name on it.
"They can't possibly be here to take me this time?" I thought in bewilderment.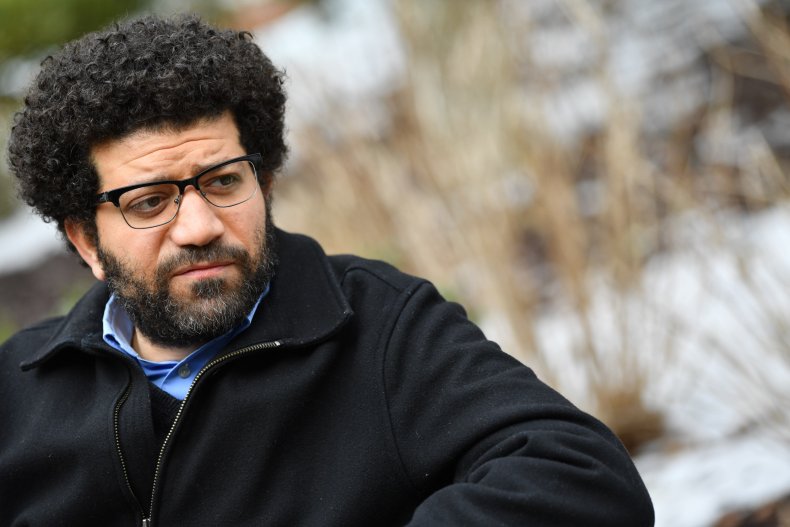 Though my father argued with the officer about why I was being taken in, the officer decided that I would have to go to the National Security complex in Lazoughli. This is the very same place my father was detained a decade before—and the same complex Italian prosecutors would later say was used to torture Italian student Giulio Regeni to death, in 2016.
I remember my father telling me two things. Tell the truth—we did nothing wrong. And: here's the bus to take to the interrogation complex. He knew the route only too well.
I also remember being blindfolded on arrival, and being asked by a national security officer how come I didn't pray. I remember asking—why was me not praying a national security matter ? I didn't get an answer. After three or four hours, I was let go.
Four years later, my father got an asylum in the United States, and my mother, brothers and I followed him over the next four years.
But our extended family back home continued to be targeted: for sharing our last name; for having a cousin like me, who works with well-respected American human rights groups; for having an uncle who publishes about religious freedom from his suburban Virginia home.
They soon came for my uncle Abdellatif Said and one of my cousins. State Security raided our family apartment in Cairo, detained, and tortured them, then kept them without access to family or lawyers for three months. After their release in 2008, they still suffered phone threats, recurrent summons and investigations, until they both also claimed asylum and established a life for their family in the United States.
In 2012, I became a U.S. citizen. But I was overtaken by the same sense of bewilderment I felt at seventeen: I learned on Twitter that the Egyptian government, now led by the military, named me a "fugitive," because of my human rights work at Freedom House in Washington D.C.
They requested my extradition from the United States and pursued me with an interpol red notice. I quit my job, and returned to Egypt to face charges, willingly sitting along with my co-workers in a courtroom cage. I will never forget entering the courtroom on June 4, 2012 in handcuffs and seeing and hearing dozens of my family members and broader supporters erupt in chants of "down with military rule."
I won my case. I was released without bail on the same day from court. It took me six more years to be cleared of all charges. But when people ask me if I would go back to Egypt, considering the court specifically allowed it, I say: they can always start another case against me.
I feel fortunate that I will never again have to speak to a State Security officer, set foot in their torture facilities, or be woken up in the middle of the night to see a family member dragged away. 27 other family members successfully sought asylum, and enjoyed the safety of exile around Washington DC since 2001. However, my family left behind in Egypt are under their thumb.
My cousin Reda Abdelrahman was arrested and banned from travel in 2008. In 2016, he was banned from writing in his blog. And in August 2020, state security forces took him to prison together with a dozen other members of my family under the bogus charges of supporting "terrorism"—of advocating for the very Islamist groups who called us "apostates" worthy of death. For the first forty days of his detention, Reda was denied access to family or lawyers; he is still denied medicine. He was interrogated about our lives in the United States and his relationship with us, just like a dozen family members who were summoned by National Security interrogations over the past 6 months. His pretrial detention has been repeatedly renewed since his arrest, most recently on March 10, for 45 days.
All in all, at least 15 members of my family have been detained or imprisoned. 27 have been forced into exile. I can't even begin to count the hours spent between us in interrogation facilities and torture cells. This is why I am calling on the Biden administration and on Congress to use all available leverage to end the practice of holding family members as political hostages in Egypt. We should demand that U.S. weapons, training, and material support is not used against people like and my family, or against any advocates of human rights.
Sherif Mansour is the head of the Middle East and North Africa program at the Committee to Protect Journalists (CPJ).
The views expressed in this article are the author's own.