Egypt's Former President Morsi Dies Defending Himself in Court, Reports Say
Former Egyptian President Mohammed Morsi has died, local and regional media has reported.
Morsi, a Muslim Brotherhood member who rose to power to become Egypt's first elected president a year after the 2011 revolution that ousted his longtime predecessor Hosni Mubarak, was toppled by a military-backed coup amid more mass protests in 2013 and arrested on various charges, including passing along state secrets. Egyptian media outlets, including state-owned television and privately-owned newspapers such as Al-Masry Al-Youm reported that he was testifying against this charge Monday in court when he suddenly became ill and fainted, dying of what was described as a heart attack at the age of 67.
The general who led efforts to remove Morsi from power, Abdel-Fattah el-Sissi, went on to become elected president in 2014 and won his second term after a largely uncontested vote last year.
Morsi's son appeared to confirm his death on Facebook, writing that he would meet his father "in the presence of God."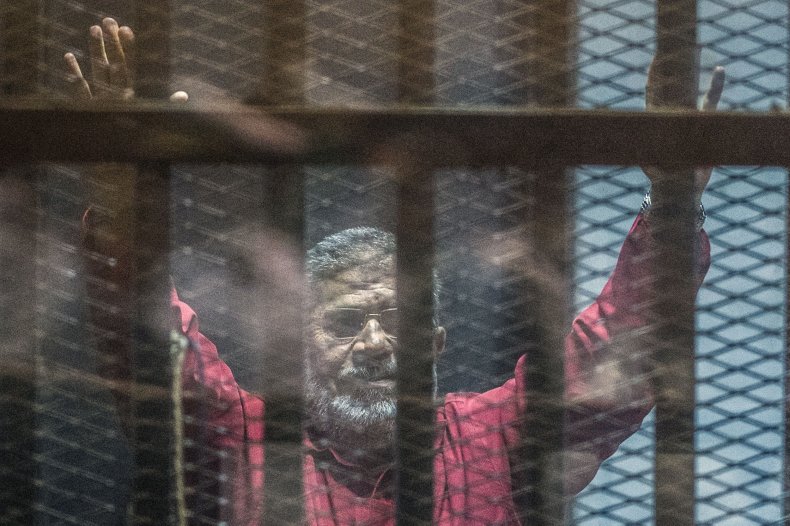 Morsi was largely kept out of the public eye by Sissi's administration and spent the final years of his life in and out of trials over allegations of espionage, authorizing the use of force against protesters and his suspected role in a 2011 prison break during the uprising against Mubarak. He was initially given a life sentence in June 2016 for allegedly spying for Qatar, but Egypt's court of cassation overturned the sentence later that same year.
During Monday's court session, Morsi was reportedly defending himself from charges that he collaborated with Hamas, a Palestinian Islamist movement with close ties to the Muslim Brotherhood, which itself has been outlawed in Egypt by Sissi's administration.
Sissi has since closely aligned his country with Saudi Arabia, whose royal family is deeply critical of the Muslim Brotherhood. In 2017, Egypt joined Saudi Arabia as well as Bahrain and the United Arab Emirates in total boycott of Qatar in part due to its support for the group, which President Donald Trump has considered branding a terrorist organization.
The Muslim Brotherhood had previously expressed concern as to the conditions Morsi was being kept it and one leader, Mohammed Suwaidan described Morsi's death as a "deliberate murder," according to BBC News.
The group's other major state backer is Turkey. In response to Morsi's passing, Turkish President Recep Tayyip Erdogan said "May Allah rest our brother Morsi, our martyr's soul in peace," according to Al Jazeera. The two men sought to expand ties between their countries during Morsi's brief time in power and relations between Cario and Ankara have since grown strained under Sissi.