Egypt Ready to Send Ground Troops to Yemen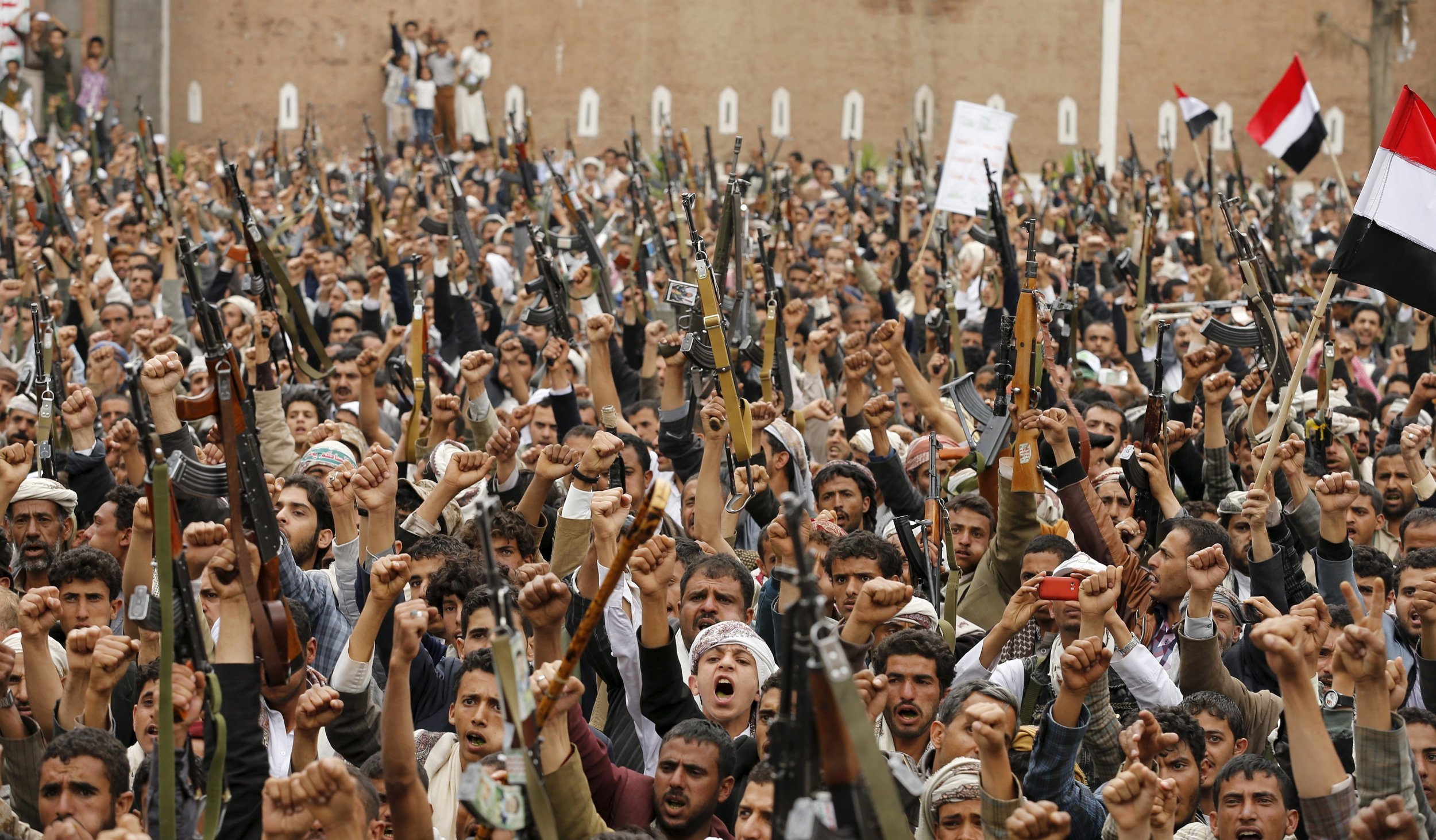 Egypt has announced that it is ready to send ground troops into Yemen "if necessary" as Saudi-led coalition air strikes against the Iranian-backed Shiite Houthi fighters continued for a second night.
The strikes targeted the capital, Sana'a, the northern Houthi stronghold of Saada and locations along the shared border with Saudi Arabia after the Houthis closed in on Yemeni president Abd Rabbuh Mansur Hadi, forcing him to flee.
The military operation, entitled Operation Storm of Resolve, has seen all members of the Gulf Cooperation Council (GCC) bar Oman join a coalition of ten countries to "protect the legitimate government of Yemen from falling".
"Egypt has declared its political and military support," Egypt's foreign minister, Sameh Shoukry, said yesterday at a meeting of foreign ministers in Sharm el-Sheikh ahead of the Arab League Summit, "as well as its participation with the coalition with an aerial and naval Egyptian force, as well as a ground force if necessary, in light of Egypt's historic and unshakeable responsibility towards Arab and Gulf national security."
In addition, three Egyptian officials told the Associated Press that, in the aftermath of the air strikes, Riyadh and Cairo will initiate a ground operation in Yemen from Saudi Arabia and in landings on the country's Red Sea and Arabian Sea coasts.
Reports from various Yemeni media outlets last night claimed that 2,000 Egyptian troops had been deployed to Yemen but they are yet to be confirmed by official sources in Egypt, says Ron Gilran, vice-president at Tel Aviv-based geopolitical risk consultancy the Levantine Group. He adds that the threat of ground troops may be bluster with the intended aim of deterring the Houthis from capturing further territory.
"The purpose of the aerial campaign is mainly to convey a message to the Houthis that they should go back to negotiations for a power-sharing deal, namely, that Saudi will not tolerate additional territorial gains by them in southern Yemen," says Gilran. "In this context, the threats of ground forces could be a mere means to exert additional purpose on Houthis to achieve this exact same purpose."
It is believed that both Egypt and Saudi Arabia, both Sunni-Arab countries, moved to act because of concerns about Tehran's growing influence in the region, with the Houthis an Iranian proxy that has the potential to consolidate power on Saudi Arabia's borders. Washington has also announced that it is supplying logistical and intelligence support to the Saudi-led coalition against the rebels.
Egypt's motivations for entering the conflict in Yemen stem from its close relations with Saudi Arabia, with Riyadh a key Gulf donor to Egyptian president Abdel Fattah al-Sisi's government, Jordan Perry, principle MENA analyst at leading global risk analytics company Verisk Maplecroft, says.
"Egypt is under immense pressure from Saudi Arabia to play its role in the campaign," he notes. "Riyadh is bankrolling the Sisi government and there are extensive funding links with the Saudi government. I think Sisi has to dance to Riyadh's tune somewhat."
"At the same time, it is an opportunity for Sisi to play a much stronger role on the international stage. In a way to solidify his status as a leading political figure within the Arab world," Perry adds.
A number of civilians have been killed by the coalition airstrikes and residents in the Yemeni capital Sana'a have spoken of their fear that they could be collateral damage to the targeting of Houthis.
Sana'a resident Hisham al-Omeisy, who has moved to his parents house in the Sana'a suburbs for his own safety, says civilians are leaving areas where Houthis congregate. "A lot of people who started inner migration within the city, moving away from Houthi concentrations around the city to areas and neighbourhoods with less Houthis in them, for fear that when airstrikes resume, they will become collateral damage like the people who did yesterday night," he says.
Egyptian state television today showed the ousted Yemeni leader arriving in the Red Sea resort of Sharm El-Sheikh and being welcomed by Sisi ahead of the Arab League summit taking place this weekend.
Conflicting reports emerged Wednesday about Hadi's whereabouts as the Houthis advanced on his southern stronghold of Aden, with some claiming he fled the port city by boat. It was then reported that he had arrived in the Saudi capital, Riyadh, according to reports by Saudi state television channel al-Akhbariya.